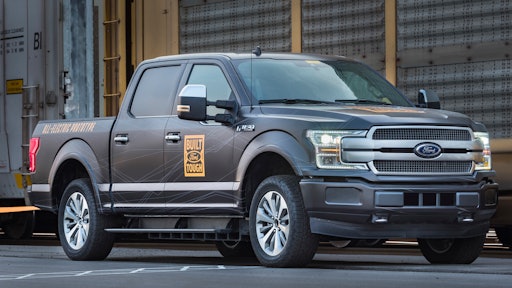 Ford
The three top selling vehicles in North America include the Ford-150, Chevrolet Silverado 1500 and Ram 1500 half-ton pickup trucks. And with the the growing interest in electric vehicles, the half-ton pickup truck offers an attractive target for electric vehicle manufacturers.
Predictions estimated that up to 14% of worldwide auto sales will be electric vehicles by 2030.
There are currently no electric options for the most popular vehicles being sold in the United States – the ½-ton pickup trucks.
Early adopters of electric vehicles often include government fleets. They often have mandates to reduce their carbon footprint and electric vehicles provide a path toward that goal. A steep purchase price often serves as a deterrent for the general consumer market.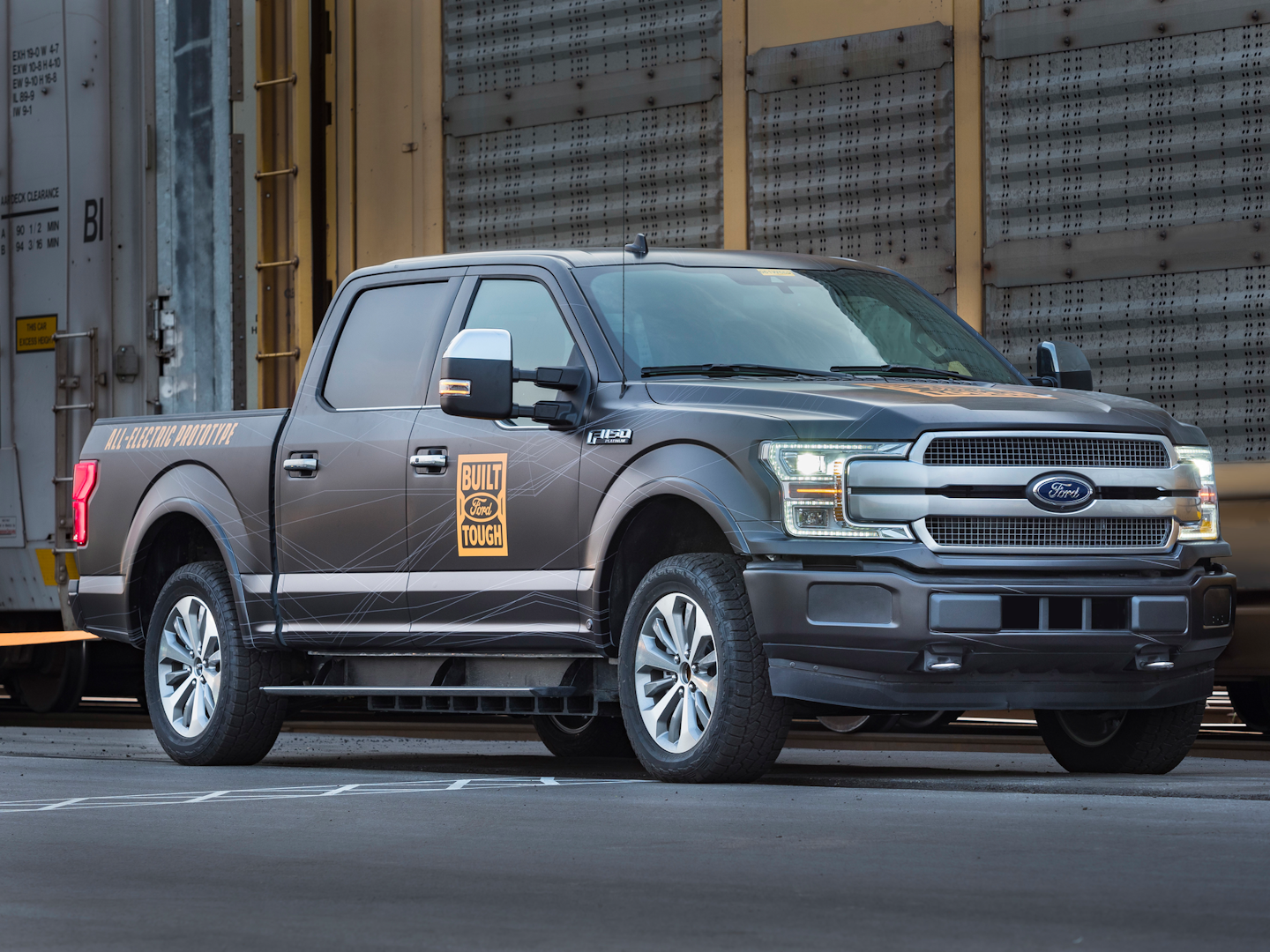 A prototype all-electric F-150 was demonstrated by towing 10 double-decker rail cars and 42 2019-model year F-150s, weighing more than 1 million pounds.FordElectric vehicles and presumably that would include electric pickup trucks have proven much more expensive to purchase due to the battery technology used and the current limited scale of production. The batteries use expensive materials in order to hold the massive electric charge needed to make the vehicles practical for most applications. Costs should drop as production scales.
The industry also must address issues surrounding range anxiety and the availability of charging stations.
These are the two most common technology concerns potential customers voice. When you run low on fuel with an internal combustion-powered vehicle you just pull into a filling station and top off the tank with gasoline or diesel.
With an electric vehicle you need to locate a charging station and it typically takes longer than a few minutes to bring the battery up to full charge. Customers who travel long distances may be a hard sell for an electric vehicle in the near term due to the lack of charging infrastructure and the related battery charging times.
Installing infrastructure will take time. Don't expect the pickup truck market to convert to electric pickup trucks overnight. In fact, electric pickup trucks are likely to be niche products for the foreseeable future. There are currently a handful of competitors who have publicly announced they are working on a ½-ton electric pickup truck.
There are no indications that the heavy-duty pickup market will see electric alternatives in the foreseeable future. Note that no manufacturer has acknowledged development work on a full-size heavy-duty pickup. Expect this market segment to remain the domain of the diesel engine well into the next decade.
The Key Players in Electric Pickup Trucks
Two of the current ½-ton pickup truck manufacturers have acknowledged development of a ½-ton electric pickup. In April, General Motors Chief Executive Mary Barra stated that GM would make a full-size electric pickup truck. No other details have been shared about the pickup, but the company plans to spend $8 billion to develop electric and self-driving vehicles.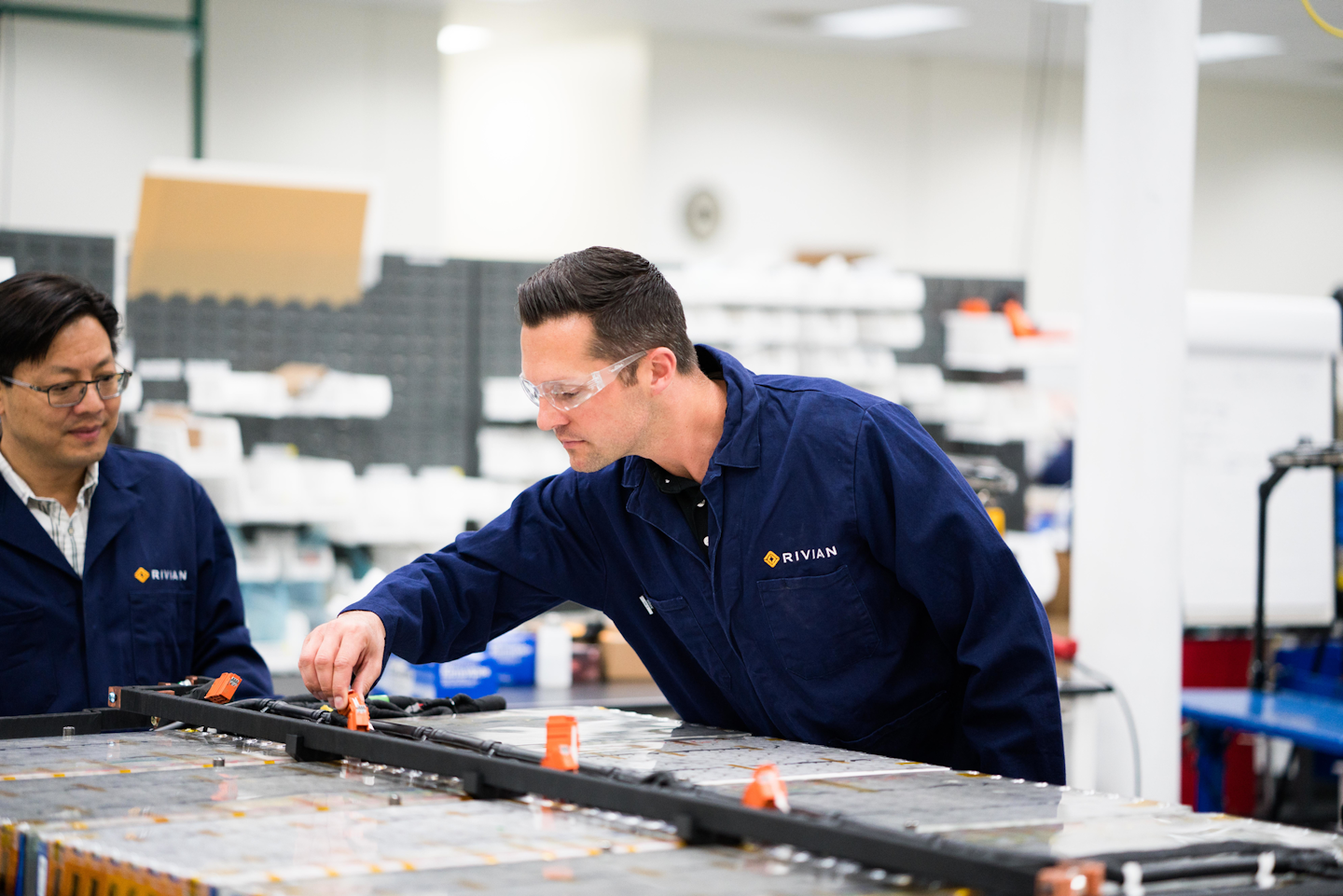 The Rivian battery offers up to 180 kWh, making it one of the world's largest automotive battery packs currently available.RivianFord shared that it will invest $11.5 billion electrifying its vehicles by 2022, including adding 16 fully electric models. Ford has confirmed it will bring an all-electric F-150 to market. This will be in addition to the all-new F-150 Hybrid that goes on sale next year. Ford is also investing in startup Rivian and may eventually use that company's flexible chassis technology as the underpinnings for a future electrified F-150 model.
"As we continue in our transformation of Ford with new forms of intelligent vehicles and propulsion, this partnership with Rivian brings a fresh approach to both," said Jim Hackett, Ford president and CEO. "At the same time, we believe Rivian can benefit from Ford's industrial expertise and resources."
Newcomer Rivian is well positioned to be the first manufacturer to make the mass-market ½-ton electric pickup a reality. It is a Plymouth, MI-based electric truck and SUV startup that has substantial backing from investors such as Ford, Amazon and Cox Automotive. Earlier this year Amazon invested $700 million in the company and Ford invested $500 million. Cox Automotive, a subsidiary of Cox Enterprises, is the home of nearly 30 automotive brands, including Autotrader, Kelley Blue Book, Pivet, RideKleen and Manheim, which transports, services, and auctions vehicles across more than 150 global locations. It has announced an equity investment of $350 million in Rivian.
Rivian gained a lot of credibility in 2019 when Amazon announced its plans on purchasing 100,000 electric delivery vans. Amazon plans to have 10,000 of these vans on the road by 2022 and it expects to have all in service by 2023.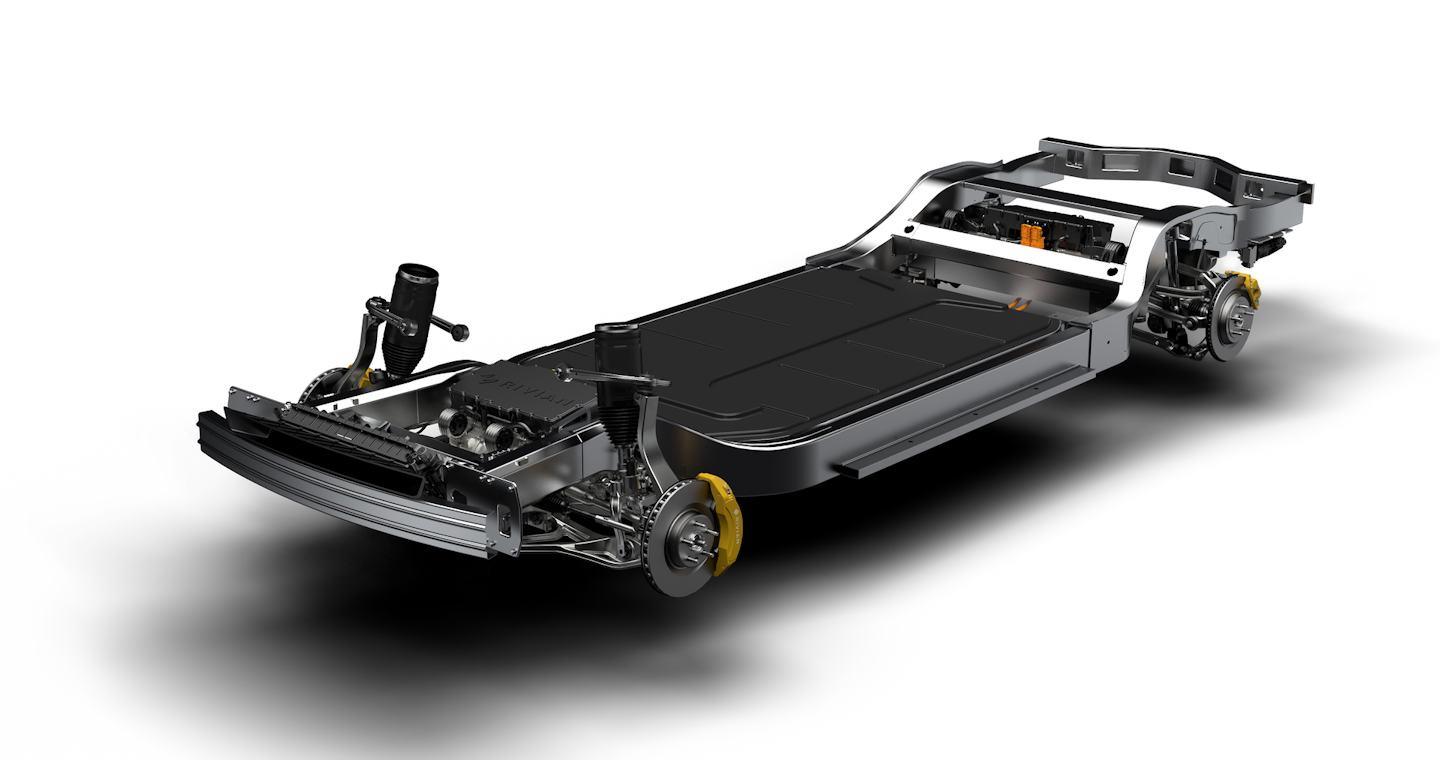 Rivian plans to build all of its vehicles on a flexible skateboard chassis that will allow several different chassis configurations to be built on a common platform. The skateboard chassis houses quad motors to drive the wheels, independent air suspension, intelligent battery management system, hydraulic roll control system and thermal systems – all below the height of the wheels.Rivian offers a unique design approach that creates manufacturing efficiencies across potential market offerings. It plans to build all of its vehicles on a flexible skateboard chassis. This will allow several different chassis configurations to be built on a common platform. The skateboard chassis houses quad motors to drive the wheels, independent air suspension, intelligent battery management system, hydraulic roll control system and thermal systems – all below the height of the wheels. This allows extra storage space where an internal combustion engine and drivetrain would typically sit.
The company already has a factory in place. It plans to build its electric vehicles at a 2.6 million-sq.-ft. former Mitsubishi assembly plant in Normal, IL that it acquired for $16 million two years ago.
Rivian first unveiled its R1T electric truck at the 2018 Los Angeles Auto Show. Preliminary specs are impressive. It promises a range of up to 400+ miles and a 0 to 60 mph acceleration time under three seconds. It is estimated to pump out up to 750 hp and have a maximum towing capacity of 11,000 lbs.
Just remember when looking at the range numbers that they are likely to drop when pulling a heavily loaded trailer.
The R1T will not be limited to paved surfaces with a Quad-Motor System that has the ability to send instant power independently to each wheel for maximum traction and a wading depth for deep water crossings of over 3 ft. In off-road mode, the RT1 promises a 14.1-in. ground clearance. It also offers a 25-degree breakover angle. The suspension system incorporates adaptive damping control, which dynamically adjusts damping at each wheel within a fraction of a second, optimizing traction wherever you go.
Battery placement will result in a lower center of gravity as the battery pack distributes weight evenly between the wheels. This will add stability in off-road conditions. It also anchors the vehicle to the ground at speed and around corners. The battery offers up to 180 kWh. This makes it one of the world's largest automotive battery packs currently available.
Rivian is promising that Level 3 autonomy will be available on every vehicle. There are currently five defined levels of autonomy. Level 3 autonomy would be a vehicle that is capable of managing itself on a freeway journey, excluding on- and off-ramps and city driving.
As of October 2019, Rivian is forecasting a starting price of $69,000 for the R1T. This would be before the $7,500 federal tax credit. Deliveries are expected late in 2020.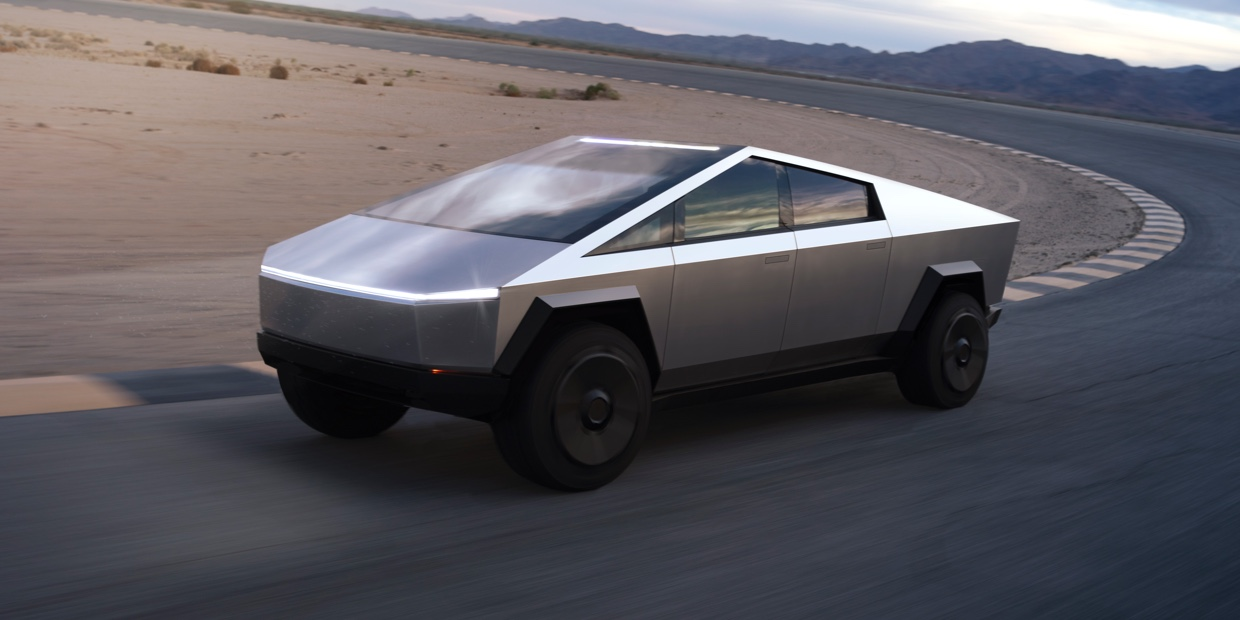 The Tesla Cybertruck is designed to have the utility of a truck and the performance of a sports car.TeslaTesla is the current leader in the North American electric car market and recently updated its previously announced electric pickup truck plans. On November 21 Tesla unveiled its long promised electric pickup truck, the Cybertruck. While this truck will not be available to customers until the end of 2021 or possibly 2022, you can reserve your spot in line with a $100 refundable deposit. According to company founder Elon Musk, there are already 250,000+ customer orders.
The Cybertruck is sure to stand out from the crowd, more resembling a DeLorean from the past than a conventional pickup truck.
The Tesla Cybertruck is designed to have the utility of a truck and the performance of a sports car. The vehicle is built to be durable, versatile and capable, with exceptional performance both on-road and off-road. Cybertruck will come in three variants: Single Motor Rear-Wheel Drive, Dual Motor All-Wheel Drive, and Tri Motor All-Wheel Drive. 
The Cybertruck is built with an exterior shell designed for durability and passenger protection. Starting with the exoskeleton, every component is designed for strength and endurance, from Ultra-Hard 30X Cold-Rolled stainless-steel structural skin to Tesla armor glass. The smooth monochrome exoskeleton helps eliminate dents, damage and long-term corrosion. Ultra-strong glass and polymer-layered composite can absorb and redirect impact force for improved performance and damage tolerance.
The Cybertruck features up to 3,500 lbs. of payload capacity and adjustable air suspension. It is engineered with 100 cu. ft .of exterior, lockable storage — including a tonneau cover that is strong enough to stand on. The promised towing capability is over 14,000 lbs. 
This is a list of the available vehicle specs:
Range: 500+ miles
0-60 mph acceleration: <2.9 seconds
Towing capacity: More than 14,000 lbs
Payload: Up to 3,500 lbs
Vault length: 6.5 ft.
Storage capacity: 100 cu. ft. of exterior, lockable storage including the vault, frunk, and sail pillars.

Tesla

Suspension: 4" in either direction
Touchscreen size: 17"
Body: Ultra-Hard 30X Cold-Rolled stainless steel
Seating capacity: Up to six adults
Charging: Can be charged at home, at Destination Charging locations, and with Tesla's network of more than 14,000 Superchargers, including on the newest V3 technology, which is helpful for long hauls and towing.
Targeting Niche Markets with Electric Pickup Trucks
There are a few companies targeting niche, low volume, markets with electric pickup offerings. These include Bollinger Motors and Workhorse Group. Bollinger Motors is targeting high-end off-road enthusiasts while Work Horse Group is targeting commercial applications.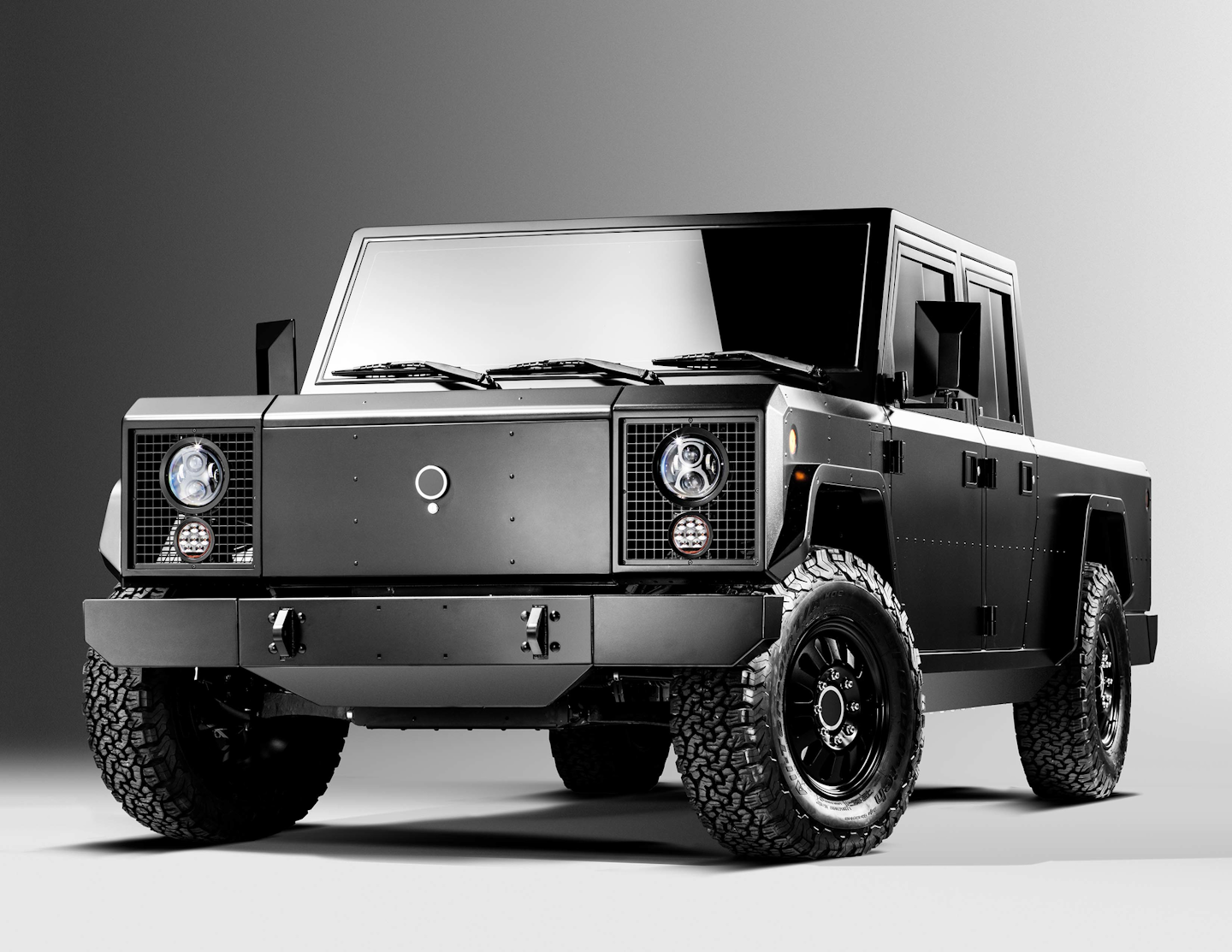 The Bollinger B2 features an all-electric, dual-motor drivetrain. The all-wheel drive pickup features 50/50 weight distribution and best-in-class ground clearance.Bollinger MotorsFormer industrial designer Robert Bollinger recently displayed updated prototypes of its B1 electric SUV and B2 electric pickup. The first iterations of these vehicles were unveiled nearly two years ago. Retail deliveries are anticipated in 2021.
These vehicles promise all-wheel drive; dual electric motors; 15-in. of ground clearance; self-leveling suspension and four-door, four seat cabs. They promise 200 miles of range. Bollinger has published preliminary performance specifications of 614 hp and 668 lb. ft. of torque. Payload is a claimed 5,200 lbs. and towing capacity is 7,500 lbs.
These trucks and SUVs target true enthusiasts who are willing to pay for performance. Bollinger admits that these vehicles will have a high purchase price, but he doesn't envision the company becoming a volume producer.
Workhorse Group is on the opposite end of the spectrum. The company is specifically targeting commercial applications. Its primary product is an electric delivery van and it is developing the W-15, which is designed from the ground up to be an all-electric pickup. Workhorse Group has proven success in the electric vehicle market. The E-100 and E-GEN electric delivery vans have racked up more than 4 million miles and are currently used by some of the premier package delivery companies.
The company is hoping this success translates to electric pickup sales. The W-15 currently has over 5,000 fleet pre-orders.
The W-15 features a lithium ion battery that provides up to 80 miles of range. It is a lightweight, purpose-built fleet vehicle with a 5,000-lb. curb weight. It features composite construction and a 5,000-lb. towing capacity. A lower center of gravity and all-wheel drive improve off-road handling. It also offers 7.2Kw power export capability.
One thing that should be clear, the ½-ton marketplace is very competitive and there will be electric options in the not distant future. These trucks will start as niche products and expand as the charging infrastructure expands and production reaches a critical mass that allows prices to come down. As you can see from the performance data shared, towing and payload are not the limitations. If Rivian holds true to its promise of a 400+ mile range, then the remaining critical piece is really the charging infrastructure.