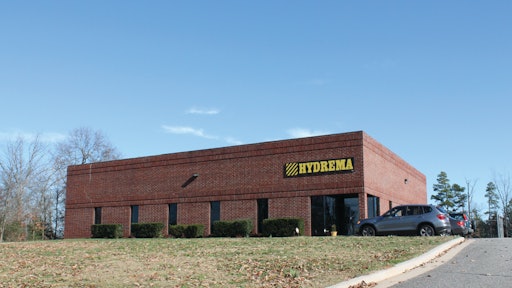 Alpharetta, GA - Hydrema US Inc., a leading manufacturer of earthmoving and military equipment, continues to grow despite the sluggish economy and has moved to a new North American headquarters located in Alpharetta, GA.
In 2005, Hydrema established its North American headquarters in the state of Georgia, offering dealers and end users unique and durable 912 and 922 articulated dump truck products. The company has since built a solid dealer network, which now consists of over 100 locations throughout 18 states and Canada.
Hydrema's expansion has led it to outgrow its Roswell, GA, facility, prompting the move to the larger facility in Alpharetta. "We are very pleased to have expanded our facility in North America," says Kris Binder, Executive Vice President for Hydrema. "The new facility will allow us to increase and enhance our technical and sales training as well as parts and equipment distribution in North America."
The new location quadruples facility space, offering work bays, office and warehouse space. The work bays provide enough space for Hydrema to refurbish full machines and perform PDIs (Pre Delivery Inspections). It will also have the space to stock new equipment that will be available for immediate delivery to dealers and end users, reducing lead time.
Hydrema will use the warehouse space as a large parts depot to support its North American construction business and U.S. Army business both domestically and internationally.
A/S Hydrema is a modern, international group of companies, which design, manufacture and market high-technology earthmoving equipment. Founded in 1959, with production facilities in Weirmar, Germany, Hydrema consists of a broad network of sales and service facilities with subsidiaries in all major western European countries. In 2005, Hydrema established its North American headquarters in Georgia and has since grown its dealer network throughout the United States and Canada. For more information, visit www.hydrema.com.