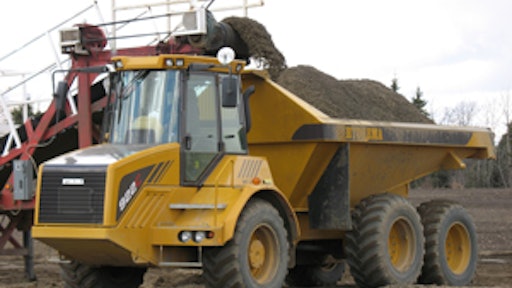 LACOMBE, AB - Hopkins Construction Ltd., a construction company specializing in the aggregate business, is effectively using a Hydrema 922C articulated dump truck to handle their mobile stone crushing services.
Hopkins Construction, based out of Lacombe, AB, consists of over 100 employees and handles both governmental and private work. Their large mobile equipment fleet of over 300 pieces allows them to service their wide customer base throughout Western Canada. They currently have six mobile crushing plants which consist of screeners, cone crushers, loaders and gravel trucks, all of which can be quickly relocated within a few hours to accommodate the needs of various jobsites.
For the past few years, Hopkins has relied on their gravel trucks to handle much of their stone hauling. These gravel trucks are on-road, tandem axle dump trucks that have to be retrofitted by Hopkins for off-road pit applications. They can handle up to 20 tons per load.
In an effort to reduce retrofit costs, as well as parts and labor throughout the year, Hopkins turned to their local equipment dealer for suggestions. "Alberta Construction Equipment Sales and Services first told us about Hydrema's line of articulated dump trucks," says Joe Nolan, Fleet Manager of Hopkins Construction. "We then visited Hydrema's tradeshow booth during the last ConExpo to see their equipment first hand and speak with a Hydrema representative."
After ConExpo, Hopkins decided to rent a Hydrema 922C articulated dump truck to see if it would function well in their mobile operation. "Our mobile system is designed for quick setup and breakdown on each job," says Nolan. "It became apparent almost immediately that the 922C seamlessly fit into our current method of operation."
Meeting the Hopkins mobility spec was just one of the requirements for the 922C. The Hydrema truck also had to gain the support of Hopkins' operators. "Our equipment operators are very impressed with the 922C's visibility, controls and comfort," continues Nolan.
The 922C's cab sits high on the dump truck body and has an inclined narrow hood, giving the operator all-around visibility. The 922C also features broad mirrors for added visibility when in reverse or while tipping. Hydrema also offers an optional back-up camera. "We had the camera added to the 922C," says Nolan. "We are constantly backing up at our project. The camera helps us see what's going on in blind spots, thereby eliminating incidents."
The 922C's cab also offers a climate control system and user-friendly steering and joystick controls. The suspended seat, along with electronic suspension and level control, provide a smooth and stable ride on uneven terrain. "The operators love the way it drives in the pit," continues Nolan. "We put in some very long days and the operators have very little fatigue after operating the 922C."
Hopkins has also found that the 922C eliminates the need to build roads on certain projects that they would have otherwise had to with their gravel trucks. "The gravel trucks we have are best suited for on-road applications, which means certain off-road projects require us to build and maintain construction roads to complete our work," says Nolan. "The 922C allows us to get right to work when we arrive on site, eliminating both the time and cost of roadbuidling."
The Western Canadian terrain and weather also comes into play for Hopkins. "We work in both dry and wet pit environments," says Nolan. "The on-road gravel trucks create up to 2 feet deep ruts in a wet pit environment. The Hydrema reduces these large ruts and easily handles the wet pit conditions with its 6-wheel drive and low ground pressure, helping to minimize road maintenance issues."
The 922C is made of high tensile Hardox steel, providing the strength needed for various work conditions. Its low ground pressure of 11.3 psi and low weight of 31,500 lbs enables it to operate in both hard and soft soil conditions, as well as snow. The 922C is equipped with a 15.7 cubic-yard capacity and is powered by a 6.7 liter, Cummins QSB, 24 Valve Tier III engine, rated at 264 horsepower.
"The 922C has plenty of power. Its 20 to 25 ton capacity surpasses what we can haul with our current gravel trucks. However, my favorite feature on the Hydrema is the automated compensation dumping system," says Nolan. "Dump tucks could flip over while dumping a load on uneven ground. The auto compensation system reduces the chances of this happening."
The Hydrema 922C's tipping hydraulics with servo automatically increases the engine revs when the tipping control lever is acti­vated. This achieves fast tipping cycle times of 7.5 seconds up and 5.5 seconds down. It also automatically changes the pressure between cylinders while dumping on uneven ground to prevent tip-over. The 922C is extremely stable due to its articulation joint and can dump while fully articulated.
Hopkins has since purchased the 922C which he originally rented from Alberta Construction Equipment Sales and Services and is looking to add another one to his fleet very soon. "Our work cycle is 24-hours-a-day for 8 months. We ran the 922C through this schedule with minimal downtime. It has proven itself to be reliable and fuel efficient, using 15%-20% less fuel than our gravel haul trucks," says Nolan.
As for the retrofitting and parts and labor cost savings. "It takes a full year to accurately assess the cost savings of a piece of equipment. We'll have a far better idea of the overall cost savings in a few months. So far, we like what we see."
Companies in this article