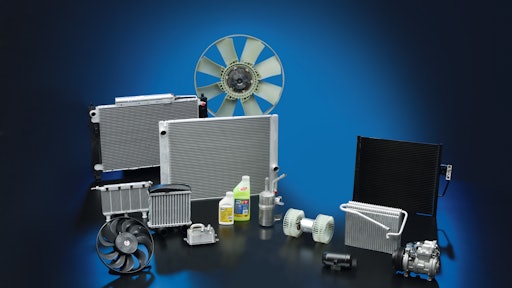 Behr HELLA Service (BHS), a joint venture for thermal management between Behr (vehicle air conditioning and engine cooling) and HELLA (lighting technology and electronics) now has over 120 part numbers in its heavy-duty truck thermal management parts program, including new replacement parts listings for Dodge, Ford, Freightliner, International, Mack, Sterling and Volvo trucks.
The program additions include, blowers, blower regulators, condensers, evaporators, expansion valves, heater cores, HVAC actuators, radiators and resistors.
Additions to the 2012 BHS Heavy-Duty program are detailed and listed in a Heavy Duty Range Supplement, which is available in a print version and online.
Behr HELLA Service products are made to OE specs for vehicle specific fit, form and function. The line includes intercoolers, engine/transmission oil coolers, compressors, retrofit kits, A/C fittings and hoses, pressure switches, PAO-Oil 68, receiver dryers, expansion valves, condensers, condenser/radiator fans, HVAC blowers, PTC-heaters, evaporators, Visco-fans, heater cores, radiators, expansion tanks, and Visco clutches.
Companies in this article