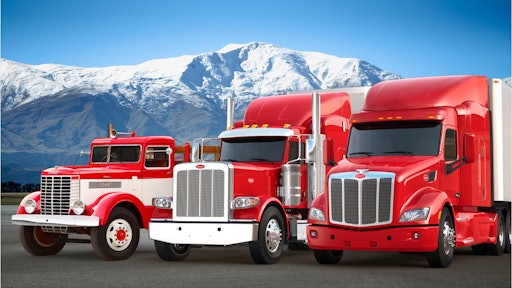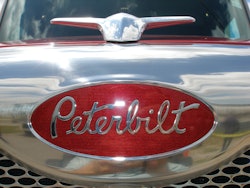 From the very first truck custom built in 1939 to the newest Models 579 and 567, Peterbilt has helped define commercial vehicle performance, styling and quality. In 2014, the company celebrates 75 years of innovation with commemorative events throughout the year that include a North American tour with a specialized anniversary trailer, a limited-edition Model 579 and numerous other activities.
"This is a milestone event for our company and its customers, employees, dealers and suppliers," said Darrin Siver, Peterbilt General Manager and PACCAR Vice President. "We will mark it with a range of events and activities honoring our storied past and exciting future."
Historic Growth
Peterbilt was founded in 1939 by T.A. Peterman manufacturing specialized, heavy-duty trucks out of Oakland, CA. Largely a regional brand in its early years, the company experienced steady growth, quickly going from producing dozens to hundreds of vehicles. The company was acquired by PACCAR Inc, then called Pacific Car & Foundry, in 1958, and the manufacturing was relocated to Newark, CA, in 1960. Peterbilt opened a new, second plant in Madison, TN, in 1969 to meet growing demand and better serve its customers from coast to coast.
In 1980, a new manufacturing facility opened in Denton, TX, where the company eventually consolidated its entire operations and is now its headquarters. Today, the stat-of-the-art plant can produce more than 160 vehicles daily in numerous custom-built configurations for on-highway and vocational markets. In addition, Peterbilt Class 6-7 trucks are manufactured in Ste. Therese, Quebec, and the proprietary PACCAR Engine lineup is produced in Columbus, MS. Vehicles are distributed through a network of Peterbilt dealerships with more than 290 locations throughout the U.S. and Canada.
"Throughout its history, Peterbilt strove to serve the needs of customers with a diverse lineup of custom-built trucks that served specific business and market needs," said Landon Sproull, Peterbilt Chief Engineer. "Today, our comprehensive offerings of Class 5-8 vehicles help our customers achieve success in the on-highway, vocational and medium duty markets."
Combining the Past and Future
Peterbilt's two newest vehicles – the aerodynamic Model 579 and the vocational Model 567 – represent the company's most rigorous, significant investment in product development in its 75 year history. One of those vehicles, the 75th Anniversary Edition Model 579, will be offered as a special anniversary truck available for order through all full-service company dealerships.
"It's a truly unique tribute to both Peterbilt past and future," said Robert Woodall, Peterbilt Director of Sales and Marketing. "It combines the Model 579's advanced technologies, distinctive styling and state-of-the-art aerodynamics with numerous accents and details honoring the original 1939 Peterbilt."
Among the many features of the Model 579 75th Anniversary Edition are:
Individually numbered with limited production
Exclusive 75th anniversary emblems on the sleeper exterior
Highly polished hood crown surrounding a grille with a new oval design reminiscent of Peterbilt's heritage
Chrome-finished, three-piece steel bumper
Bright sunvisor, side air intake bezels and rearview mirror housing
Optional two-tone paint design with exclusive Diamond Red color evocative of the original Peterbilt model
Exclusive bright rocker panels that complement the anniversary paint design
Anniversary logoed mud flaps affixed with stainless-steel hangers
Exclusive Platinum Titanium interior
Anniversary dash emblem which includes the unique production number of the truck
Multi-function steering wheel leather wrapped with custom stitching
Exclusive black leather Evolution LX seats embroidered with the anniversary logo on the headrest
Interior bright accents such as anniversary logoed shifter plate with polished shift lever and blackwood knob (manual transmissions only); gauge bezels; chrome interior door handle; and chrome billet throttle, clutch and brake pedals
A Year of Celebration
Throughout 2014, a special edition Model 579 with a museum on wheels will visit Peterbilt dealerships and industry events. The museum is a converted trailer filled with displays, historic artifacts and interactive kiosks. Among the features in the trailer are an original 1939 Peterbilt crown and grille, timeline of significant company vehicles and achievements, interactive displays and hands-on examples showcasing the company's products and technologies. A coffee-table style book will also be published and available for sale online during the first quarter.
In addition, Peterbilt will mark its anniversary with many other activities throughout the year, including trivia contests, with prizes, conducted through social media; anniversary videos showcasing both historic and present aspects of the company; and a special merchandise collection available for retail online and at Peterbilt dealerships.
Companies in this article