Thunder Creek
Finding the most efficient way to fuel equipment on the jobsite can prove challenging, with variables such as a constantly changing jobsite location, fluctuating fuel demands of the equipment and proximity to a fuel source. There are many different options available, including:
contracting a fuel supplier to fill the equipment;
setting up a fuel tank on site;
investing in a dedicated fuel truck and driver;
using fuel trailers;
or mounting transfer tanks in the fleet's pickup trucks.
For many mid-size and smaller contractors, the last two options might make the most sense.
"By calculating daily, weekly and monthly fuel usage based on the type of equipment and hours of operation, project managers can more accurately plan the workday to optimize productivity and operating costs," says Paul Golevicz, senior product manager of trucks at Weather Guard, a WernerCo brand. "With better cost management, there can be higher confidence in achieving projected profitability for the business and better information gained that can help increase the chance for success with future bids. The better the contractor can understand and control its bottom-line costs, including fuel needs, the more opportunity to succeed in its current jobs and pursue additional business."
You need to estimate anticipated fuel demand. "If the project application is well understood — including the time duration, equipment being used and the average fuel consumption for each piece of equipment — the total fuel requirement can be estimated," says Golevicz. "Once this is known, the correct size tanks can be chosen to optimize the fuel haul needed for each location. Due to terrain, outside temperature and other factors, fuel requirements will always vary. It's always a safe bet to over-estimate the fuel capacity you think you'll need to ensure your crew can complete the daily tasks without running out of fuel."
Weigh Your Options
Most dedicated fuel trucks and trailers are designed to provide large volumes of fuel for jobs that have significant fuel requirements. "They are designed to travel or be hauled to distant work sites and remain there, if needed, for days or even longer," says Golevicz.
"Many projects fall somewhere in between local projects that reside just around the corner from a nearby fuel station and those that require a significant commute with off-highway travel," he notes. "Bed-mounted transfer tanks provide... freedom of travel to reach short- or mid-range work sites without carrying too much fuel."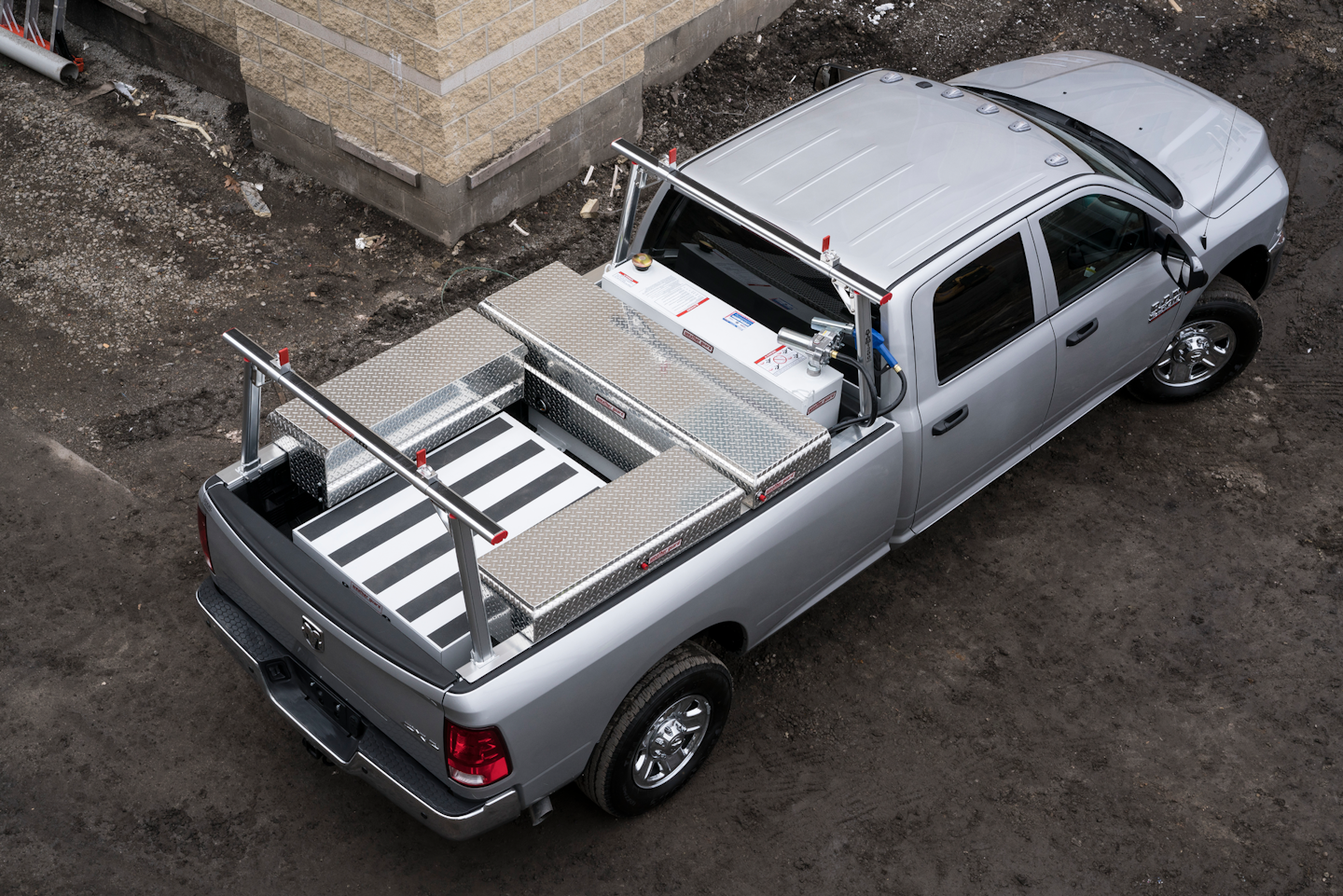 Transfer tanks come in different shapes. including rectangular, vertical and the most popular, 'L' shaped, which allows them to accommodate a truck box on top for additional tool storage. Image source: Weather GuardTransfer tanks for pickup trucks offer a convenient mobile fueling solution for small equipment fleets. Advantages include:
They typically offer capacities up to 119 gal.
Many of the latest offerings offer a separate diesel exhaust fluid (DEF) tank to meet the needs of newer equipment in the fleet.
They provide added security on site. "The convenience and added security of bed-mounted tanks make them a good investment for companies who regularly work on local projects. Transfer tanks can also be used on site if the contractor chooses this option," says Golevicz.
They come in a multiple shapes. "Generally speaking, most tanks mounted in pickup or service trucks tend to be 'L' shape," says Golevicz. This shape allows them to accommodate a truck box on top for additional tool storage. "Rectangular tanks provide some of the largest capacities available and vertical tanks are often mounted in the front of the truck bed to conserve bed space.
They enable fuel delivery to harder to access areas. "Transfer tanks are ideal for remote or difficult to access locations where the area can't be reached by larger fuel trucks or fuel trailers," he adds.
They are lightweight. "The overall vehicle weight is much less compared to a dedicated fuel truck or fuel trailer for easier access to undeveloped and remote jobsites," says Chelsea Beights, Transfer Flow. Baffling in the transfer tanks can also help reduce fuel sloshing, which improves handling of the truck.
"With the cost of fuel rising and variable distances between work sites, construction operators can realize significant cost savings by adding a transfer tank to their fleet vehicles," says Golevicz. Topping up portable equipment on the jobsite during the day and refueling equipment that may not be able to make it to the end of the shift can be common issues. "Transfer tanks come in handy in each of these situations, helping to minimize the number of return trips for fuel and therefore saving time and money."
According to Beights, selection of the most appropriate transfer tank includes making sure the tank certification meets your refueling needs, including a Department of Transportation Special Permit if you need to legally transport gasoline or other fuels. Also consider the pumping system, which can include manual or 12-volt options.
It is important to realize the limitations pickup transfer tanks face as fleet size and machine size increase. If you were to rely solely on transfer tanks, it may require multiple trips to keep equipment fueled, reducing overall worker efficiency. And these smaller quantity tanks are often filled at filling stations, which means you are being penalized by paying the associated on-road tax as opposed to using the off-road, tax-free dyed fuel.
One Contractor's Fuel-handling Challenge
Denver-based Colorado Milling LLC used to rely on transfer tanks mounted in pickup trucks to fuel its equipment fleet, which includes four Wirtgen milling machines.
"We typically have three to four jobsites a day and on every one of those jobsites is a milling machine, a wheel loader, a side-cast broom and a skid steer," notes Jordan Hill, superintendent. This equipment demands a steady supply of diesel fuel. "On any given day, you are probably looking at about 400 gal. We would haul pretty much everything with pickup trucks, so lots of trips back and forth to the gas station."
The transfer tank size was limited to 119 gal. to avoid Hazmat requirements. "We found tanks that were right under that limit," says Hill. But this still resulted in an inefficient, labor-intensive practice.
"Typically, at the end of the day, I would get done running the mill, and while my crew was cleaning, I would start making laps to the gas station to fill everything up," Hill notes.
"At the end of the day, we would have a guy off the crew take the service truck to a gas station," Chris Vorhies, owner, Colorado Milling, acknowledges. "Most of the time, he would take from two to three trips a night to fuel up all of the equipment to get it ready for the next day. It was overtime work and it was, in the long term, very expensive."
Given a strong work backlog, Colorado Milling could not afford this inefficiency. "Business is booming," reports Hill. "We are trying to do 12 months of work here in nine months."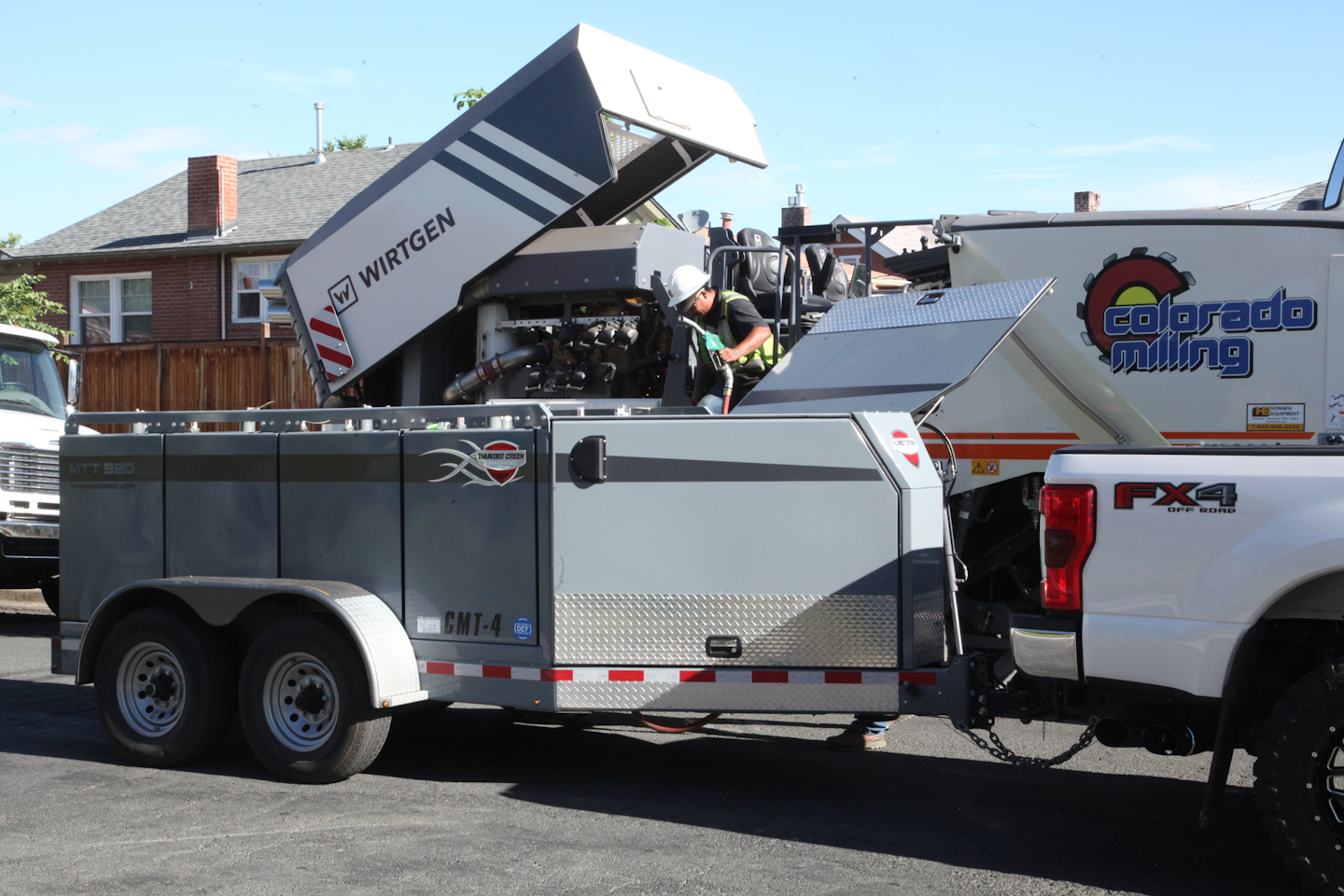 The Thunder Creek multi-tank trailer utilizes multiple 115-gallon tanks individually connected to a pumping system. This allows you to haul up to 920-gallon of diesel without a CDL or Hazmat endorsement.

Multiple Tanks Deliver Multiple Benefits
To address this issue, the company purchased a Thunder Creek MTT920 multi-tank trailer to increase the efficiency of its fueling operations. The multi-tank trailer utilizes multiple 115-gal. tanks individually connected to a pumping system.
The federal DOT requires a Hazmat endorsement when the tank size reaches 119 gal. With the valves between the tanks shut, it is possible for the multi-tank trailer to legally mitigate the need for the driver to carry a Hazmat endorsement. In many cases, a CDL may not be required either, depending upon local DOT regulations.
The trick to avoiding the Hazmat endorsement is in the design of the trailer tanks and plumbing, which allows the Thunder Creek trailers to haul 460, 690 or even 920 gal. of diesel fuel. Everything flows into a common manifold. Shutting off the valves for each of the tanks after fueling makes the trailer legal for transport since each individual tank is under the 119-gal. limit.
For Colorado Milling, the multi-tank trailer means fewer trips to fuel equipment. "We probably empty this trailer every other day," says Vorhies. "So we are filling this trailer up to capacity about three times a week. It cuts down on taking trips to the fuel station. It is very valuable just in cutting overtime and cost," says Hill. "We get two to three days on a fill-up."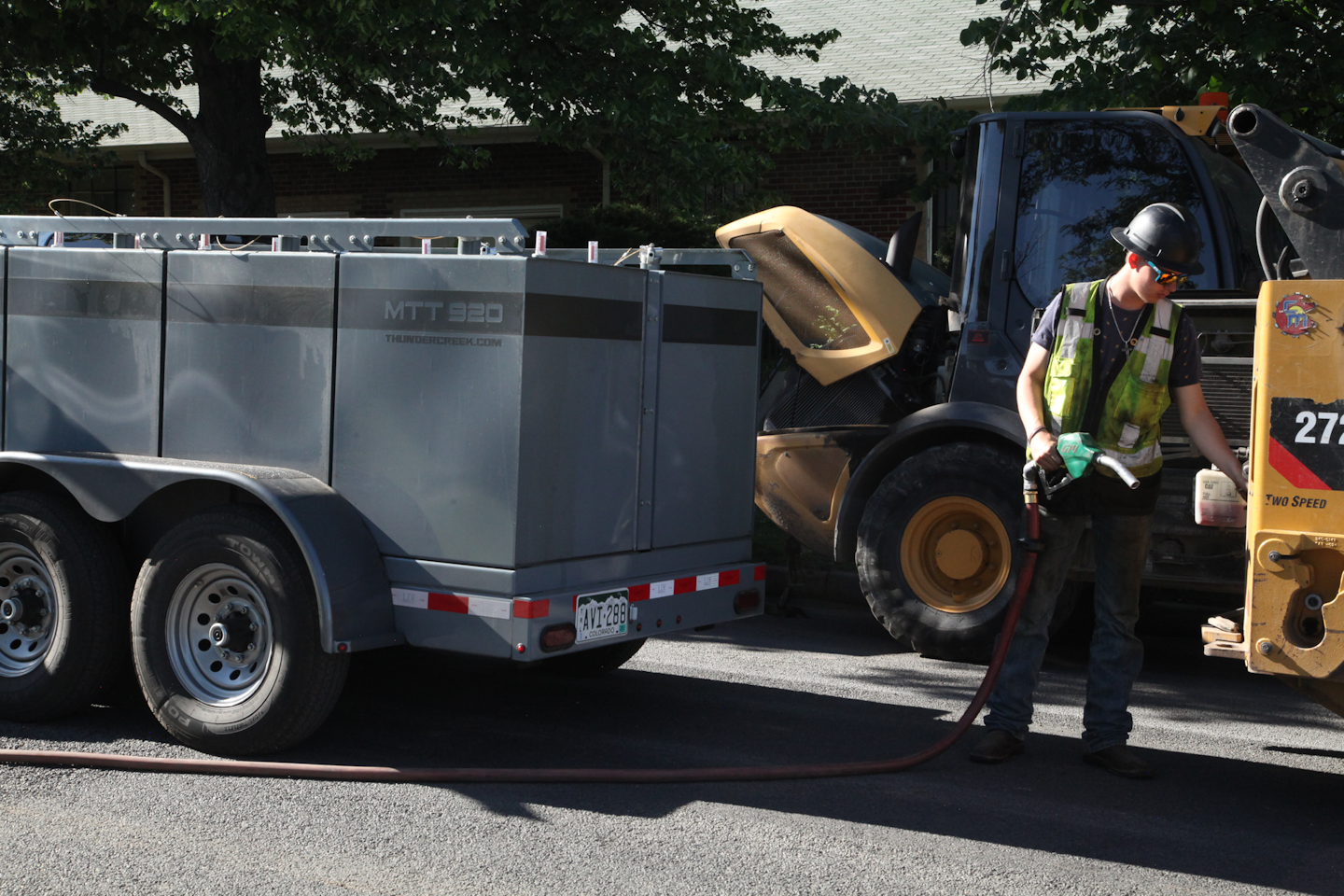 Thunder Creek
There are also advantages in terms of purchasing fuel in bulk. The ability to buy in bulk means Colorado Milling saves money by avoiding the on-road fuel tax.
"I can go to the station by our shop and get the red dyed fuel," says Hill, which is designated for off-road use and therefore not subject to road use taxes. "We were using truck stop fuel and paying taxes."
In addition to saving trips, the multi-tank trailers allow time savings when filling equipment. Many of the pumps on transfer tanks have limited flow rates in terms of the gallons per minute of diesel fuel that can be transferred. "It is a lot faster with the much larger pump on the trailer compared to what we could get on a pickup," says Hill.
It is also important to maximize utilization of current employees given the shortage of available labor. "Being able to have a non-CDL or non-Hazmat driver fuel our equipment on a daily basis, that is a very important deal with this trailer," says Vorhies.
Access to the equipment is another important consideration. The trailer has proven maneuverable for Colorado Milling's jobsites. "It is short and easy to pull," says Vorhies. "You can get in and out of tight areas pretty easily. With the DEF tank, we are able to roll up on a job and fill the equipment without making a mess and be in and out as quick as we can get the jobs going."
Haul More with Fewer Requirements 
American Eagle offers its FuelMate mobile fuel trailers in 500-, 750- and 990-gal. capacities. "Having a multi-tank trailer allows contractors to legally pull more than 119 gal. of diesel fuel without having a Hazmat CDL," says Jason Vertin, assistant product manager, Stellar Industries. The trailer offers advantages over transfer tanks or dedicated trucks. "You don't have to have a dedicated chassis and you free up your Hazmat CDL operators."
One of the advantages of the FuelMate trailers is that they are built to withstand rugged environments with rough terrain. They are built using tubed framing and 2-in. top and bottom horizontal supports, allowing for more strength than a standard "C" channel frame. "We utilize spring axles in lieu of torsion because of durability, and weight distribution is spread out more evenly with springs axles," says Vertin.
Of course, there are other options available, including a large selection of fuel trailers and dedicated fuel truck options. Just be aware that many of these options will require a CDL licensed driver with a valid Hazmat endorsement, which can present many challenges if you require fuel in several different locations.