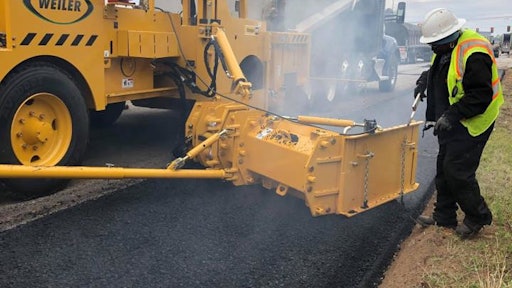 The summer of 2019 has been a busy one as I was traveling extensively to jobsites, association meetings and to visit asphalt equipment manufacturers. What I heard out there was mostly positive, but uncertainty still lingers heavily on the minds of everyone involved in the road building industry. 
While many contractors have more work than they can handle this season, they are not making future investments in the equipment or company growth they would be if they knew funding would be available for them when the Highway Trust Fund is scheduled to run out at the end of next year. 
"We need consistent funding to let consistent work," Brent Carron, vice president of Valley Paving, a heavy highway construction company based in Minnesota says. "I have no idea what equipment or personal I need for next year, so how do I plan? I don't have a crystal ball."  
And there's data to support that sentiment is felt all over the industry. Uncertainty means contractors are pulling back which is weakening the market.
"Nonresidential construction spending appears to be softening, albeit gradually," Arniban Basu, chief economist at the Associated Builders & Contractors says. "Private nonresidential construction spending has been trending lower for several months, and segments like office and lodging are no longer the drivers of construction spending growth that they had been, likely due to growing concerns about market saturation."
However, Basu has hope this downturn is only temporary. 
"With the economy still adding substantial numbers of jobs, wages growing at or near a decade-high pace, consumers continuing to spend and property values remaining stable, local and state governments should continue to experience solid income, retail and real estate tax collections," he says. "All things being equal, that should help fuel infrastructure outlays, especially given still very low borrowing costs."
Political Uncertainty
It's only August of 2019 and already the looming 2020 election is also a cause of concern for construction contractors. 
"Contractors are taking a wait and see approach," Travis Colwell," marketing and communications coordinator at Carlson Paving says. "That's causing uncertainty all over the market. We're hopeful it's only temporary, but everyone is feeling it."
The uncertainty is again fueled by the inability of our political leaders in Washington to find funding for our roadways. Last week, the Senate Environment and Public Works (EPW) Committee approved America's Transportation Infrastructure Act (ATIA). This legislation takes the first step in reauthorizing highway and bridge programs currently set to expire under the Fixing America's Surface Transportation (FAST) Act on September 30, 2020. 
Next, the Senate Commerce and Banking Committees will need to address rail networks, safety and transit before the Senate Finance Committee finds the pay-for. And that lack of a funding mechanism is the reason many contractor's won't be making any big decisions until the money is there. 
"The U.S. construction industry's most significant source of uncertainty may be the pending insolvency of the Highway Trust Fund," Basu adds. "That insolvency is now a mere two years away, and if policymakers fail to act expeditiously, state and local policymakers may choose to postpone certain projects given the rising uncertainty of federal funding. The highway/street and transportation categories are especially vulnerable to such dynamics."
Here's hoping Washington figures out the pay-for on the ATIA in a comprehensive way that benefits everyone in the industry.