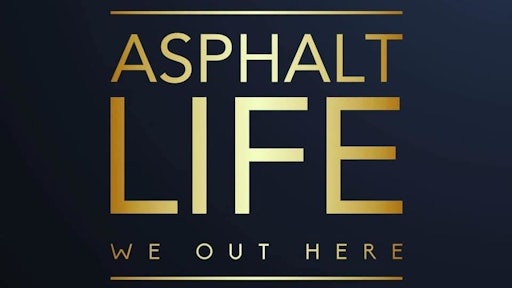 Social media has changed our world. It's helped us to be more connected than ever to the people we know and love. It's also helped us connect with people around the world we've never met before but who we share common interests and talents with. 
Over the last year, the asphalt industry has seen several groups like this pop up where those of us in the industry could come and share our daily experiences with people who understand. What started out as a place where people came to share funny images and jokes has turned in to a dedicated community of workers who have each others backs. 
Asphalt Life is one of the newer groups but one that has grown in numbers very fast due to the commitment from the group admins to keep the page informative and fun. 
"I decided to start the Asphalt Life Facebook group to create a new kind of paving community online," Edward James, creator of the group says. "Facebook groups have been a little hobby of mine now for a couple years and I wanted a page where people could interact with each other from every level of paving. Owners to employees to vendors. Ive tried really hard to keep the group interactive and drama free." 
Each week, James will welcome new members and start conversations with members about the equipment they are running, the jobs they are working on and more. The conversational tone of the group has created a safe space for workers to share and has also kept members engaged. 
And because of that, Asphalt Life is the fastest growing paving group on Facebook and the largest paving-related group out there.
A Place to Learn
Having a group that large can be challenging, but James knows it's important for people to have a place to go and ask questions and get feedback on the work they are doing. The group members post daily showing their successes and failures and the members of the group are there to congratulate and encourage as needed.
Users can ask questions of other users about everything from lunch options to equipment features and even discuss best practices for their work. Responses from other members are monitored and kept courteous as to maintain the community feeling within the group. 
"Asphalt Life to me is more than a group, it's a life style," James says. "We are a rough neck group of hard working men and women who love hard and play hard and work hard. The group is mainly a dedication to the hard working people in the industry."
And that means a lot to James and to the other members of the group.
"To me having a network of people like we do is priceless," he says. "To be able to ask a question about paving and have it viewed by over 20k people in seconds is amazing. Comments flood in with good ideas in a moments notice. With groups like ours the working person should never have to be in the dark about paving.
"Asphalt Life was a branding in the industry that i wanted to stick. I want to continue to grow it so people can connect and learn from each other in a non judgmental atmosphere."