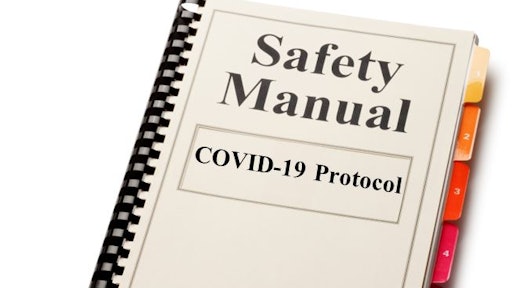 Adobe Photoshop | DNY59
In these unprecedented times, when so many businesses have had to furlough employees, shut down temporarily or permanently go out of business, the paving, maintenance and road building industry is still completing jobs. However, as the end of the year draws near, there are some hesitations on what the next year could bring in terms of business.
Dodge Data & Analytics conducted a survey of 172 contractors across the U.S. and 76% of respondents reported they are currently experiencing project delays due to COVID-19.
Adjusting to the New "Normal"
Contractors across the nation have had to adjust their day-to-day business activity to abide by the CDC guidelines for the Coronavirus. Many have scaled back crew sizes, modified the number of employees per vehicle when traveling and mandated masks in the offices. All of these adjustments have become the new normal throughout 2020. "We have instituted stringent guidelines early on and adhere to those," says Pat Denney, micro surfacing manager for Road Science, Tulsa, OK.
Doing business with potential customers and suppliers have had their added challenges. Social distancing has become second nature with technology readily available to hop on a Zoom call or send a quick message through Microsoft Teams. However, contractors are craving the human interaction.
Social distancing doesn't have to mean social isolation. It is more important than ever to connect with employees, customers and family members often. This year has taken a toll on all of us, and a simple check in with your employees can increase moral and company culture. In a recent article about labor and workforce development, ForConstructionPros.com staff discuss the importance of mental health with employees. Learn more about it here.
Looking to 2021
2020 has brought us not only the Coronavirus pandemic, but it is also an election year. Infrastructure and transportation funding measure dominated many ballot measures. Voters weighed in on many decisions that could shape the future of infrastructure. At the federal level, the House of Representatives approved a resolution that would fund federal government programs through December 11, and extend surface transportation funding legislation, the FAST Act, through fiscal 2021. However, where does that leave us for the remainder of 2021?
At this point, when there are still many unknowns, it is difficult to accurately depict what the industry will do in the year ahead. Asphalt Contractor is in the process of compiling the yearly state of the industry report, and Asphalt Contractor magazine editor, Jessica Lombardo, spoke with Arniban Basu, chairman and CEO of the Sage Policy Group, about what he expects for the year ahead. Basu expects there will be a stimulus package after the election and expects it to be massive.
Above all, the resounding words from the industry is that business will continue, even if communication has shifted from in person to online. Reminding your crews that they are essential to company success and over communicating with customers will help you get through this. Continue to follow ForConstructionPros.com and Asphalt Contractor for your road building news and business tips.