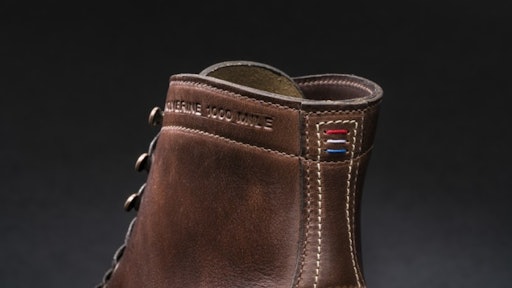 Work boot maker Wolverine is partnering with TV host Mike Rowe to launch a limited Labor Day edition of the 1000 Mile boot, featuring red, white and blue details on the backstay in a salute to America's skilled workers.
From August 28th to September 4th, 2018, Wolverine will donate 100% of the proceeds from the limited-edition 1000 Mile Work Boot to mikeroweWORKS, a non-profit organization focused around closing the skill gap, supporting skilled labor trainees, and dispelling myths and misconceptions about the skilled trades.
"The skills gap is real," says Mike Rowe, CEO of mikeroweWORKS. "and it's getting wider every year. Our country is facing a growing shortage of skilled tradespeople, and mikeroweWORKS is committed to helping more people get the necessary training to fill the many positions that are currently vacant. Wolverine understands the problem better than most. Their support of mikeroweWORKS has been most welcomed, and their own commitment to skilled training is evident in every pair of 1000 milers they produce. I'm very grateful for their leadership and hopeful that more companies will follow their example."
Over the last five years, mikeroweWORKS has granted or facilitated the granting of over $2.5 million in Work Ethic Scholarships, awarded to trainees who display a strong work ethic and willingness to learn their trade. Wolverine has contributed $100,000 to the Work Ethic Scholarship Program for the last two years, and awarded each scholarship participant a pair of Wolverine work boots.
The 1000 Mile boot, first introduced in 1914, features a brown Horween leather upper and a leather outsole with Goodyear Welt construction, which allows the boot to be re-soled. The limited edition features red, white and blue stitching on the backstay and a mikeroweWORKS embossed leather hangtag.
"Wolverine exists to support people who forge their own path, and our relationship with the mikeroweWORKS Foundation highlights our commitment to skilled workers who stop at nothing to build the future they want," says Andrew Shripka, vice president of marketing for Wolverine brand. "Mike Rowe is a true champion for those in the skilled labor field and is a natural partner for this limited-edition 1000 Mile boot."