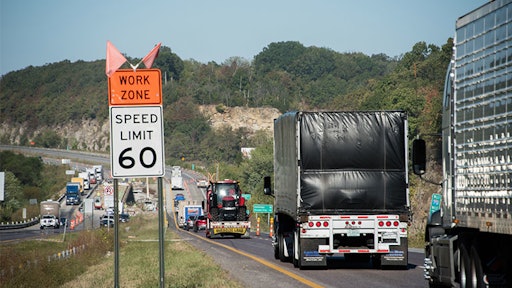 Missouri Department of Transportation
For contractors working along highways, work zones are a dangerous place. Traffic is speeding by you as work, it's difficult to focus on both your daily tasks and keeping yourself safe from the traveling public. According to the FHWA, more than 100 workers are killed or injured each year along our highways and the majority of fatal work zone crashes occurred on roads with speed limits greater than 50 mph. While most states have higher penalties and fines for drivers caught speeding in a work zones, some states are raising the bar in 2020 and seeking stiffer penalties.
Inspired by a Statehouse demonstration to raise awareness about safety for highway workers, two state lawmakers in Vermont plan to take a run at increasing fines for speeding in work zones this year.
Rep. Curt McCormack, D-Burlington and chairman of the House Transportation Committee, would like to triple fines for people who ignore the speed limits on roads where people are working. Rep. Brian Smith, R-Derby, plans to add a speeding penalty increase to a bill he introduced last year that takes aim at distracted driving.
"When we went to double penalties (the existing fine for speeding in work zones) I think there was an impact on drivers' behavior," McCormack says. "That's what we need to do again. If we have to go to quadruple, I don't really care; I don't think they can pay enough. It's extremely dangerous when people speed in a work zone."
Smith introduced a bill, H.165, last year that focused on distracted driving, proposing a $500 fine for driving while using a hand-held phone. At that time, McCormack discussed tripling fines for people who were caught speeding in work zones. Smith's bill would also add five points per infraction, meaning people caught using a mobile device twice in two years would have their license suspended.
"This isn't a Democratic or Republican bill," Smith said of the measure he plans to promote this year. "It's just a bill that is to protect people from getting hurt on the highway."
Other States Following Suit
Drivers will soon face fines for speeding through work zones in Pennsylvania when a statewide pilot program tracking vehicle speed culminates this winter.
The Automated Work Zone Speed Enforcement Program rolled out this December, places vehicle-mounted cameras to detect and record motorists who are traveling at 11 miles per hour or more over the posted speed limit.
These violations will be recorded as civil penalties only, and no points will be assessed to driver's licenses. Beginning March 4, registered drivers will receive a warning letter for the first offense, a violation notice and $75 fine for the second offense and another notice with a $150 fine for the third, and subsequent, offenses.
Drivers in Illinois will have to pay increased fines for Scott's Law violations, reckless driving, passing a stopped school bus, speeding in a construction zone and striking a construction worker in a work zone.
Lawmakers earlier this year also passed an update to the state's distracted driving laws, adding clarity to the rules about using video streaming devices while driving. Fines for using a streaming device start at $75.
Finally, Indiana is investigating new technologies to keep workers safe in work zones as well. A proposal to allow camera-generated speeding tickets in work zones is stalled in committee, but the Indiana DOT (INDOT) plans to roll out other new safety measures in work zones next year.
Governor Holcomb's has told the highway department to work with State Police on a list of options for getting people to slow down in work zones. When he announced his agenda, Holcomb emphasized the potential to use technology to keep work zones safer with cameras a specific example. He says cameras are just one possibility, along with broader use of electronic signs to warn drivers of work zones ahead. Holcomb says INDOT will also look at lower-tech options like additional police patrols, trailers to alert drivers to upcoming work zones, or using contract terms with builders to minimize the disruptions to traffic flow.
Holcomb is putting his weight behind a bill to make Indiana the 22nd state to ban the use of electronic devices behind the wheel. He says it's a critical safety measure that needs to pass this year, and says he's "cautiously optimistic" after a unanimous endorsement from a House committee.
This is a good start. However, since over fifty-four percent of highway contractors reported that motor vehicles had crashed into their construction work zones during the past year, most states need to push for tougher penalties for work zone driving violations.