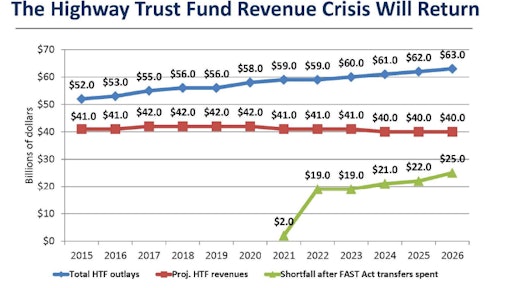 The end of 2015 brought what we thought was going to be sufficient funding for our roadways for a significant amount of time.
What we found however was that following the passage of the long-term highway & transit bill known as the FAST Act, the Congressional Budget Office reported that in fiscal year 2021 (the last year of the act's authorization) the trust fund balance will be zero and that the government will need $113 billion in additional revenue to maintain funding for the ensuing six years.
At the recent National Asphalt Pavement Association (NAPA) IMPACT meeting in Chicago, Il, current NAPA Chairman Kevin Kelly urged attendees to get involved in the legislative process and help make Congress aware of the shortfalls with the FAST act and challenges to our industry.
According to Kelly, here are 10 ways you can be an advocate for our industry:
Identify your Members of Congress:
Kelly urges asphalt industry advocates to find out who your members of Congress are and get to know them. Find out what committees do they serve on? How did they vote on the FAST Act? What is their position on a revenue increase for the Highway Trust Fund? Do they want to develop the Federal Highway Program? Find who represents your state in Congress here and in the House here.
Understand the Legislative Process:
Do you know how a bill becomes a law? A legislative proposal that if passed by both the House and the Senate and approved by the President becomes law. That means getting the majority of 435 Representatives, 100 Senators and our Commander in Chief to all agree on something. No easy feat. It's important to understand the process before you head out to talk to those that represent your state in Washington.
Know Your Message:
Before you go on the road raising awareness for highway funding, you need to know what you're going to say. Do you think increased highway funding is good for your company? Improves safety? Creates jobs? Makes America more competitive? All of the above? Know your exact messaging and what you hope to accomplish by speaking with legislators.
Identify Fellow Advocates:
You are not alone in this fight. There are surely other professionals who will benefit from sufficient and long-term funding for our roadways. Connect with them to help take your message to law-makers. Kelly recommends connecting with your local Chamber of Commerce that can put you in touch with local retailers to partner with. Also become involved with local equipment and parts suppliers, dealers, engineers and fuel suppliers. All of these businesses depend on road building to grow. Lean on each other. 
Email Your Member of Congress:
Through the power of email, you can be a 2-minute advocate for the industry. It takes one minute to research and read about what the latest issues facing our industry and another minute to email a personalized message to your member of Congress. Email addresses can be found on each members personal webpage, but start here to find a list of websites for Congress members and here to find a list of websites for the House.
Meet Your Member of Congress:
Follow your legislators on social media pages like Facebook and Twitter to know when they will be back in your home state and make an attempt to meet with them. Most of their websites will also features a way to connect with them to schedule an appointment. Do your research before you go, know the critical issues their facing right now and have your message ready as well as questions about where they stand on funding for the Federal Highway System.
Hold a Plant Tour:
Kelly says that holding a plant tour is one of the most effective ways to establish a working relationship with legislators while also educating them about important issues facing the industry.
Attend the TCC Legislative Fly-In:
The Transportation Construction Coalition's annual legislative fly-in will be held May 17-18, 2017 at the Hyatt Regency Washington Hotel in Washington, DC. In conjunction with the fly-in, industry associations will be hosting meetings with the Federal Highway Administration. This is a prime opportunity to get in front of the legislators who support highway funding and make your issues known to them.
Support NAPA & Other Asphalt Associations: Kelly says that one of the most crucial ways we can represent the asphalt industry is by joining associations with a strong political action committee. Kelly says the main federal issues affecting our industry are:
Highway & Airport Funding
Asphalt Research
Pavement Type-Selection Mandates
Pavement Design Mandates
Sustainability
Regulations
      10. Vote:
Voting is one of the most importing civic opportunities available to us as citizens of the United States and your vote really does matter. Register and Vote on November 8th 2016. Register here.