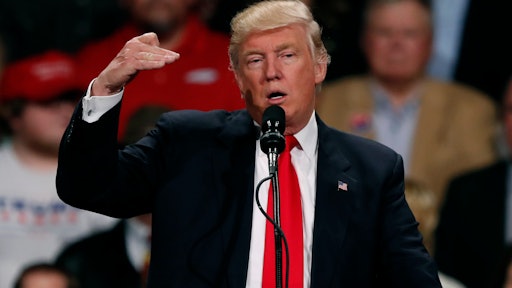 Trump has had a rough summer. Under his administration he failed to repeal and replace Obamacare as promised, fumbled through the Charlottesville tragedy, fought with Congress on the border wall and has been working to avoid an all out nuclear nightmare with North Korea. All of these things have left his approval rating at a near record low.
What Trump could use right about now is a "win" and we think there is nothing better than infrastructure spending. The devastation leftover from Hurricanes Harvey and Irma that crippled Houston and Florida underscored the national problems of crumbling roads and bridges, inadequate transportation systems and aging electrical grids.

During his campaign, Trump pledged to spend $1 trillion on infrastructure and promised to upgrade the nation's infrastructure, but he has yet to offer much detail about how he plans to do so. The need is so great that both President Trump and congressional Democrats want Washington to spend billions on repairs and construction.
Some in Washington say that to get it done, Democrats could offer to support tax reform, which congressional Republicans badly want, in exchange for Republican votes for infrastructure spending.
Representative Josh Gottheimer, a New Jersey Democrat who's trying to assemble bipartisan coalitions on issues like infrastructure, was in a meeting with Trump last week and came away cautiously optimistic.
"We talked about different issues but he really emphasized infrastructure and was open to putting it together with tax reform," Gottheimer said. "There are a lot of tough questions but at least it's an encouraging first step."
Now is The Time
We need a lot more steps past that first one as there are about 58,000 deficient U.S. bridges, almost a tenth of all the bridges in the country, just as an example of our failing infrastructure. Tolls could finance a small portion of the necessary repairs, but the real money would probably have to come from a hefty boost in the federal gasoline tax, which has been stuck at 18.4 cents per gallon since 1993. 
Raising a gas tax is a start as a recent poll showed that 84% of Americans are willing to pay more in the name of infrastructure if gas tax and toll hikes are mandated by law to be spent only on the infrastructure projects for which they were intended.
"Everyone is talking a good game and everyone knows the needs, but the problem is where to get the money," Ray LaHood, a former Republican congressman and Transportation Secretary under President Barack Obama and a forceful infrastructure advocate, says. "You can't do it chintzy."
LaHood said that 25 states have raised their own gasoline taxes, and "no one has lost an election because of it."
If Trump wants to accomplish something, this is his chance.