If you aren't already feeling an uptick in work this year, get ready for it.
Alison Premo Black, senior vice president and chief economist at the American Road & Transportation Builders Association (ARTBA) presented a webinar on what the construction industry has seen in the first half of 2018 and what to expect as the year rolls on.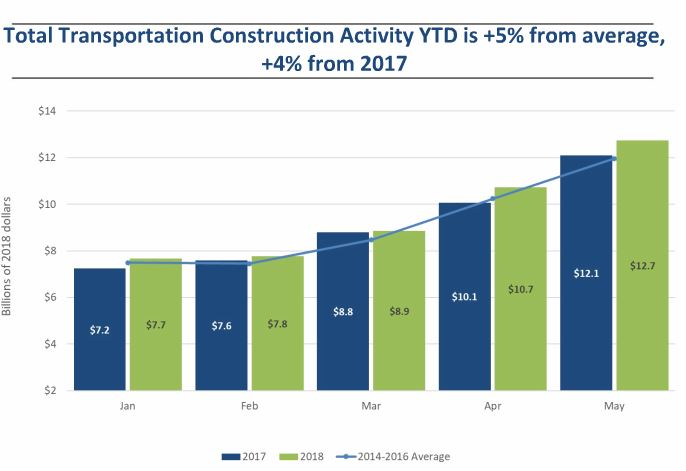 According to the webinar, total transportation construction activity YTD is up 5% ($ 47.8B ) from 2017 ($45.8 B).
After the five months of 2018 recorded, we've completed about 34-35% of all of the work we will see in a year. If the current trend continues, at year end we should see $136.5B in activity ($134B in 2017). That would equate to a real growth of about 2% for total transportation construction activity in 2018.
In addition, growth for highway construction alone should be up 2-3% for the entire year. 
While bridge construction down 8% in 2018 ($2.8B in 2017), airport construction is more than making up with that with over 64% growth in 2018. 
States Take the Lead 
With the lack of an infrastructure bill, states are starting to come up with their own funding measures. Currently, there are 215 transportation related funding bills happening in 2018 in 39 different states. 
In 2017, voters approved $4.25B in transportation funding initiatives and while it is still very early in the November 2018 election process, we are already tracking ahead for funding approvals with over 100 measures in ballot initiatives for transportation funding in the works.
2020 Looms Ahead
The two-year budget agreement passed earlier this year agreed to increase infrastructure spending by $5.2B for "infrastructure" each year for two years. Under the FY18 Omnibus Appropriations Bill, total federal infrastructure spending is up $7B in the asphalt pavement market, that's a 15% increase.
But 2020 is just around the corner. ARTBA executive vice president of advocacy David Baurer warns that if we do not find anything to take place of two-year budget agreement, the Highway Trust Fund (HTF) crisis will return.
To maintain the current highway spending levels beyond 2020, Congress will have to find an additional $93B to write a five-year bill and $115B for a six year surface transportation bill.
Representative Bill Shuster, who is also chairman of the Transportation & Infrastructure Committee, released an infrastructure plan that would generate $284B over 10-year period.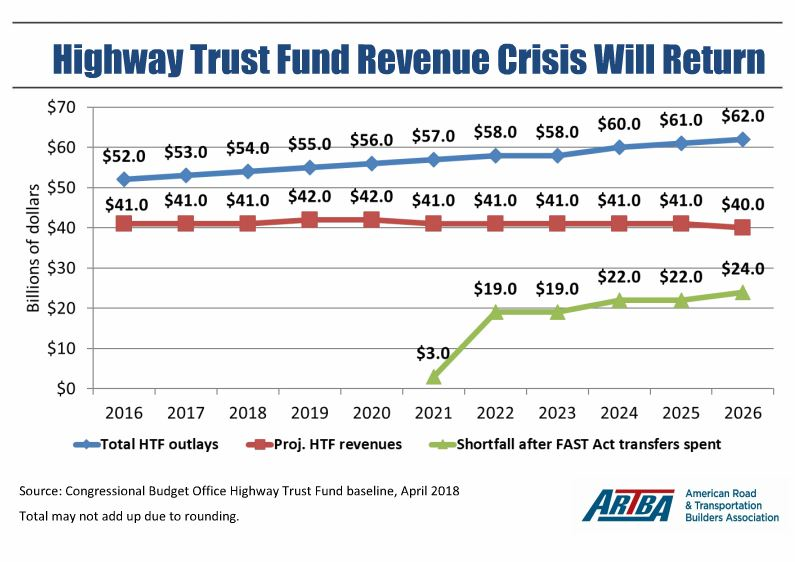 To do this, he proposed a 15-cent gas tax increase, an electric vehicle battery tax, a 4.3-cent tax on commuter trains, a bicycle tire tax and a vehicle miles traveled pilot program. 
"The Shuster proposal supports growth and gets the Highway Trust Fund out of an immediate insolvency crisis," Bauer says. "He realizes that raising the gas tax is not a sustainable solution, but it's a state. The goal would be to find a long-term solution to the Highway Trust Fund and once we figure out funding, that can happen very quickly."
We can't take this good year for granted. If we want to continue the growth we're seeing in 2018, we need to be diligent with our laws and our funding measures. 
Infrastructure is one of the few bipartisan issues out there. If we don't see something happen by 2020, there will be funding cuts to our infrastructure and plenty of uncertainty for our states.