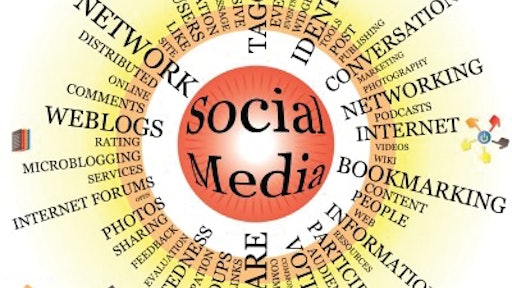 This blog post was written exclusively for ForConstructionPros by equipment leasing company Balboa Capital.
Every construction company, regardless of its size, has a brand identity. And the vast majority of construction companies attempt to grow their brands through various marketing-related efforts. These include print advertisements, press releases, special promotions and trade shows, to name a few. While these strategies can prove to be successful, there is one that simply can't be overlooked in today's business world: Social media.
Social media helps build brands by creating a 24/7/365 interactive experience between companies and consumers. Social media, along with your website, helps your intended audience learn about your brand online and, over time, can turn consumers into customers. Americans are subjected to several thousand marketing messages daily, so a brand that wants to stay relevant needs to use social media.
Construction professionals who realize the importance of brand-building are turning to social media applications such as Facebook, Twitter, Google + and YouTube in order to promote their services to consumers, contractors and related industry professionals in real-time. Social media, when used properly, can help construction companies connect with prospects, build brand awareness, generate website traffic and, ultimately, increase visibility online.
Social media is much more cost-effective than traditional marketing efforts because it doesn't require an advertising agency or design firm. Instead of spending your construction company's capital on a small ad campaign, make a smart business move and launch a social media campaign.
If you think social media is only for tech-related businesses, think again. Many construction businesses and independent construction professionals have jumped on the social media bandwagon. In fact, some of them might be your competitors.
Social Media - You Had Better Learn to Love It!
To get started, determine who will oversee your social media campaign, and then decide which applications you want to use. Social media might seem intimidating and overwhelming at first, but once you get going, it becomes very easy to manage. The most common social media applications that you can put to work for your construction business include:
Facebook - Your branded Fan Page can include links, pictures, biography and more.
Twitter - A great way to share posts, links and engage with followers.
Google Plus - A powerful SEO application that is similar to Facebook.
YouTube - Showcase your construction videos to differentiate your company and highlight your work. It's like having a non-stop TV commercial… for free.
Vimeo - Another great video website to feature your videos.
Pinterest - Post pictures of your work in as many categories as you like to give people a reason to use your services. Consumers are visual, and pictures can help generate new and repeat business.
Five Tips to Establishing a Social Media Presence
Four Ways to Make Social Technologies Relevant to Your Business
It's a good idea to limit your social media friends and connections to those who are in a construction-related industry. Friend or follow these companies and individuals as well as your customers. Connecting with your actual customers is a great way to get "social testimonials" should they mention you in their posts. Industry professionals and customers are the ones who will actively engage with you and share relevant news, posts and information. Plus, they are more likely to visit your website or blog when you post links to either. Having a ton of "connections" might look good, but if they aren't generating web traffic or leads, what good are they? In short, choose quality over quantity.
Next, practice good social media etiquette. Don't make irrelevant posts or post too often, and remember to keep promotional posts about your construction company to a minimum. Gannett Media Corporation recommends the 80/20 rule: 80 percent of posts should focus on up-to-date news posts, relevant topics and one-on-one engagement, and 20 percent of posts should focus on your business. Businesses that overly promote themselves appear desperate and can end up losing social media followers and fans.
Lastly, make sure you add social media icons and links to your website. This is a great way to quickly gain followers by letting them know which social media sites you are using.