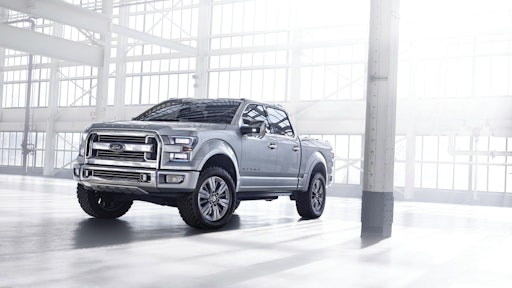 Ford's F-150 EcoBoost -- a twin-turbo'd V6 in the world's best-selling half-ton pickup truck -- not only proved that there was plenty of fuel efficiency to be gained in pickups, but that customers will pay for fuel economy.
F-150 V6 EcoBoost Matches Super Duty V8 Towing Capacity
Introduced in the 2011 model year, EcoBoost has become the most-popular engine option in the F-150. The engine is a remarkable technology story, to be sure, but its market success is the important lesson.
Don't miss this: if truck makers offer capable, fuel efficient options, pickup truck users will buy them.
And the fuel-economy race is clearly on.
General Motors responded with a trio of six- and eight-cylinder EcoTec3 engines -- all capable of running in four-cylinder mode to save fuel when power demand is low -- for the 2014 model year. Chevy Silverado/GMC Sierra with a 5.3-liter eight cylinder delivers 19 mpg; 1 mpg better than the F-150 EcoBoost.
2014 Chevrolet Silverado 1500 Pickup First Drive
Ram introduced the turbocharged V6 EcoDiesel for the 2014 model-year Ram 1500, targeting 23 mpg combined fuel economy (U.S. EPA numbers not yet released). It's the only diesel available in a half-ton truck in the U.S. 
Truck buyers who haul and tow a lot with their half-tons will want to note that Ram's EcoDiesel is the only engine to equal the Ford EcoBoost's 420 ft.-lb. of torque. GM's Silverado/Sierra with the 5.3-L EcoTec3 V8 makes a respectable 383 ft.-lb., but the 20-mpg EcoTec3 V6 takes a significant step down to 305 ft.-lb. You have to step up to much bigger, much less efficient V8s to get more than 420 ft.-lb. Of course buyers who need that kind of power are much less likely to make fuel efficiency a priority.
Ford will introduce the 2015 F-150 at the Detroit Auto Show later this month. Rumors of the new truck's coming are dominated by the expectation of an aluminum body that should reduce weight and potentially improve fuel economy (and raise durability questions). It will be interesting to see what other economy technologies are offered on the F-150, and how hungry truck buyers are for incremental improvements in miles per gallon.
Atlas Concept Truck Offers Glimpse into F-150's Future
Note: all the fuel economy numbers in this blog are maximum economy numbers for two-wheel-drive, regular-cab models. Check the accompanying table for four-wheel drive, crew-cab numbers.