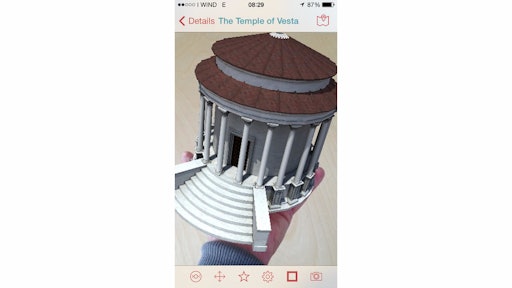 Mobile app: ARMedia Player
Developer: Inglobe Technologies
Cost: Free
Available on: Apple and Android devices
The ARMedia Player mobile app allows users to interact with ARMedia Plugins virtual models directly in the real physical space using augmented reality (AR) technology. Simply aim the device's camera to the AR target image and simulate the setup of your models in an unrestricted way to interact with their features. The general purpose player is suitable for studying virtual prototypes of any kind and is a unique tool for construction, design, architecture, engineering and education.
Video: How to Use the ARmedia Augmented Reality Player
When you look at the AR target image, the 3D model appears on top of the AR target image. Use the app to explore 3D models from any angle and scale or rotate models using simple gestures.
App features:
Browse the models Library and make any model you like the default model for quicker access
Add new models to the Library using iTunes, mails' attachments, links to models on the web or any file sharing app installed on your device
Import models directly from your preferred 3D modeling software via ARMedia Plugins available for your personal computer
Adjust tracking settings in real-time to fit environmental conditions during AR visualization
Use device's camera to take a picture of the simulated image