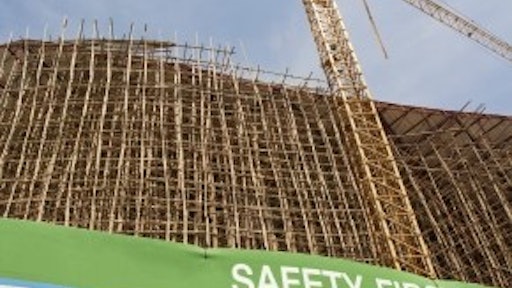 Back in September 2015, the Occupational Safety and Health Administration (OSHA) released its list of top OSHA safety violations for 2015. For the fifth year in a row, Fall protection topped the list. A lot of emphasis is placed on preventing accidents, specifically fall related, in the construction industry. So why is this still the top cited safety violation?
During construction of the Golden Gate Bridge from 1933 to 1937, Chief Engineer Joseph Strauss insisted on the most rigorous safety precautions in the history of bridge building. Strauss's project was the first where workers were required to wear hardhats. Workers also wore glare-free goggles, used special hand and face cream to protect against wind and used sand-blast respirator helmets.
The biggest safety innovation to come out of Strauss's safety first focus was the safety net.
Take a lesson from Strauss and the Golden Gate Bridge construction. Safety should be the first priority and always insisted upon. Think of how many accidents and even deaths could be prevented if all contractors go into every job — big or small — with a Strauss-like safety mentality. 
OSHA 2015 top 10 violations
Despite the fact that it continues to top the list of violations, fall-related incidents have decreased. According to an article from Graphic Products, fall-related incidents decreased 1.5% from 2014 and 11% from 2013. However, there were still 7,402 fall protection citations issued during the 2015 fiscal year.
Hazard Communication violations were the second-most cited, holding that spot for the fourth straight year even after a nearly 20% overall decline (nearly 1,000 less citations in 2015).
And once again holding the third spot on the list was scaffolding violations, with 4,681 citations. Like the two violations above it, scaffolding citations have decreased (6%) compared to 2014.
The positive news is that citations are decreasing. In fact, machine guarding and lockout/tagout were the only two categories that saw increased citations compared to 2014.
However, the high number of citations and incidents is still alarming and should raise a red flag for the construction industry. We clearly need to work hard to protect our workers.
The full top 10 OSHA violations in 2015 are:
Fall protection (7,402 citations)
Hazard communication (5,681 citations)
Sacffolding (4,681 citations)
Respiratory protection (3,626 citations)
Lockout/tagout procedures (3,308 citations)
Powered industrial trucks (3,004 citations)
Ladder safety (2,732 citations)
Electrical and wiring methods (2,624 citations)
Machine guarding (2,540 citations)
General electrical safety (2,181 citations)
Compare that list to 2014 and 2013 and you'll see relatively few changes.
2014 top 10 list:
Fall protection
Hazard communication
Scaffolding
Respiratory protection
Lockout/tagout procedures
Powered industrial trucks
Electrical and wiring methods
Ladder safety
Machine guarding
General electrical safety
2013 top 10 list:
Fall protection
Hazard communication
Scaffolding
Respiratory protection
Electrical and wiring methods
Powered industrial trucks
Ladder safety
Lockout/tagout procedures
General electrical safety
Machine guarding
There are so many pressures to cut costs and get jobs done faster, but that should never be at the expense of worker safety. Construction companies need to take a step back and remember that the job would not get done if it wasn't for the laborers putting their lives on the line everyday.
Please take time to educate your workers on construction jobsite safety. And take it a step further by following up or making periodic unannounced stops at construction jobsites to ensure safety standards are being followed. Save lives, and money, by preventing safety violations and accidents well before OSHA gets involved.
And if you are a construction laborer you should also put safety first to not only protect yourself but your co-workers also. We often get comfortable and complacent in our jobs and sometimes place less of an emphasis on safety because we haven't gotten hurt yet. Don't let that mentality take over. After all, we are not invincible. 
Be proactive and help change this OSHA top 10 list.