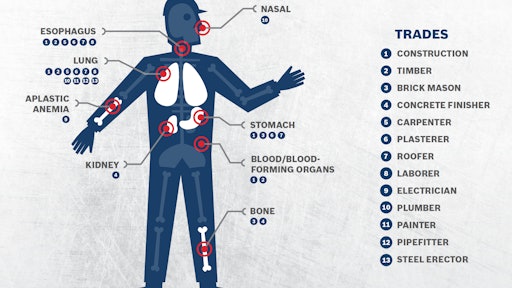 We are all well aware (or should be) of the new OSHA rules for exposure to crystalline silica. According to a new infographic from Bosch, 1.85 million construction workers are exposed to respirable crystalline silica and more than 640,000 are exposed to silica levels that exceed the OSHA proposed Permissible Exposure Limit. That's a lot of people.
Infographic: Breathe Easier on the Job - Reduce Exposure to Silica Dust
Many in the construction industry feel the new OSHA rule is nearly impossible to abide by. Whether or not you agree with the new OSHA limits, the fact is that exposure to crystalline silica can have long-term negative health effects, and as a construction business owner, manager or employee it is important that you do your part to keep all your employees or co-workers protected from this jobsite danger.
Prolonged exposure to silica dust has been linked to several types of cancer and illnesses. According to a new infographic from Bosch, construction workers face increased risks of cancer or illness related to the esophagus, lungs, stomach and blood/blood-forming organs.
[VIDEO] Understanding Crystalline Silica Hazards
Bosch offers some tips for preventing and limiting workers' exposure to silica dust. First, wear protective respirators and dust masks during construction tasks. Make sure makes are fitted correctly so they fit comfortably while providing protection.
OSHA offers even more suggestions for control methods. "Controlling the exposure to silica in construction can be done through engineering controls, administrative actions, and personal protective equipment (PPE), similar to practices in other industries. Engineering controls include such things as replacing silica with another material (substitution), isolating an exposure source, and using ventilation systems. Administrative actions include limiting workers' exposure time and providing showers. Use of PPE includes wearing proper respiratory protection and protective clothing."
Parking your car away from the worksite or any areas where it could be contaminated with silica, lead or wood dust is also a good preventative measure.
And if you can, use dust extraction tools and accessories to reduce dust exposure to workers and those living and working around the jobsite.
The new OSHA crystalline silica exposure rule went into effect in June 2016, and the construction industry has a compliance date of June 23, 2017, one year after the effective date.
How have you been adapting your workers and work processes to the new OSHA silica rule? I think educating workers on the dangers, sources and preventative measures is key to limiting or eliminating long-term health issues. 
Whether you agree with the new OSHA limits or not, have you taken the time to educate and help your workers comply? If not, start now — not only to meet the compliance deadline but to help your workers come home safe and healthy long after they may be working for you.