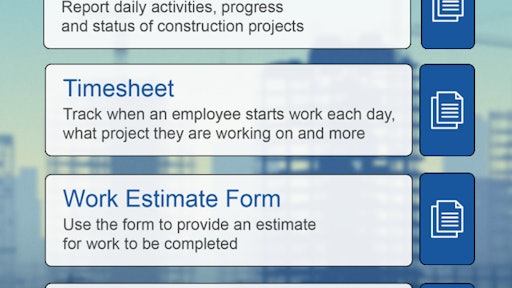 Mobile app: Construction Manager App
Developer: Snappii
Cost: Free
Available on: Apple and Android devices
Snappii's Construction Manager mobile app is designed to keep the flow of information between company headquarters and construction sites moving smoothly. The app is 100% customizable to a company's needs.
Construction Manager lets users fill out and share forms such as maintenance logs, daily reports, job estimator and weekly timesheets.
With daily logs, documentation and project management are now linked, and users can instantly know the status of all projects. Timesheets feature geo stamps and time stamps.
While the Construction Manager app provides pre-built form solutions, contractors can also upload their own PDF form and customize it to meet specific business needs.
If features of the free version are not enough for your business, you can use in-app purchase to upgrade to additional features such as:
Monthly unlimited form submission subscription for $4.99 per month
Annual unlimited form submission subscription for $49.99 per year
App features:
Track work times, projects and occasions with mobile timesheets form
Make construction project estimates quantifying materials, labor and equipment
Update and track project progress with Daily Reports form
Calculate measurements
Record day's important events
Keep daily reports and maintenance logs recorded within the app
Create a contact list and make emergency calls when needed
Export to PDF report
Retrieve PDF forms of estimates, timesheets, maintenance logs and daily reports and share via email, Facebook, network drives and other sharing options
Work in online/offline modes