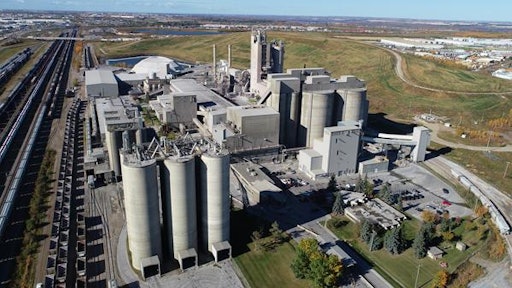 Lehigh Cement
Pennsylvania cement producers Lehigh Cement and Keystone Cement have abandoned a proposed merger. 
In September 2019, HeidelbergCement announced that its subsidiary Lehigh Hanson would buy Keystone Cement's plant in East Allen Township and Bath in Pennsylvania, for $151 million. HeidelbergCement made the deal with Giant Cement, a subsidiary of Elementia. The plant's 132 employees were expected to keep their jobs, according to a story by The Morning Call. 
The Keystone plant has been operating since 1928 and supplies the Pennsylvania, New Jersey and New York markets with bulk and bagged portland cements. The plant operates with a kiln line, which was modernized in 2009 and has a capacity of 1.1 million tons of cement per year. 
"With its modernized kiln, healthy customer base and large limestone reserves, the Keystone cement plant is an excellent strategic fit for HeidelbergCement in North America and an important step in strengthening our cement footprint in this key market," Bernd Scheifele, chairman of the managing board of HeidelbergCement, said in 2019. "The acquisition of one of the most modern and environmentally sustainable cement facilities in the United States will further help Lehigh Hanson reduce its carbon footprint by safely substituting alternative fuels for traditional fossil fuels such as coal. In addition, we anticipate a number of operational efficiencies as a result of this transaction."
The deal was dependent upon antitrust regulatory approval. 
Last month, HeidelbergCement pulled out of its merger plans, after the Federal Trade Commission (FTC) filed an administrative complaint against it. The FTC alleged that the acquisition would "harm competition in the market for gray portland cement in eastern Pennsylvania and western New Jersey, reducing the number of significant competitors from four to three."
The FTC said it worked with the Pennsylvania Attorney General's Office in the case. 
"This is great news for cement customers in eastern Pennsylvania and western New Jersey," Maribeth Petrizzi, acting bureau of competition director at the FTC said in a statement. "I'm grateful to the bureau's staff for their tireless efforts throughout this investigation, but also to our partners in the Pennsylvania Attorney General's Office, who worked closely with us to ensure that cement customers in this region will continue to benefit from competition between Lehigh and Keystone."