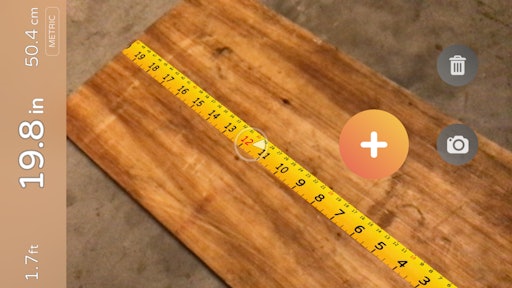 ARMeasure.com
Mobile app: AirMeasure – AR Measuring Kit
Developer: Laan Labs
Cost: Free
Available on: Apple devices
AirMeasure is an augmented reality measuring toolkit that provides users with more than 15 unique modes to create accurate measurements. These tools let contractors measure anything from small items, to room dimensions, to faraway buildings.
Video: Watch AirMeasure in Action
The tape measure features three modes: air, surface and points.
Additional modes include Point&Shoot mode to capture dynamic measurements. This mode's corrective functionality helps users capture accurate measurements. Surface Mode can be used to measure along horizontal plans. AirMode is designed for using the phone like a traditional tape measure where the ruler is physically moving with the device.
Video: AirMeasure Tap Measure Demo
AirMeasure also features additional tools such as laser levels, brushes for drawing or marking things in 3D space, and a catalog with virtual furniture you can preview in a space.
The Floor Plan Maker tool takes measurements right into a 2D plan editor where users can make adjustments; add features like walls, furniture, lables and more; and share the plans as a PDF, SVG or image.
App features:
Multiple measurements
Choose between metric or standard units
Trace the outline of a room to create a floor plan
Draw and resize 3D cubes
AirBrush draws or annotates in 3D space
Laser distance gets the distance to a certain point
Height tool to measure the height of anything
Refine measurements by capturing them from a second perspective with triangulation
Saved history of captured measurements allows user to review later or share