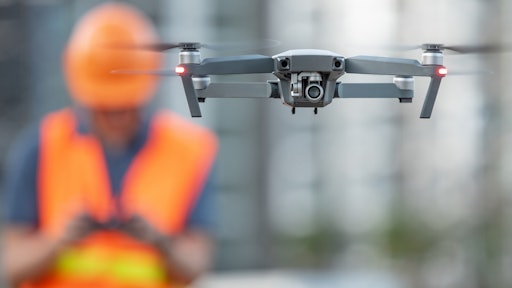 ©zephyr_p – stock.adobe.com
Drones have gone far beyond being a toy for technophiles. The construction industry has increasingly embraced drones as an invaluable ally for site surveying prior to the first dirt being shoveled. Unmanned aerial vehicles (UAV) are enabling construction operators to map out a potential site remotely, lessening the need for humans to make needless trips. Detailed, high-resolution images not easily obtained using traditional construction surveying equipment can be provided by drones, enabling planners to more accurately pinpoint potential issues and allow for more effective deployment of equipment once construction begins.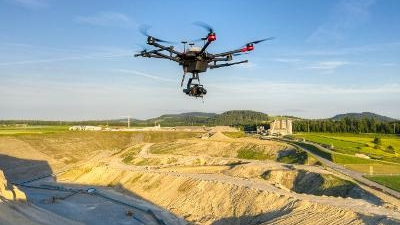 Drones are becoming a vital partner to construction companies in helping plan and monitor construction projects.Leica
Remote Safety in Action
Drones can help construction operators perform a vital role in site safety, monitoring various site hazards and safety concerns. They can quickly inspect buildings and other structures under construction, finding defects such as leaks or cracks and alert site managers to take early corrective actions. Using drones to perform building inspections avoids the need to place workers at risk.
"Simply put, drones enable us to provide needed views that are inaccessible, or otherwise too risky and expensive to capture by any other means," says Ryan Holmes, program manager of unmanned aircraft systems (UAS) for Multivista, which provides UAV/drone services with remote pilots on staff. "We are using drones to help anywhere, from assessing land clearing and earthwork, insurance coverage, inspections, through to project completion and maintenance thereafter." 
The ability to survey remote or inaccessible locations aerially and not having to dispatch teams of workers is a major advantage of drones.Multivista

At a construction site, dispatching drones instead of workers not only gives construction operators advantages in speed and flexibility, drones provide the construction operator the ability to more thoroughly view a site.
"As a reality capture tool, drones provide the ability to capture an aerial snapshot of a project at any time," says Bryan Baker, a pilot, UAS sales manager and certified mapping scientist at Leica. "More data can be captured in a 20-minute flight than can be captured in a week of traditional terrestrial measuring. Additionally, the data set is much denser and richer, allowing more detailed analysis and improved accuracy for some applications. This all translates into quicker and more complete decision making at the project management level."
Construction Site Aerial Monitoring
Drones also allow far more frequent surveying of construction sites to monitor progress.
"You can check the construction site on a weekly basis and make critical decisions much faster," says Samantha Burns, head of marketing for TraceAir Technologies, which employs drones to obtain site data for a cloud-based construction planning and management platform.
Listen:
She added that the ability to quickly receive updated information enables all stakeholders in a project — from upper management to site workers — to have access to the same data.
The data gathered through the drone can typically be accessed on several platforms, whether on a desktop computer, laptop, tablet, or even a smart phone, giving project stakeholders additional flexibility in viewing and retrieving up-to-date information on a site.
Many companies take the raw drone data and optimize it, producing clear, useful drone images that reveal up-to-date information on construction sites. Real Time Kinematic (RTK) drones, for example, use a GPS-correction technology that provides real-time locations data corrections when capturing photos of a site.
"The rise of RTK drones has provided a major step forward in providing accurate, repeatable results in a straightforward workflow, reducing one of the largest potential error sources in the placement and processing of Ground Control Points (GCPs) on earthwork projects," says Matthew Desmond, president of Agtek.
Agtek has its own fleet of DJI Phantom 4 RTK drones for construction clients, but Desmond says the company's data analytics and processing software are equally useful for any drone.
"In Earthworks, we are interested in the bare ground and need to remove obstructions created by machines, site offices, materials on site like pipe deliveries, et cetera," Desmond says.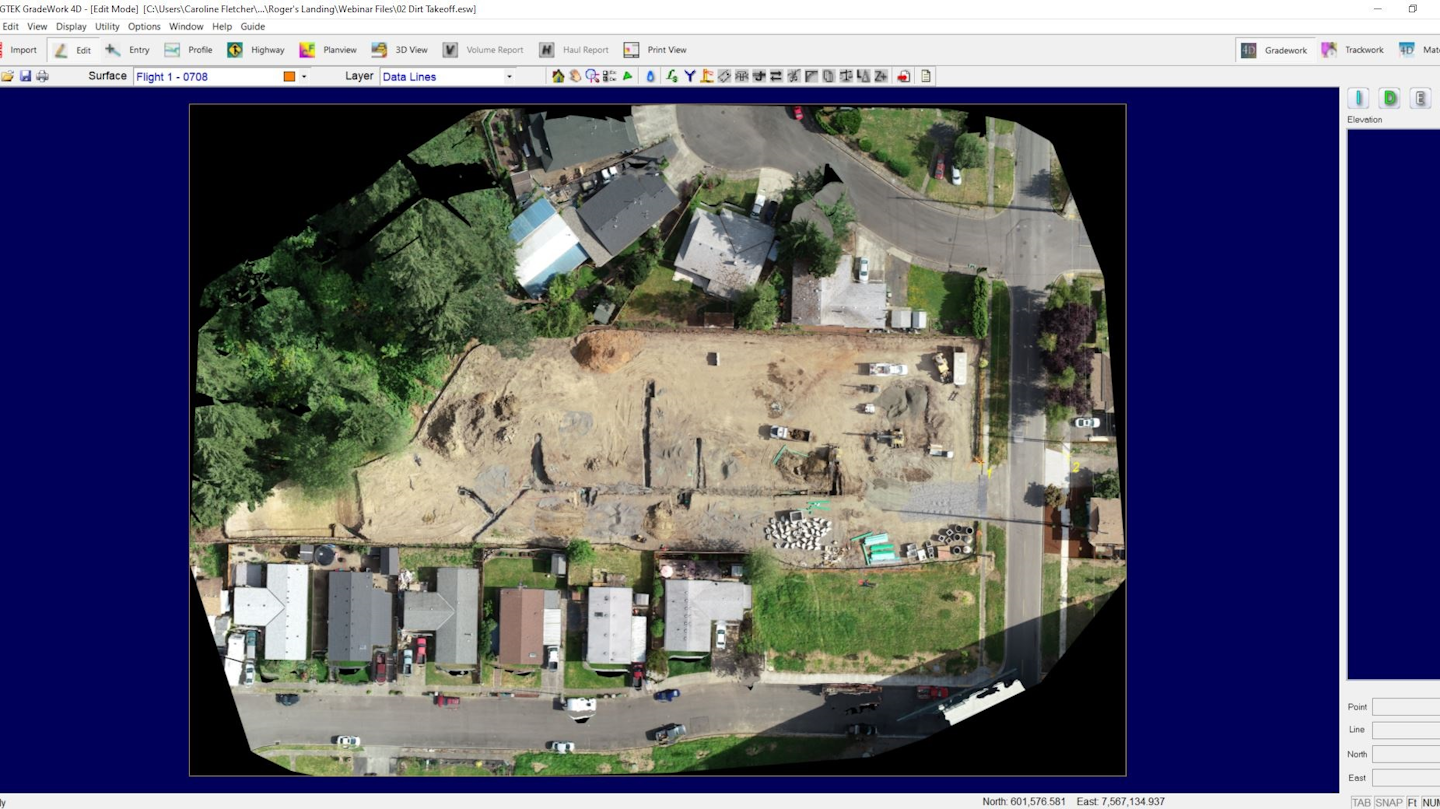 With the help of data analytics, clear, unobstructed images of construction sites from drones are arming operators with the crucial information they need to make real-time decisions.Agtek

"We also did a lot of work to make sure the data makes it out to the right people on site who can take action," he says. "This involves getting updated data post flight, back to the field and into mobile apps of foreman, superintendents and even the site owners, so everyone can track the site progress and perform analysis by visualizing the data and determining quantities of materials in the field."
Cross-Platform Data Availability
Drone software and hardware producers are ensuring the data yielded from their analytic software is available in construction software applications.
"Our solutions include the flight planning software, the aircraft and sensor hardware and the image processing software," says Leica's Baker. "Additionally, our solution is integrated with other construction applications, so that data can be shared across various applications. For example, the extent of a proposed or existing construction site can be exported from CAD or Google Earth to our flight planning software, which can then be used to construct an aerial collection mission for the drone. After the mission, our software processes the imagery into three-dimensional points on the ground from other collection sources. All of those points can be used back in CAD to generate 3D surfaces, contour lines, surface features, 3D models, site progressions, documentation and volumetrics for earthwork calculations."
Improvements in drone hardware and software are making it easier and more cost effective to obtain accurate, consistent information that users can rely on to produce status reports and make appropriate decisions.
"Hardware has come down in price and become less complex," says Jim Greenberg, product manager of civil engineering and construction for Trimble. "Even lower-end cameras are good nowadays."
Greenberg added that the use of Post Processed Kinematic (PPK) techniques, which make positional corrections for drone data after the flight, have improved data reliability.
"PPK minimizes the need for ground control points, and with PPK, you get more consistent results," he said. "A few years ago, there was a lack of confidence in the results."
Advanced Technology for Drone Data Processing
With new advances in drone technology, construction companies are able to receive better data, more quickly than in the past.
"Processing times are coming down all the time, which makes time to actionable insights faster," Agtek's Desmond says. "Artificial intelligence is being used to eliminate unwanted data, and LiDAR (aerial laser scanning) systems can see through vegetation to make a more accurate model with interaction required."
The greater use of autonomous technologies in future drones is likely.
"Remote ID and Unmanned Traffic Management are technologies that will make flights beyond visual line of site more possible," says Leica's Baker. "Being able to take an operator completely out of the loop and have the mission flown, data transferred, processed and system recharged is already possible."
Drones are also packing more versatility, which is important in construction applications. The recently introduced xFold drones from ZM Interactive, are reportedly the only industrial UAVs that can switch between x4 (quad), x6 (hexa), X8 (octo) and X12 (dodeca) configurations in minutes. 
ZM Interactive's xFold drones can switch between x4 (quad), x6 (hexa), X8 (octo) and X12 (dodeca) configurations in minutes. The xFold Dragon can lift up to 1,000 lbs., while the Dragon Hybrid boasts a flight time of 1.5 hours on battery and over eight hours with a hybrid system.ZM Interactive

The new xFold Dragon can lift up to 1,000 lbs., while the Dragon Hybrid has a flight time of 1.5 hours on battery and over eight hours with a hybrid system. The xFold drone can be customized to fit the specific mission. Pilots can quickly swap configurations, including adding robotic arms for delivery of materials or sensors for 3D mapping.
In-house Versus Outsourcing Drone Fleets
One decision facing construction companies is whether to invest in buying and developing their own drone fleet or outsourcing drone services to a company that provides them. The answer lies in which is the best way for a company to allocate existing manpower and financial resources, according to TraceAir Technologies' Burns.
"It is very time and labor-intensive to process data from drones," says Burns. "What construction contractors must consider is how to manage their drone program. Outsourcing these services to a firm with expertise is a much more efficient allocation of company resources."
Companies that have their own drones may offload the data analytics to software providers.
"A lot of construction operators want to control their own drone operations," says Krishnan Hariharan, president of Kespry, a provider of data analytics and drone mapping services. "Sometimes these companies have drones for other missions. We extended our data analytics platform to support these companies."
Managing a fleet of drones is not a trivial matter, according to Multivista's Holmes.
"You need a dedicated drone program that can procure the right equipment and maintain it; ensure all licenses, registration, and insurance is up to date; document all flights, procedures, and maintenance; and manage all the data."
Holmes added that storing, managing, and distributing the data from the drones is particularly crucial.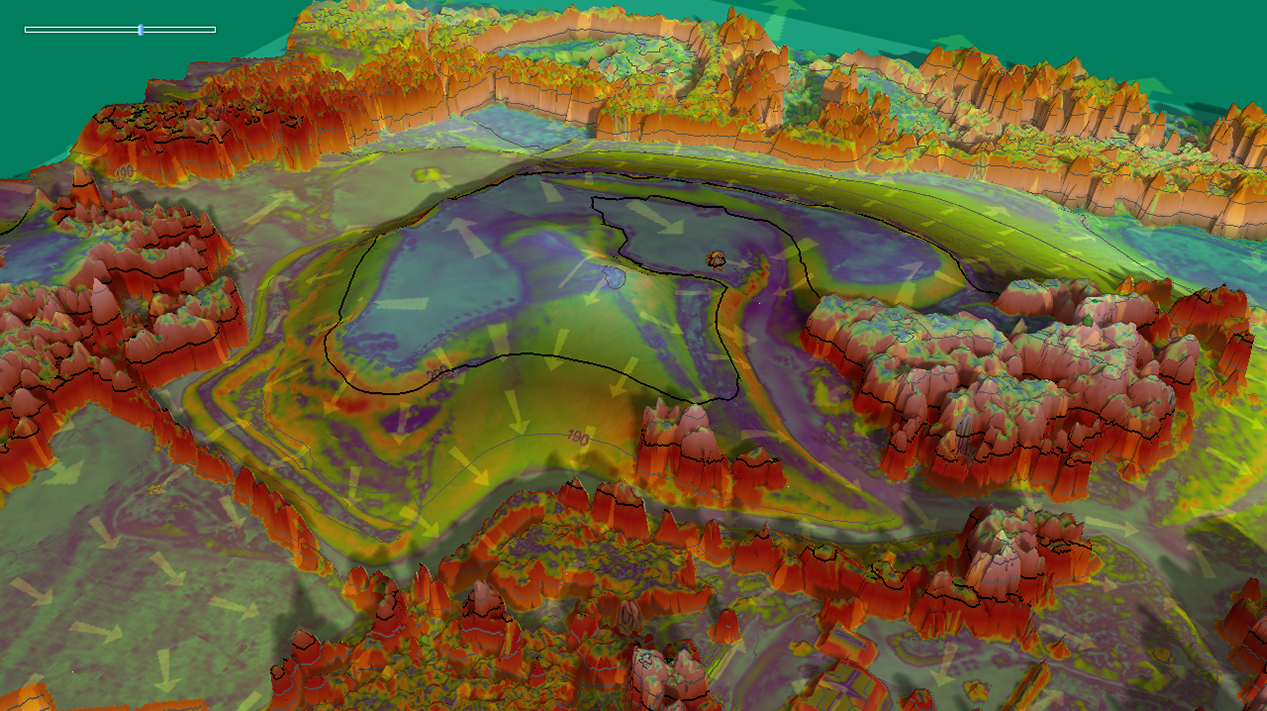 Leica's Aibot 3D model.Leica

Staying Abreast of Regulations
As drone usage grows, companies embracing the technology need to realize that steady investments are needed to ensure compliance with federal and safety regulations.
"Larger companies that started with the idea of having a drone on hand at a site have evolved into having a dedicated team of drone professionals that travel from site to site as required," says Leica's Baker. "Drone manufacturers are working on making drones more autonomous. Keeping the drone within visual line of site of the operator to avoid other aircraft is challenging and limiting. Terrain and obstacle avoidance need to be better addressed. One of the largest challenges for companies is maintaining FAA compliance and still being able to be productive."
Safety obviously plays a key consideration in deploying construction drones.
"There is a huge difference in the safety, quality and accuracy of drones, drone data, and drone pilots," Baker says. "Drone operations are regulated by the FAA and require strict adherence to the limitations set forth in Title 14 of the Code of Federal Regulations regulating aviation activities. Additionally, there are OSHA implications [when] operating a drone on a construction site. As aircraft, drones require difference insurance from other construction vehicles. The drone operator should have the proper equipment and training to deliver the expected results at the required accuracies to requesting parties."
Companies in this article