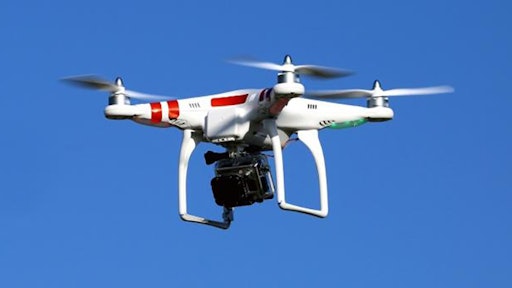 Drones have become a hot topic in the construction industry. Construction contractors can use drones to monitor the progress of construction sites and projects.
But the FAA is still working out the rules and regulations for commercial use of drones. Some drone manufacturers and even construction contractors have been granted FAA exemptions to use drones, but drone use is not mainstream yet.
FAA Grants Bechtel Permission to Use Drones on US Construction Projects
If you're keeping an eye on the situation or considering how or if you might use drones for your construction business, here are 10 considerations from Construction Dive that contractors should think about before incorporating the use of drones into their business.
Minnesota Considering Drones for Road Inspections
1. Don't fly a drone without FAA permission. Contractors who use drones without the FAA's ok usually face a fine — not to mention the bill from a lawyer hired to defend the construction company.
2. The process to obtain an FAA waiver, or exemption, can take months and requires a lot of documentation.
3. Drones may not be flown near airports.
4. The FAA is requiring drone operators be able to keep the devices in their sight. That means it will be illegal to fly the crafts over wide areas or those with obstructed views.
5. Preliminary rules also prohibit drones from flying over anyone not participating in the flight. So if a construction contractor wants to use a drone to monitor a jobsite he or she will have to make sure the craft does not fly over any pedestrians or drivers near the site.
6. Proposed FAA regulations limit drones for commercial use to weighing less than 55 pounds including cameras or other information collecting devices attached to the drone.
7. All drones need to be registered with the FAA. All drone pilots will need to pass an aeronautics test in order to be certified to fly the device. That certification must be renewed every two years.
8. Commercial general liability insurance doesn't typically cover accidents or damage to the drone or property belonging to others or injuries caused by a drone crash or collision. Until drones become a more familiar business tool, contractors will most likely have to obtain separate coverage for these crafts.
9. Be aware of insurance policy exclusions. Some policies might exclude coverage if a crash results from an electronic malfunction or equipment failure.
10. In addition to the FAA rules and requirements, contractors are encouraged to create their own specific, written guidelines for how the company will use drones. It's a good idea to identify and train all employees who will use the drone, define the purpose of the drone flights and make a flight plan for every drone mission. Contractors should also document where a drone will fly and exactly what it will fly over.
Are you considering using drones for your construction business?
What role would drones play in your construction business?
Are you against the use of commercial drones in the construction industry?
Share your comments below and let us know what you think about drones in the construction industry.