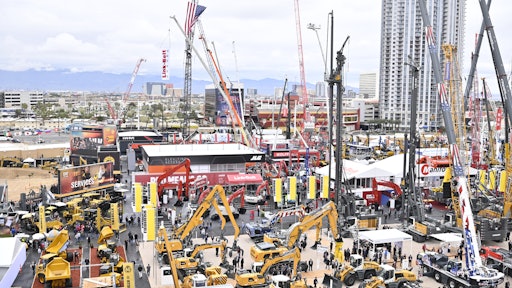 Every three years, North America hosts CONEXPO-CON/AGG in Las Vegas; and every three years, ForConstructionPros.com pulls together massive show coverage with the news, products and technologies that have been announced for the construction industry. Despite the fears of COVID-19 impacting the show and its attendance, manufacturers are bringing the heat with the latest equipment innovations and technologies to help contractors be successful.
Here you will find the latest news from the show and be sure to check out our Video Network to see interviews with industry experts regarding the latest technology and trends unveiled at the event and how they may potentially impact contractors.
Total CONEXPO 2020 Attendance Strong, Despite Global Health Concerns
Registrations for the show totaled over 130,000 attendees who walked the record 2.7 million-plus net square feet of exhibits featuring 2300-plus exhibitors. Cancellations from international attendees totaled less than 1 percent.
[VIDEO] See (and Hear) the World's First Fully Electric Backhoe Loader
Separate electric motors power the hydraulics and transmission on CASE's 580 EV electric backhoe.
Komatsu Showcases Smart Construction Solutions
Tapping into the power of IoT, Komatsu's construction customers soon will be able to control construction planning, management, schedule, costs, and optimize processes remotely and in near real time with the company's incoming suite of Smart Construction. See more. 
[VIDEO] KATO Unveils Battery-powered 17VXV at CONEXPO 2020


New Technology from Topcon Helps Accelerate Asphalt Paving Accuracy
See how Topcon's Intelligent Compaction systems coupled with their new Thermal Mapping System monitors asphalt paving in real-time to help improve paving accuracy and mat performance. Watch here.
Caterpillar Introduces New Technologies, Products and Services at CONEXPO
While at CONEXPO 2020, Caterpillar is introducing a host of new products, as well as showcasing new technology and services. To celebrate customers worldwide, Caterpillar is unveiling the Operator Stadium featuring live demonstrations, product exhibits and interactive technology. Just some of the products being showcased by Caterpillar include: 
Check out everything Caterpillar has in store.
[VIDEO] CASE Giving Away Cash at CONEXPO 2020
Get caught wearing a CASE safety vest and win $100!
NCCCO Celebrates 25 Years of Promoting Crane Safety
The National Commission for the Certification of Crane Operators (NCCCO) was nationally accredited in 1998 and has been recognized by OSHA for more than two decades. Its portfolio of personnel certification programs has grown from the original CCO Mobile Crane Operator certification to now 28 certification designations across 12 programs. On March 12, NCCCO is using the mega-event CONEXPO 2020 to kick off its 25th anniversary celebration. NCCCO is preparing a slate of activities and announcements as part of a special 25th Anniversary Recognition Program developed to mark the occasion. "We want to be sure that we recognize this historic milestone appropriately," said the organization's CEO, Thom Sicklesteel.
BOMAG Exhibits ROBOMAG Fully Autonomous Tandem Roller at CONEXPO 2020
Attendees at CONEPXO-CON/AGG 2020 in Las Vegas were among the first in North America to see ROBOMAG, BOMAG's first fully autonomous tandem vibratory roller.  The concept roller was developed as a technological study by BOMAG in cooperation with the Technical University of Kaiserslautern in Kaiserslautern, Germany. ROBOMAG combines guidance technologies such as GPS, Lidar and state-of-the-art positioning sensors with BOMAG ASPHALT MANAGER. With ROBOMAG, BOMAG is turning its vision of fully autonomous construction equipment into reality.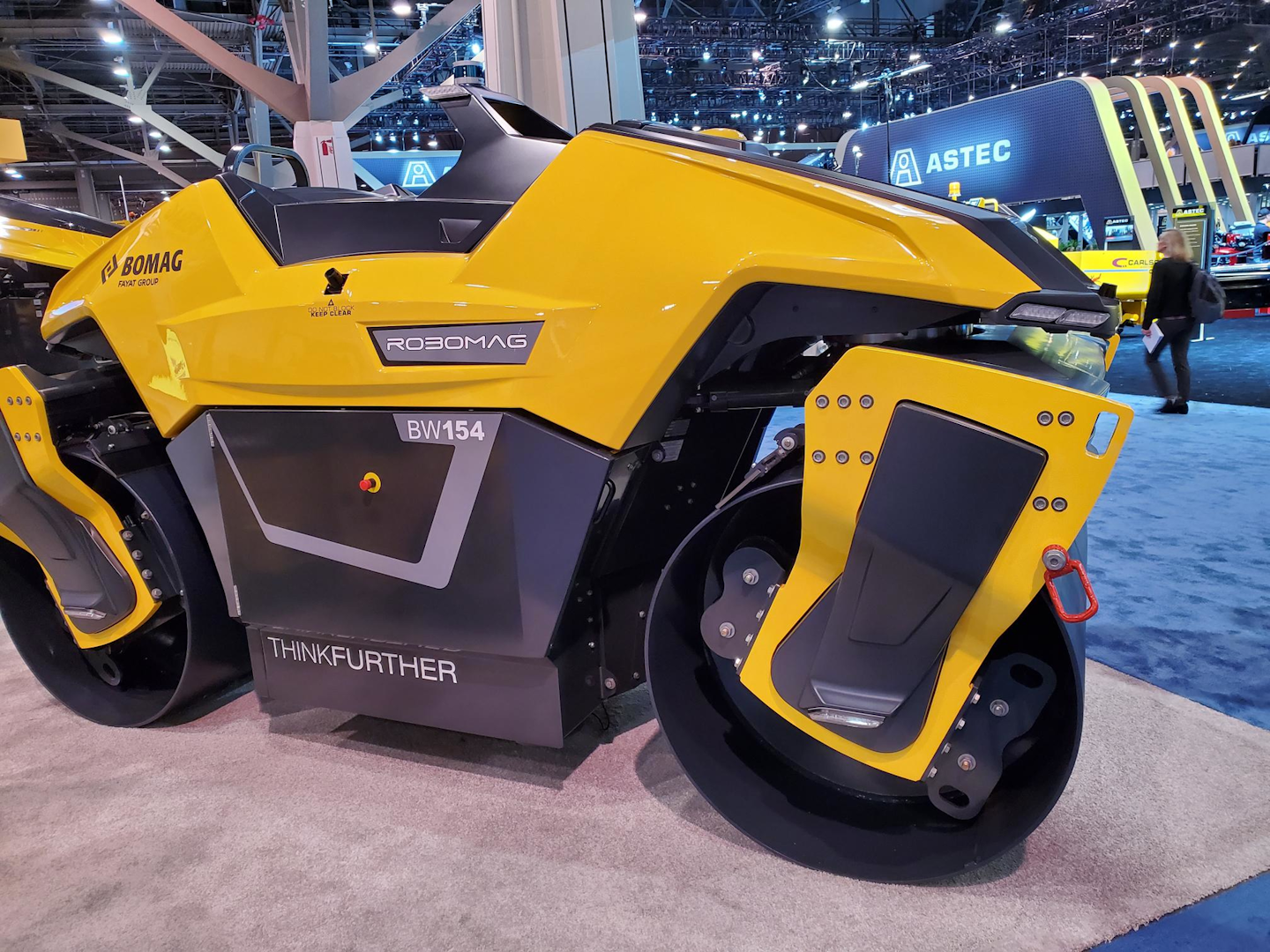 [VIDEO] AGC Says Positive Outlook Continues for Construction Despite Coronavirus Concerns
Ken Simonson, chief economist with Associated General Contractors of America (AGC), talks about the construction outlook for 2020. Simonson also dives into what disruptions the industry might see due to the recent Coronavirus concerns. He expects it to impact construction but cannot predict how much and how long it will last
[VIDEO] Hyundai Launches A Series Excavators, Wheel Loaders in North America
Bobcat Launches Small Articulated Loaders
Bobcat Company is expanding its product offerings with the introduction of small articulated loaders. While at CONEXPO 2020, the company is officially launching its small articulated loader line, which includes the L23 and L28. Bobcat small articulated loaders are well-suited for customers in landscaping, tree services, light construction, and grounds maintenance. These machines have the ability to fit into backyard access and are capable of carrying small pallets of block or landscape materials with low turf disturbance.  
More in Store from Bobcat Company
In addition to the small articulated loaders, Bobcat is showcasing a plethora of new products and technologies. Some highlights from Bobcat Company's CONEXPO lineup include:
AED Report: 73,000 Heavy Equipment Technicians Needed in Next Five Years
The Associated Equipment Distributors (AED) Foundation released its latest report during CONEXPO compiled by the College of William & Mary entitled "The Equipment Industry Technician Shortage: Reassessing Causes, Impacts and Policy Recommendation."
Highlights of the report include:
The need to fill up to 73,500 heavy equipment technicians over the next five years
The equipment industry has a job opening rate three times higher than the national average
Almost 90% of AED member dealerships have a job opening rate above the national average
Among AED member respondents, 95% agree there is a skills gap in the industry and 89% report a shortage of workers in their company
[VIDEO] NAPA Starts Workforce Development Committee
Richard Willis from NAPA talked to ForConstructionPros during CONEXPO about the association's workforce development committee that features three task forces: communication, partnership and promise, which focuses on providing tools to help with workforce development.


[VIDEO] Kubota's New SCL 1000 Stand-on Skid Steer
Watch the video of Kubota's new SCL 1000 Stand-on Skid Steer. Powered by a Kubota engine with 36 in. total width and 4 psi ground pressure, the SCL 1000 has a rated operating capacity of 1,000 lb., or 35% of the tipping load. Vertical lift extends as it rises maximizes reach and lift height. Operating platform is adjustable to maximize operator efficiency. 
JLG Industries and Construction Robotics Work Toward Jobsite of the Future
JLG Industries is working with Construction Robotics to develop autonomous solutions for construction sites. For example, while at ConExpo, Construction Robotics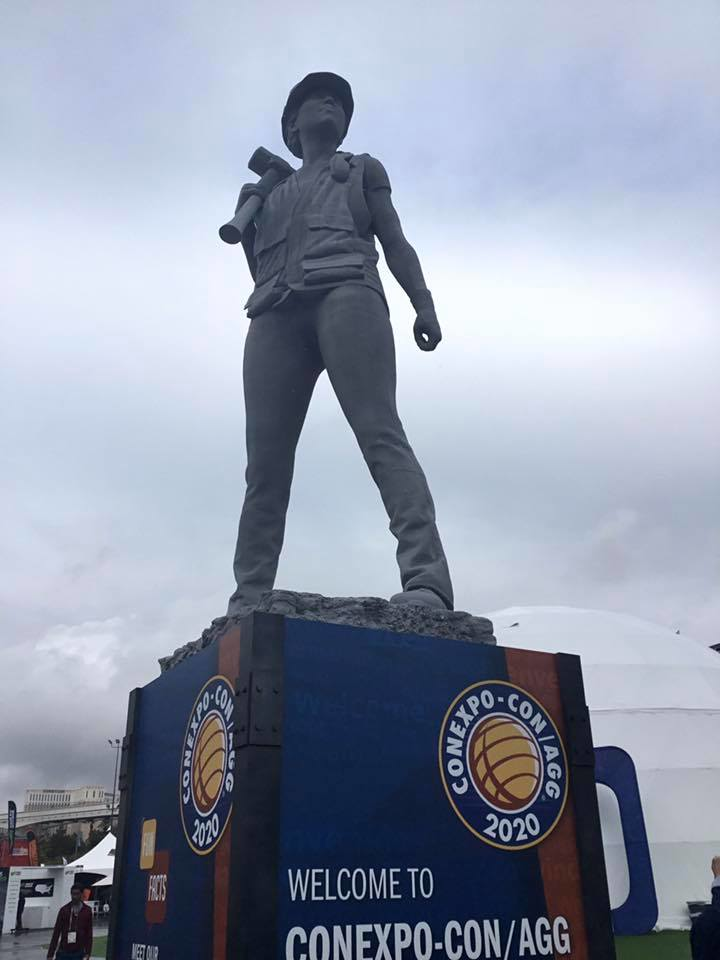 For the first time in CONEXPO-CON/AGG history, a WOMAN will greet attendees at the conference. If you're attending, show your support by snapping a selfie with the hashtag #WhereWeBelong.is launching their new MZ100, co-developed with JLG. The MZ100 is the latest addition to their Mule (Material Unit Lift Enhancer) product line. This innovation, which is a smaller, more lightweight version of the original Mule, is self-leveling, powered by a Lithium Ion battery and can be directly coupled to JLG and SkyTrak telehandlers. Learn more about the MZ100 and the collaboration between JLG/Construction Robotics. 
[PODCAST] Caterpillar's Fred Rio Talks About the Roadmap for Autonomy on Construction Jobsites
Fred Rio, Director Construction Digital Technologies at Caterpillar, talks about where the industry is on the pathway toward autonomous technology on the jobsite and what autonomy could mean for construction business owners and equipment operators. Listen now.
[VIDEO] Kobelco Premieres Six New North American Models at CONEXPO 2020
In an exclusive ForConstructionPros.com video, Dave Donneral, specialized machine sales manager excavator division, talks about the new equipment Kobelco is introducing as well as the company's expansion into new segments including forestry, material handling and more. 
C&W DustTech Debuts at CONEXPO
Previously known as C&W Manufacturing, C&W DustTech is showing off much more than just a new name. In an effort to  minimize unplanned downtime and keep customers' plants up and running, the newly re-branded company is now launching an e-commerce site featuring its highest-demand aftermarket parts and products. C&W DustTech's clean air technologies will be on display at ConExpo from March 10-14, in Las Vegas, at C&W's booth (B7604), located in the Bronze Lot.
[VIDEO] New Cat 315 Excavator Designed for High Performance
Caterpillar's new family of excavators, the 313GC, 313 and 315, span the 13-15 size range in compact radius excavators. A 10% improvement in engine power means a faster machine with faster cycle times, more swing power and more drive power. Standard technology features from Caterpillar include an onboard payload system and 2D depth and slope grade system.
Dynapac Partners with Trimble to Automate the Soil Compaction Process
Dynapac and Trimble are partnering to develop commercial-ready autonomy functionality for Dynapac soil rollers. The next step on the "Road to Autonomy" is automatic steering and speed functions on the roller. The operator/site manager can use the machine to map the boundaries of the area to be compacted. Once the machine is placed in "Autonomy" mode, the system will take over the controls for steering and speed. 
[VIDEO] Roadtec SB-3000 Material Transfer Vehicle
The SB-3000 features innovations that were designed to keep contractors safe well also producing a more consistent mat:
Doosan Unveils DX800LC-7 Crawler Excavator at CONEXPO
The DX800LC-7 excavator is the largest Doosan model ever available in the United States and Canada. It is primarily intended to serve customers in mining applications, removing overburden and loading large amounts of material into articulated dump trucks or rigid frame trucks.
Watch: Trimble Adds Augmented Reality to EarthWorks 2.0 Platform
[VIDEO] Liebherr Shares Company Information During CONEXPO 2020
Andreas Bohm shares information about Liebherr International during the company's press conference at CONEXPO-CON/AGG 2020.