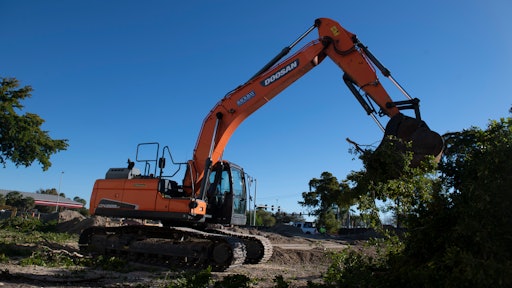 Doosan Infracore
Lee County's population grew more than 24% between 2010 and 2019. Driving that population growth are people moving to the southwest Florida area for the sunny skies and warm temperatures. There's no sign of any slowdown as the pandemic made it easier for people to work remotely. Some have chosen to move to places like Florida.
Along with population growth comes the demand for the demolition of existing structures to make way for new construction. Enter Backbay Construction. Owner Mike Thesier started the company in 2009 on the heels of the Great Recession. He's grown the company into a successful general contracting business.
Get In, Get Out
In January 2021, Backbay Construction earned a project to demolish a fast food restaurant to make way for a new retail bank branch in Fort Myers. While the total project was scheduled to last six months. Mike's company worked quickly throughout the process to get its portions done before the other contractors did their parts.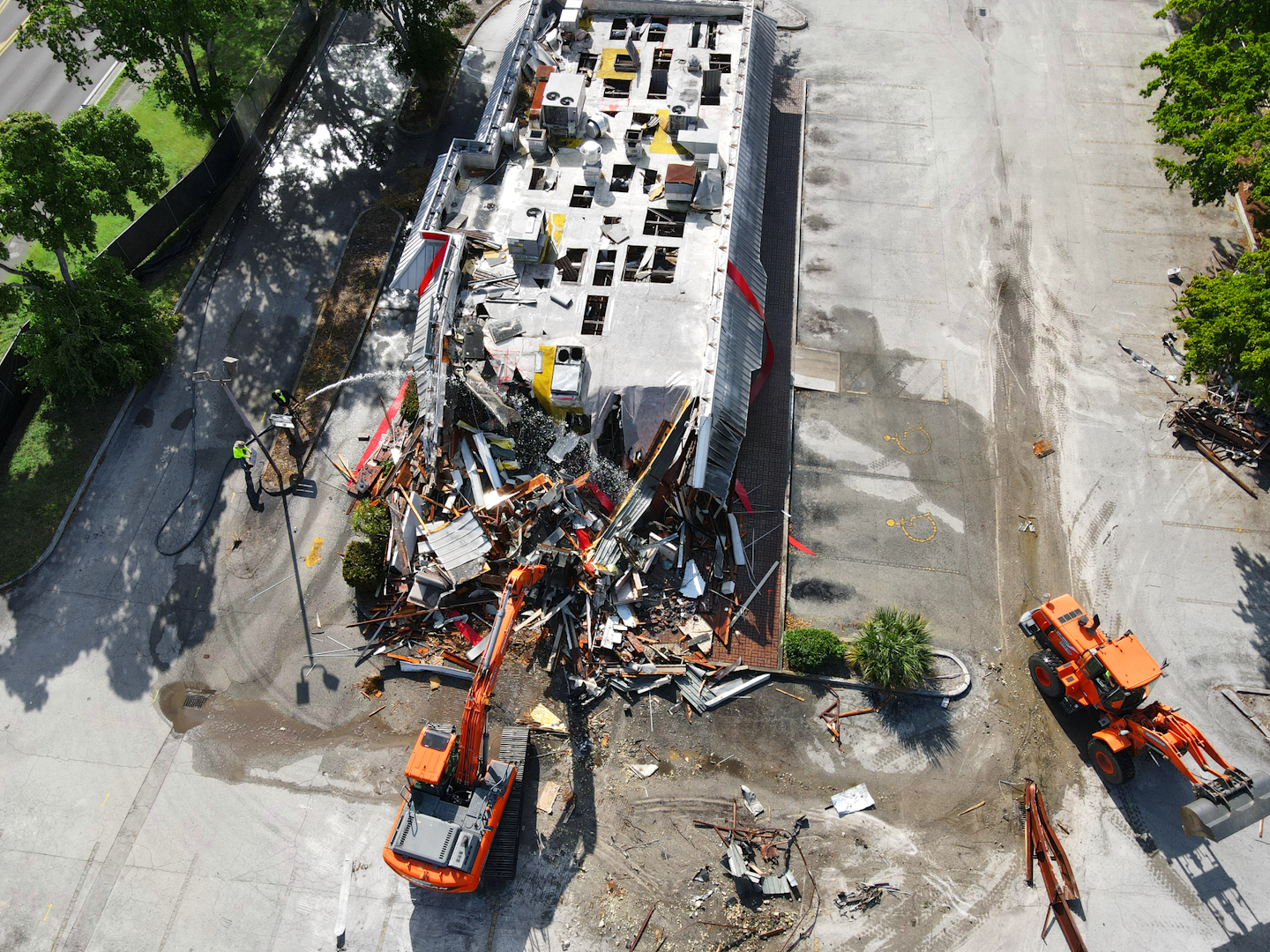 A Doosan DX225LC-5 crawler excavator and a DL220-5 wheel loader were used to quickly complete demolition of the fast-food restaurant.Doosan InfracoreThe first step of the project was demolishing the existing building. Backbay Construction paired a Doosan DX225LC-5 crawler excavator and a DL220-5 wheel loader to handle the demo. A compact track loader also assisted with some of the demolition tasks, particularly in tight spaces on the jobsite. Backbay Construction purchased all three machines from Synergy Equipment.
According to Mike, the building demolition took less than a week. "The Doosan wheel loader worked with the DX225LC excavator to load the roll-off containers with the demolition debris," Mike says. "It took about five working days to tear down the Burger King, to demolish it and load it into dumpsters and haul it off-site.
"They're easy to transport, that size wheel loader and excavator, on standard trucks and trailers. They're not too big or too small."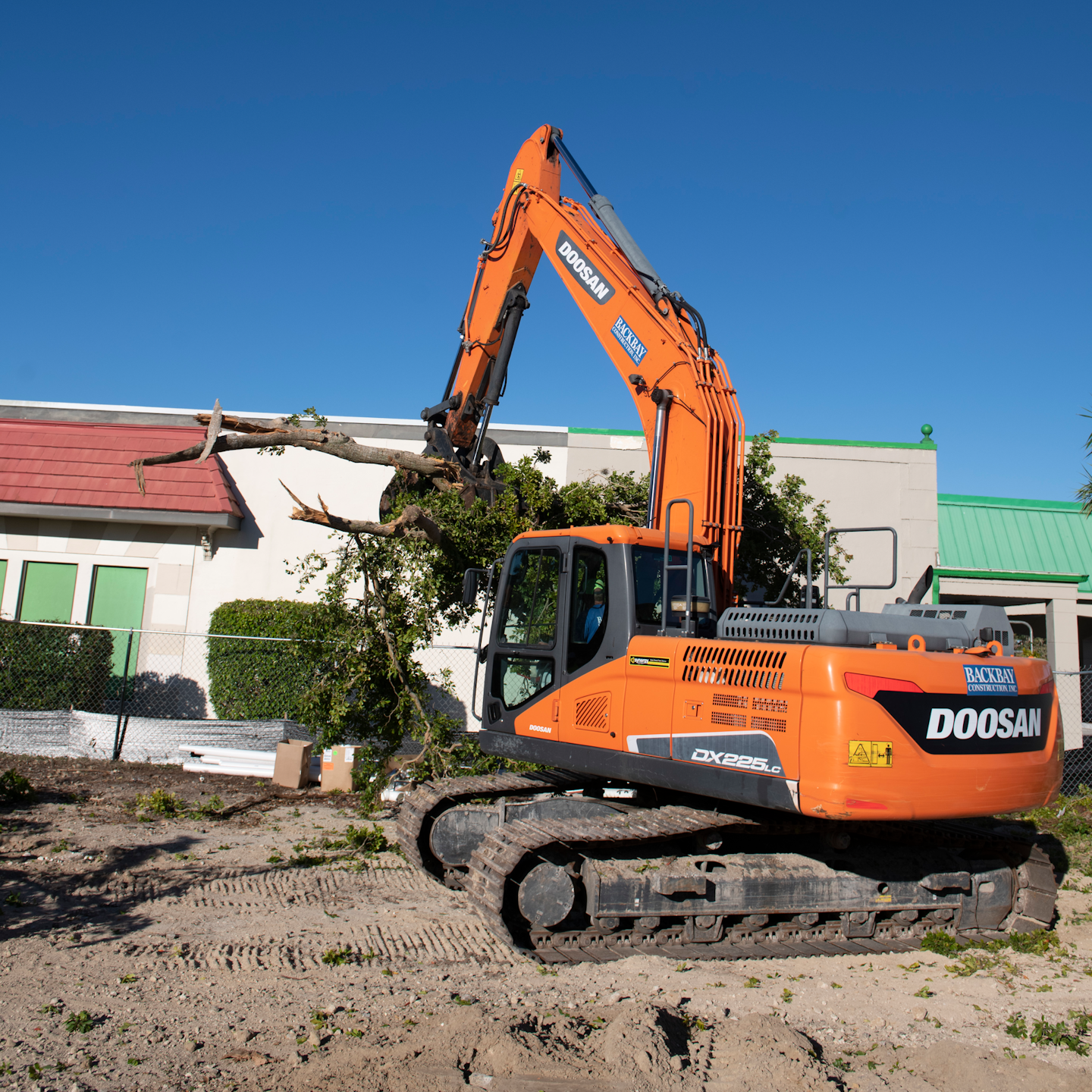 Several trees along the edge of the property needed to be removed. The excavator was paired with a bucket and thumb to help with the task.Doosan InfracoreSeveral trees along the edge of the property needed to be removed. Backbay Construction paired its excavator with a bucket and thumb to help with the task.
"The Doosan excavator is a versatile machine," Mike says. "We use it for a lot more than excavation. The thumb is integral to keep things safe when we're taking down trees or doing demolition to be able to grasp whatever we're working with. The cameras on the Doosan equipment are extremely helpful in promoting safety and visibility, and letting the operators be aware of their surroundings."
In addition to the demolition, Backbay Construction was responsible for the site earthwork, grading, paving and curbing. After the demolition and clearing were complete, the company did the site preparation. Once finished, the company left while a "vertical contractor" built the new structure. Then Backbay Construction returned to complete the rest of the project.
Horizontal Work
Mike Thesier differentiates his company from others by performing "horizontal" site work, also known as commercial site work. The company clears land for future development. His construction firm performs excavating, grading and filling; asphalt paving; striping and signage; concrete curbing; flatwork and underground utility installations.
Most of the company's projects are between one and 30 acres. The firm normally works in a four-county area in southwest Florida — from South Naples to North Fort Myers and as far east as Immokalee. There's no lack of work in the region. The continued increase in population drives the need for light commercial and residential developments.
Following In His Father's Footsteps
Like his father, Mike started a construction company from scratch. His dad, Bob Thesier, moved from Michigan to Florida in 1987 and operated a successful construction business for 20 years. After graduating from the University of Florida, Mike worked for his father's company in the estimating department. He quickly learned the construction business and eventually managed other estimators. In 2007, before the economy soured, Bob sold his business and retired.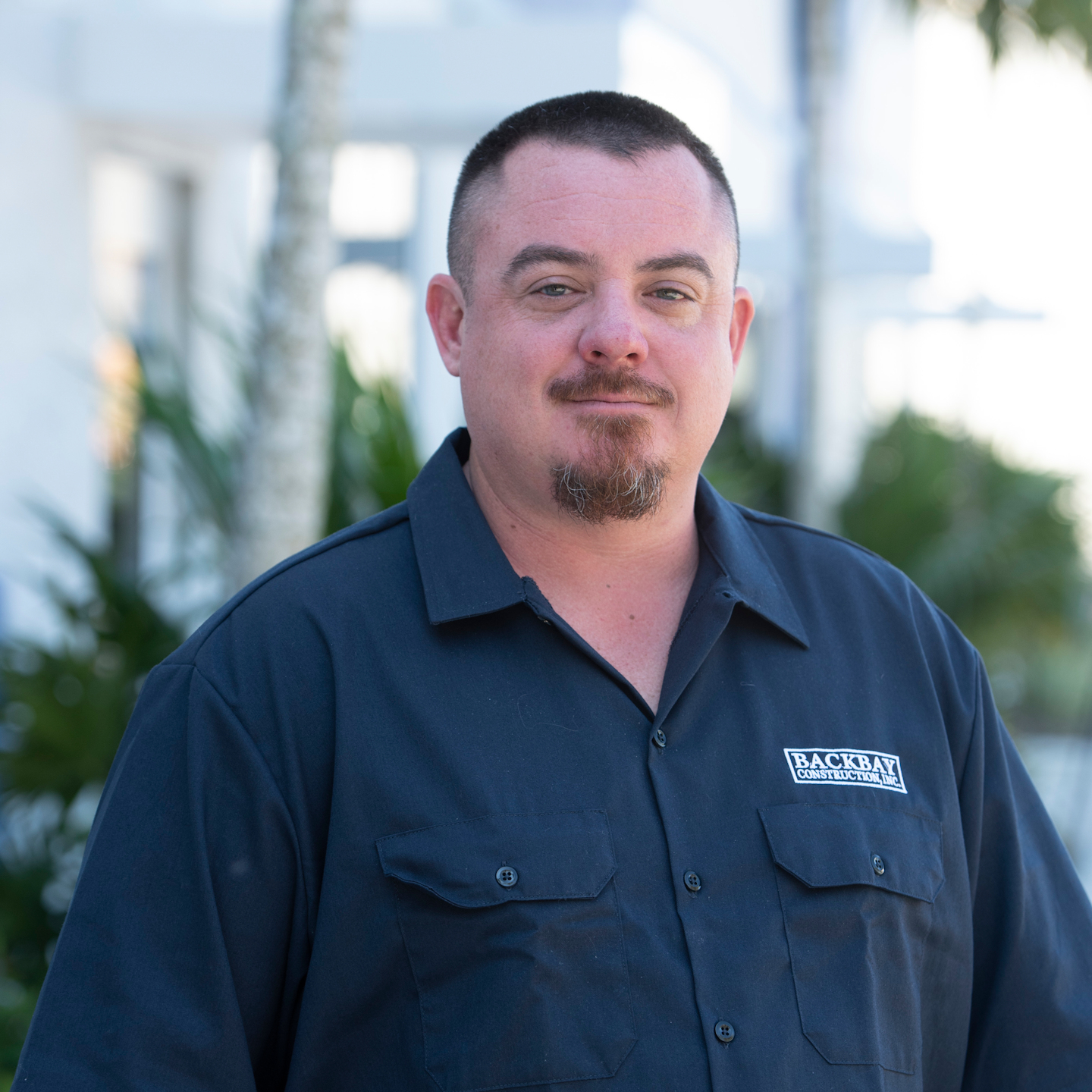 Mike Thesier started Backbay Construction with one employee and with Florida still recovering from the Great Recession. Today, the company has approximately 35 employees working on four to seven projects daily.Two years after Bob sold his business, Mike started Backbay Construction. It wasn't necessarily easy. Florida was still recovering from the Great Recession, and Mike started with only one other employee.
"When I started in 2009, the economy wasn't very good," he says. "We started, just one helper and me, doing a little bit of everything. I had to do the estimates and the bookkeeping, answer the phones, be out in the field on the equipment. They were long days but it paid off over time."
What he had going for him were the prior relationships he had built while working for his father's company. People knew Mike and what he was capable of accomplishing. That helped Mike get the company off to a good start.
"I was lucky to have a lot of good contacts over the years before I started Backbay Construction," he says. "It requires perseverance. You've got to stick with it and not give up when things get tough."
Today, Mike's company has grown to approximately 35 employees working on four to seven projects daily. Between trucks, trailers and equipment, the company owns about 50 pieces. That suits Mike just fine. "I don't want to be the biggest, just the best," he says.
There's a chance another Thesier may join Bob and Mike in the construction industry. Mike has a son named Mike Jr., and he's already shown an affinity for his dad's heavy equipment.