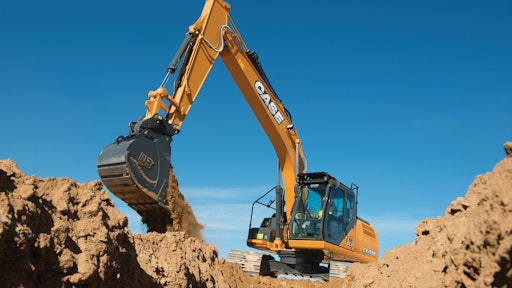 Case Construction Equipment
Earlier this year, Case Construction Equipment introduced factory fit machine control on M Series dozers. "We are now very pleased to announce our introduction of OEM fit machine control technology on Case D Series excavators," says Max Winemiller, head of heavy equipment product management and marketing, Case Construction Equipment. "These productivity enhancing systems are game changers for those who employ them and are not available as you order the machine from your local Case Site Control Certified dealer."
This should simplify the process of equipping excavators with a grade control solution. "You can order and take delivery of your Case excavator with 2D or 3D excavation systems already installed and tested by Case. Manufacturer integration offers a few benefits. "The first is that you have the optimal combination of a highly productive machine and technology matched together to create an industry-leading combination for your specific work cycle. This combination, coming directly from Case, simplifies the entire commissioning process.
"Secondly, it simplifies the acquisition process and allows your excavator machine control of choice to be grouped with the purchase of the machine, combining the financing rate, approval and payment in a single transaction," adds Winemiller. "Third, but not least, is the gift of improved residual and resale value of the machine itself. It confirms to the next buyer that the machine and system are purposefully matched and proven to work together."
Because the system is installed by Case, it will be backed by the Case dealers throughout its entire lifecycle.
"What we are doing here is matching, installing and testing 2D and 3D systems from Leica Geosystems with Case D Series excavators up to the Case CX 350D," says Nathaniel Waldschmidt, product manager – excavators, Case Construction Equipment. We do that all before delivery to the Case dealer. It massively simplifies the acquisition process. For a financial and business operations standpoint, you are now able to work the purchase of the machine in with the machine control system into one single financing package rate payment or transaction. From a practical standpoint, you're buying that excavator with the system already installed, tested and calibrated from the dealer. You don't have any downtime or delay as you wait for an aftermarket system to be installed."
It eliminates the unknown. "It takes the guesswork out of trying to figure out if you are deploying the right system or not," says Waldschmidt. "The whole package is built out to OEM standards."