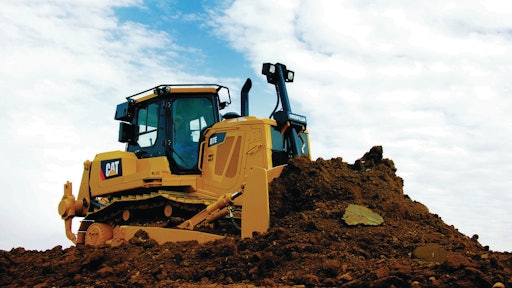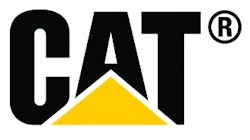 Caterpillar has shipped the 500th D7E track-type tractor, and Cat says Product Link data suggests the burgeoning population of diesel-electric dozers have saved more than 1.4 million gallons of diesel fuel.
Video: Caterpillar D7E's 2008 Intro/Demo 
The Cat D7E features a diesel-electric drive system that boosts productivity and efficiency while lowering operating costs and dramatically reducing fuel consumption. D7E dozers are working in many applications throughout North America, Europe and Australia.
K&E Excavating of Salem, Ore., purchased a D7E earlier this year to replace a D7R. "We like to operate with the latest technology, and the D7E fits right in," said Kerry Kuenzi, president of K&E. In their applications, Kuenzi says they have found the D7E to be quicker and more powerful than their D7R, and in their own carefully measured side-by-side comparisons, "The new D7E burns half the fuel of our D7R."
The D7E reduces fuel consumption by allowing the engine to run more consistently at the most efficient range on its power curve. Cat's pre-production studies suggested that the D7E would provide 10 to 30 percent better fuel economy over the previous D7 model, depending on the application.
Q & A: What Makes Caterpillar Electric Drive Technology Tick?
"With diesel over $3.50 a gallon in the U.S.and even higher in Europe, that's several million dollars going directly to our customers' bottom lines," said Scott Johnson, worldwide tractor product manager.
Family-owned Mectec Pty Ltd purchased the first D7E, shipped to Australiain June. The company works primarily in renewable forests for the Department of Sustainability and Environment and the VicForests Silvicultural program. Co-owner Luke Mekkens calculates fuel use of the D7E to be 4 to 7 liters (1 to 2 gallons) per hour less than a Cat D6T he uses to do similar work.
"The fuel savings, the power and the versatility give me an edge that puts my business in a really great position for the future," Mekkens said.
Great Lakes Dock & Dredge Company's fleet has grown to include 13 of the electric drive dozers, and fuel savings was a big part of the purchase decision. "The D7E was a good fit for our company because of the potential fuel savings versus another machine, and the added power that the D7E has over the D7R also was a big plus for us," said Chris Coolahan, heavy and shoreside equipment manager for the company.
Great Lakes has been using the machines to do beach reclamation work all around the U.S. Coolahan also cites Tier-4-Interim-certified engines and dealer service capability as contributing factors to the size of their D7E fleet. "We know we can rely on the Cat dealer network for shop and field service, as well as parts availability."
"Customer satisfaction with this machine has been outstanding," says Caterpillar's Scott Johnson. "Whether the machines are working in construction, oil and gas or landfill applications, the reliability has been fantastic and the reduction in fuel use has been in line with, and often even better than, initially expected. As a result of the tractor's performance, we're seeing an increasing number of repeat purchases."
Caterpillar brochure: D7E Track Type Tractor