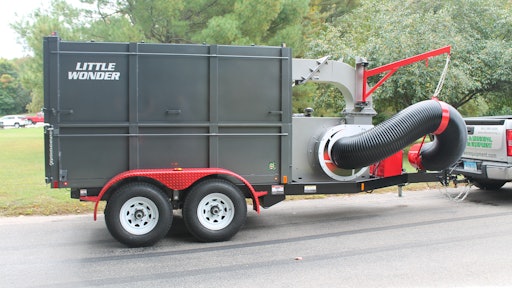 When the leaves begin to fall, renting leaf removal equipment is big business for the rental shop. Whether the customer is the landscaper who provides leaf removal services to their customers or the municipality that is responsible to clear leaves for an entire community, truck loaders are rented to make quick work of big curbside collection jobs. Truck loaders are large vacuums that suck up leaves and other debris and discharge it into a container for removal. However dedicated truck loader rental has long presented rental dealers and customers with challenges.
Traditionally there have been two types of truck loader the customer could rent: a skid-mount unit, where the unit is mounted to the back of the truck; or a trailer-mounted unit that the customer hitches and tows behind their truck. It's not a one-unit-fits-all product category. Truck loaders come in a variety of sizes, with round or square stacks and there is no industry standard height or chute placement requirement. As such, truck loaders often require adjustments to be made for the renter in aligning the unit's discharge chute with their truck's container. The challenge for the rental dealer is what unit/units to carry (skid or tow-behind or both) and what engine power they should go with. Since traditional truck loaders don't come with their own containers, power is a concern.
The bigger the engine, the larger the impeller, the more powerful the airflow. Truck loader air discharge can be too powerful for smaller containers or containers that don't have a large enough airflow release vent. This can cause the container sidewalls (especially those constructed of wood) to bulge to release the air, lodging debris in the wall seams, which eventually builds up and could possibly cause the walls to fail. Again, the landscaper offers these services only a few weeks out of the year and they usually do not invest in a permanent containment unit. They often make one out of wood panels for quick install and take down.
Today there are self-contained all-in-one debris collection systems that come complete with a truck loader and dedicated container mounted to a road-ready trailer. These systems are growing in popularity in rental for their simplicity. In one unit the renter has everything they need to get to work. Setup is easy. The renter only needs to back their truck up, hitch the trailer, and go. Little Wonder offers two such units; a 29-hp Monster TruckLoader with 5-yard gravity dump container, and a Monster 10-yard capacity container unit with hydraulic lift and choice of 35-hp gasoline engine of 36-hp diesel. 
The units come with their own dedicated large-capacity containers. The 5-yard unit comes with a gravity dump container. The base wall of the container is set at a 65-degree angle that allows for debris to slide down, using gravity to assist in offloading the units. The 10-yard unit features a push-button hydraulic lift that angles the container up to 50 degrees to easily unload the unit. What's especially impressive about the 10-yard unit is its versatility. The 10-yard container features removable upper wall panels that allow for the unit to convert into a dump trailer with a weight capacity of up to 5 tons (10,000 lbs.) for all-year rental revenue.
Self-contained units offer a great deal of rental potential. As a dedicated truck loader, both units feature a teethed impeller that reduces debris up to a 15 to 1 ratio. Couple that with the large container and you have a debris management system attractive to both the landscaper who has numerous properties to clear and the municipality who has large piles to remove, as the reduction ratio allows you to fit more in the truck before needing to offload. Then there is the added revenue potential of renting the 10-yard unit out as a dump trailer.
When considering your debris management equipment needs this fall, take a look at Little Wonder Monster Self-Contained TruckLoaders and the new 10-yard unit with hydraulic lift for your fleet – they're a real beast on debris that could pay off big in ROI.
See Little Wonder Monster TruckLoaders in action, click here.