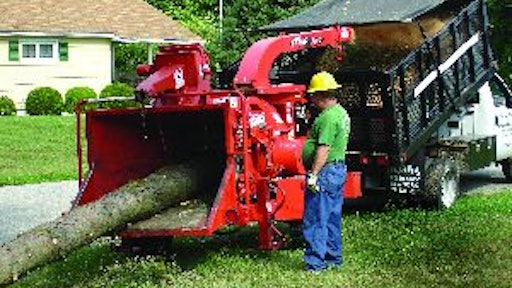 For contractors who don't get enough utilization to justify the purchase of a chipper, rental provides many benefits. It allows you to select the optimum chipper for each specific application. But you need to work with your rental supplier and ask the right questions.
"A contractor should ask the rental center what style and capacity of chippers they have available to rent," says Jason Morey, marketing manager, Bandit Chippers. "Based on the material the contractor needs to chip, he or she can make a decision on the rental. Capacity is a huge factor... If a machine is too small for the material, the renter will be working much harder than needed."
"Any potential customer should look at a combination of features before renting," adds Todd Roorda, environmental solutions specialist, Vermeer Mfg. Consider the size of the chipper to the size of material that needs to be chipped, as well as the size of vehicle that will be utilized to move it to the jobsite. Also consider safety features for the operators.
Jason Showers, commercial sales manager, Morbark, believes many questions need to be answered before you can arrive at the right unit. "What is the size of the material to be chipped? How will you feed it to the machine ? with auxiliary equipment or by hand? What is the volume to be chipped? Whether you are doing a small lot or you are clearing several acres, the size and horsepower of the machine should correspond. How much time do you have to complete the job?" he asks. "In reality, the rental outlet should be asking the contractor these questions to ensure he is renting the right machine."
Be prepared to discuss the diameter of the material to be chipped, as well as any constraints, such as access to the area or noise restrictions, adds Jason Frazao, United Rentals branch manager, Hudson River Valley, NY, District. "Also, be sure to ask about rental terms, and be realistic about the time it will take to complete the job," he says. "Don't rush to conform to a three-day window if a weekly rental would be more efficient, cost effective and safer."
Size it right
"As a general rule of thumb, the size of the chipper should be determined by the largest diameter of the material you expect to process," says Frazao. "However, if the largest diameter is far outside the norm ? for example, the largest log is twice the size of everything else ? use the average diameter as your guide and dispose of the oversized material some other way. This will be more economical, as well as more productive, since large chippers can clog when fed small limbs and branches."
Morey advises taking the average diameter of the material being chipped, then going with the next larger model. "For example, if your material is around 9 in. in diameter, we would recommend going with a 12-in. chipper," he states. "You could do it with a 9-in. chipper, but the larger model would drastically reduce the amount of work. The added cost of renting the larger unit would pay for itself in no time."
"It is preferable to have a chipper that is one to two sizes larger than the maximum you think you will need," Showers agrees. "The rental cost may be somewhat higher, but you will be able to complete the job quicker and more efficiently."
A larger machine with more power will chip harder wood easier. Otherwise, there isn't much difference when chipping different wood types. However, the shape of the wood can definitely impact the required chipper size.
"If the majority of the trees in the customer's area are a species that have multiple forks within the trunks or a lot of 90° limbs, a larger diameter chipper could be required to handle [them]," says Roorda. "The alternative would be to spend more time with a chain saw sizing the material to go through the chipper."
Disc vs. drum
Chippers come in two types: disc and drum. Each has advantages and disadvantages depending upon the material to be chipped. "Large logs can be processed more efficiently with a disc-style chipper, in that it cuts like a pair of scissors. A drum-style chipper will be more efficient with brushy material, in that it cuts more like a shear," says Showers.
Sometimes the choice is as simple as familiarity with the machine. "The type of chipper (disc or drum) is usually based on individual preference and years of operating that style of chipper," says Morey. "If a contractor is unfamiliar with the differences, then he or she should look at the type of material to be chipped."
He adds, "Disc-style chippers feature a faster feed rate, will chip larger material easier and will consume less fuel than drum-style chippers. A drum-style chipper features wider infeed openings and will collapse limber material more efficiently than a disc-style chipper."
The reduced weight of a drum-style chipper can also be an advantage. "Drum-style chippers allow for chippers to be smaller and lighter in weight," says Roorda. "With the price of fuel increasing, the size and weight of the chipper being pulled will have a huge impact on fuel costs day in and day out."
William Smith, director - service, parts and warranty, RSC Equipment Rental, notes, "Drum machines have increased in popularity in recent years due to the fact that they are, in most cases, more compact and easier to tow. At RSC Equipment Rental, we recognize that and rent drum machines to our customers."
Chip collection
"Regardless how you intend to use the chips, make sure the chipper you rent has a chute that can be rotated 360° to accommodate any option," says Frazao. "These chutes are now standard on most chipper models."
Roorda points out, "The majority of the time, a chipper will be blowing chips into some sort of container/chip truck for the chips to be hauled away. There are certainly circumstances where the chips can be broadcast over the ground to either leave lay or be collected by a loader."
Do your homework to find out if there is a market for the chips you will produce. "If there is a local market for chips, most contractors will try to blow them into a chip van of some kind," says Showers. "Disc-style and drum chippers are equally able to do this."
Consider how easy it will be to completely and efficiently fill the chip truck. "If a contractor is going to collect the chips, we recommend renting a piece of equipment with a hand crank or hydraulic swivel discharge and hand crank, height-adjustable discharge chute," says Morey. "These features will allow them to fully load their chip trucks, reducing trips to the dumping site. With the price of fuel, these features will save money."
Towable vs. self propelled
Towable chippers are the most popular on the market. "Towable chippers work great for almost any application," says Morey. "However, if you have a large land/lot clearing job or soft soil conditions, a self-propelled chipper would save time and money. You can take the chipper to the trees and eliminate the need to forward or skid material to the unit. It also will travel over uneven or soft terrain, allowing it to access areas not accessible by towable units."
Showers adds, "Towable chippers are most often preferred in residential lot clearing, etc. Self-propelled units were originally designed for right-of-way work and are useful anywhere the towing vehicle would not be appropriate, or in applications where you do not care if you capture the chips."
The choice really depends on what types of work make up the bulk of your project. "For customers concentrating on tree trimming and even take downs, a towable chipper probably best suits their line of work," says Roorda. "For customers who are working off road and in hard to reach areas, a self-propelled chipper best fits their needs. Any time a chipper needs to be moved repeatedly within a small area, a self-propelled chipper would be a better choice, as it can easily maneuver around and through obstacles."
The removal method for chips can also have an influence. "If you can position a chip truck to catch the chips, then a self-propelled unit may not be necessary," Smith states. "But if you are doing right-of-way clearing or site prep and can leave the chips behind, self-propelled may be the way to go."
The finer points
Certain features, such as hydraulic feed systems, can ease chipper operation. "Hydraulic feeds are becoming increasingly popular, because they offer the dual advantages of reducing operator fatigue while enhancing safety," says Frazao. "Both attributes improve productivity."
Morey confirms, "Almost all chippers found at rental companies will be hydraulic feed. [It] significantly enhances the productivity of the chipper. Hydraulic components found on these chippers allow them to effectively process larger quantities and diameters, and make them more efficient to operate."
"The hydraulic feed rollers can manipulate the material being fed, so maximum horsepower can be utilized during the process," Roorda explains. "Vermeer chippers utilize a SmartFeed system that monitors engine rpm and hydraulic system pressures to efficiently chip material. For example, if a large diameter, long log is fed into a chipper, the hydraulic feed rollers will stop feeding whenever the engine rpm drops below a specified level."
In the case of hydraulic system pressure, if the pressure increases to a specified level ? for example, due to a fork in the material ? the system will back the material up and rotate it until it is successfully sent to the chipper drum. "Of course, there is a possibility that the sheer size of the material is too big for the opening of the chipper drum," says Roorda. "In cases like these, the hydraulic pressure sensors reduce any potential heat buildup within the system that can damage components."
As a pioneer in hydraulic feed systems, Morbark can attest to their benefits. They are safer to operate, can handle larger diameter material and with today's technology, such as reversing auto feed, the feed is controlled and the engine works at its maximum efficiency at all times. Hydraulic fed chippers with auto feed are also well suited for any operator experience level.
Another feature to look for when renting chippers is sound attenuation. In today's work environment, noise pollution is taking on increasing significance. "Sound is becoming more of an issue in the U.S.," says Smith. "Some chippers have a lower sound output than others."
For example, Vermeer chippers have options available to help reduce sound outputs, Roorda notes. Options depend on the jobsite and/or customer requirements.
Smith advises, "Look for sound-deadening curtains, engine isolators, rhino coating and other unique features to see what sound-reduction features are built in... Consult your RSC representative to understand sound ratings and the benefits of lower ratings."
Ease of operation is also an important consideration when renting. "A number of manufacturers have developed models that are intentionally easy to use for inexperienced operators," says Frazao.
"With chippers, as with most rentals, it can be advantageous to rent from a company like United Rentals, where we offer multiple options within each equipment category," he adds. "It's far easier to find a chipper that exactly suits your needs and experience level."