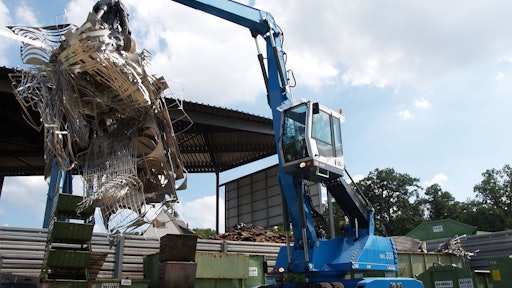 The Terex Fuchs MHL335 material handler blends the undercarriage of the larger MHL340 with the upper carriage of the smaller MHL331, providing a 9% wider stabilizer footprint than the MHL331 to elevate handling capacities throughout the entire lift range. The MHL335 material handler delivers the stability required when lifting heavy loads at scrap metal feeder yards, municipal solid waste (MSW) at recycling/recovery facilities (MRFs), and construction and demolition (C&D) debris at transfer stations. While powerful, its compact design and tight turn radius means this versatile material handler can be used equally as well in both indoor and outdoor applications.
Customers can equip the MHL335 material handler with a variety of boom and stick configurations, offering a range of reaches from 35-ft (10.7-m) to 39.4-ft (12-m). The optional multi-purpose stick delivers a 35-ft (10.7-m) reach and includes a stick-mounted hydraulic cylinder to allow up and down movement of the attachment, controlled by a foot pedal inside the cab, as well as left and right slewing. The handler can be equipped with a 0.8 yd3 (0.6 m3) five-tine open-jaw grapple attachment that features high tine-closing forces and is designed for tough, day-to-day operations.
With its separate cooling system for reliable operation, the MHL335 material handler's load-sensing hydraulic system provides the right combination of power and precision for responsive and smooth maneuvering, even when handling heavy loads. Its temperature-regulated cooler fan speed delivers fuel conserving power demand, while offering efficient cooling performance in ambient temperatures as high as 122° F (50° C).
When working in extremely dusty MSW and C&D applications, the MHL335 material handler can be equipped with optional box filters for the engine and hydraulic oil coolers and an optional cyclone dust separator at the air filter. Optional reversible fans can be set to periodically clean the filters at preset intervals or on demand during machine operation.
The handler's standard hydraulically height-adjustable cab gives operators a maximum eye-level elevation of up to 17.4-ft (5.3-m) above ground level, providing excellent worksite visibility to improve loading and unloading operations. Its cushioned cab elevation system provides absorption of shocks and jolts for operator comfort.
Inside the spacious cab, an exclusive multi-function button affords smooth, ergonomic navigation through multiple function screens on the large, high-resolution color display. Machine data is displayed in the form of descriptive symbols for intuitive control and a short operation learning curve. A push-button control panel keypad with LED indicators enables quick activation/deactivation of machine functions. Enhancing operator efficiency, the machine's left- and right-hand joystick controls are configured specifically for material handling operations.
The purpose-built Terex Fuchs MHL335 material handler is powered by a six-cylinder, fuel-efficient 153 hp (114 kW) turbocharged diesel engine. Its large swing drive and double-row slewing ring design delivers precise slewing of the upper carriage to shorten work cycles and increases durability for long component service life.
Offering four-wheel drive, the material handler's 12.4 mph (20 km/hr) maximum speed enables the machine to quickly move around the yard. A 27-degree steering angle helps the handler to efficiently maneuver around obstructions. Inverted hydraulic boom cylinder mounting offers enhanced protection during loading and unloading procedures, while rigid hydraulic pipes located on the stick, boom and undercarriage help protect against damage. Steel plates shielding the hydraulic lines at the end of the stick deliver additional protection to improve system reliability.
For more information about Terex Fuchs material handlers, visit www.terex.com/construction