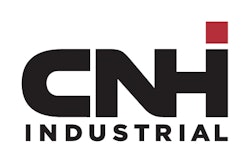 CNH Industrial N.V. today announced certain management changes. Effective immediately, Richard Tobin, in addition to his position as Chief Executive Officer, assumes added responsibility as Brand President. He replaces Mario Gasparri, who has served as president of CNH Construction Equipment since April 2012.
Tobin, who is also a member of the Industrial Executive Council (IEC) of Fiat Industrial, began his career with GTE Corporation in Stamford, CT, as Vice President of International Marketing. In 1995, he joined Alusuisse-Lonza SA in Zurich, Switzerland, as General Manager and Vice President, where he remained until 2001, when he joined Alcan Aluminum of Montreal, Canada, with a general management role. In 2002, Tobin joined SGS Group of Geneva, Switzerland, where he became the Chief Operating Officer for North America. In 2004 he became SGS Group's Chief Finance Officer & Information Technology, a position he retained for six years before joining CNH in March 2010.
Prior to the integration of Fiat Industrial S.p.A. and CNH into CNH Industrial, Tobin served as Group Chief Operating Officer of Fiat Industrial S.p.A. and President and Chief Executive Officer of CNH, a role he assumed in January 2012 after two years as Chief Financial Officer (CFO) for CNH.
Tobin holds Bachelor of Arts and Master of Business Administration degrees from Norwich University and Drexel University, respectively. He currently sits on the U.S. Chamber of Commerce Board of Directors.
Companies in this article