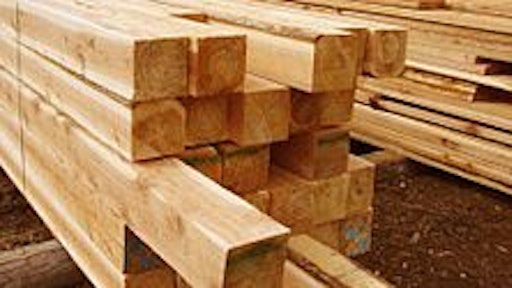 nmai.si.eu (nmai.si.eu) [CC0], via Wikimedia Commons
The U.S. Commerce Department, accusing Canada of unfairly subsidizing and dumping softwood lumber in the United States, set final duties on imports and Canada said it would appeal the decision, which comes during tense NAFTA trade talks.
The duties would impose anti-dumping and anti-subsidy duties affecting about $5.66 billion worth of imports of the key building material, the department said.
Reuters reports the combined final duty rates range from about 10% to nearly 24%, lower than a preliminary range of about 17% to 31%.
"This decision is based on a full and unbiased review of the facts in an open and transparent process that defends American workers and businesses from unfair trade practices," U.S. Commerce Secretary Wilbur Ross said in a statement.
Canadian Prime Minister Justin Trudeau denounced what he called the "unjust and punitive" final measures while acknowledging they could have been worse.
The Commerce Department says Canadian lumber mills have benefited from improper subsidies and dumped lumber at unfairly low prices on the American market, hurting competing U.S. mills. The Wall Street Journal reports the tariffs will take full effect at the border if a U.S. trade body confirms that the Canadian practices injured the U.S. industry, a decision expected later this month.
"We will forcefully defend Canada's softwood lumber industry, including through litigation, and we expect to prevail as we have in the past," Canadian Foreign Minister Chrystia Freeland and Natural Resources Minister Jim Carr said in a joint statement.
the National Association of Home Builders denounced the move saying it would drive up lumber prices at a time when communities were trying to rebuild after hurricanes and California wildfires.
"Today's move by the Commerce Department to impose duties averaging 20.83% on Canadian lumber shipments into the U.S. could not have come at a worse time. Home builders and home owners are already dealing with the monumental rebuilding efforts in the aftermath of the devastating hurricane season and California wildfires," said NAHB Chairman Granger MacDonald in a statement. "This tariff only adds to the burden by harming housing affordability and artificially boosting the price of lumber. It is nothing more than a thinly disguised tax on American home buyers, home builders and consumers."