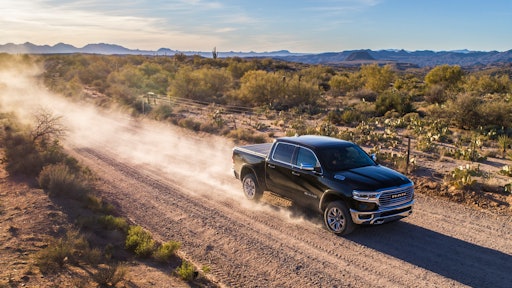 The 2019 Ram 1500 boasts features never before offered in a pickup. Overall weight for the Ram 1500 has been reduced by 225 lbs. As the truck's backbone, the frame uses advanced materials and engineering to eliminate 100 lbs. while increasing stiffness and durability for 12,750 lbs. of towing capability and 2,300 lbs. of payload.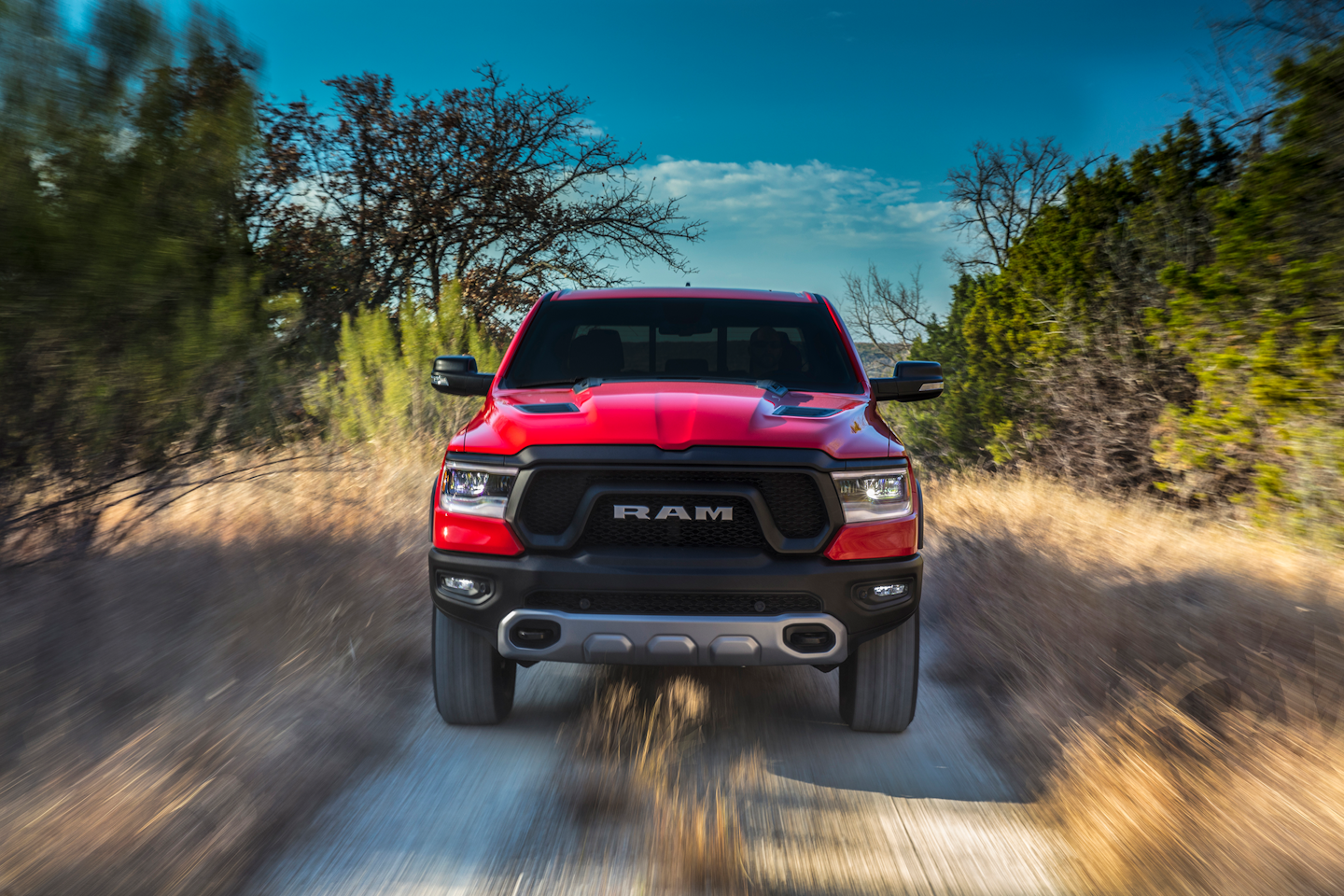 The strongest Ram 1500 frame ever produced includes the same impact countermeasures across all configurations, and is made from 98 percent high-strength steel. Exclusive front splayed frame rail technology (patent pending) creates a highly efficient energy absorbing structure for all impact modes, including front-offset with frame integration forward of front tire. Also, frame-mounted high-strength steel tire blockers are placed behind the front tires to force wheels outward in the event of impact. Additionally, side rails are taller and fully boxed. 
 Helping to create the most spacious cab in the segment, three new, longer frame lengths are offered: a 144.5-in. wheelbase on Crew Cab short beds and a 153.5-in. wheelbase on Crew Cab long beds – both four inches longer than their predecessors. The Quad Cab long bed has a wheelbase of 140.5 in. 
Ram's newest pickup offers a turning radius of just 46.2 feet, curb to curb. New independent front suspension components combine lightweight composite upper control arms, aluminum lower control arms and retuned geometry for improved responsiveness and handling. The front stabilizer bar is relocated behind the front tires, further improving roll stiffness by 20 percent. A new front coil-over shock design is standard equipment on all Ram 1500s regardless of configuration. The third generation rear five-link coil suspension design provides better articulation over obstacles than a leaf spring system, and the new progressive coil springs are more than up to the task of handling a payload of 2,300 lbs and towing capability of 12,750 lbs.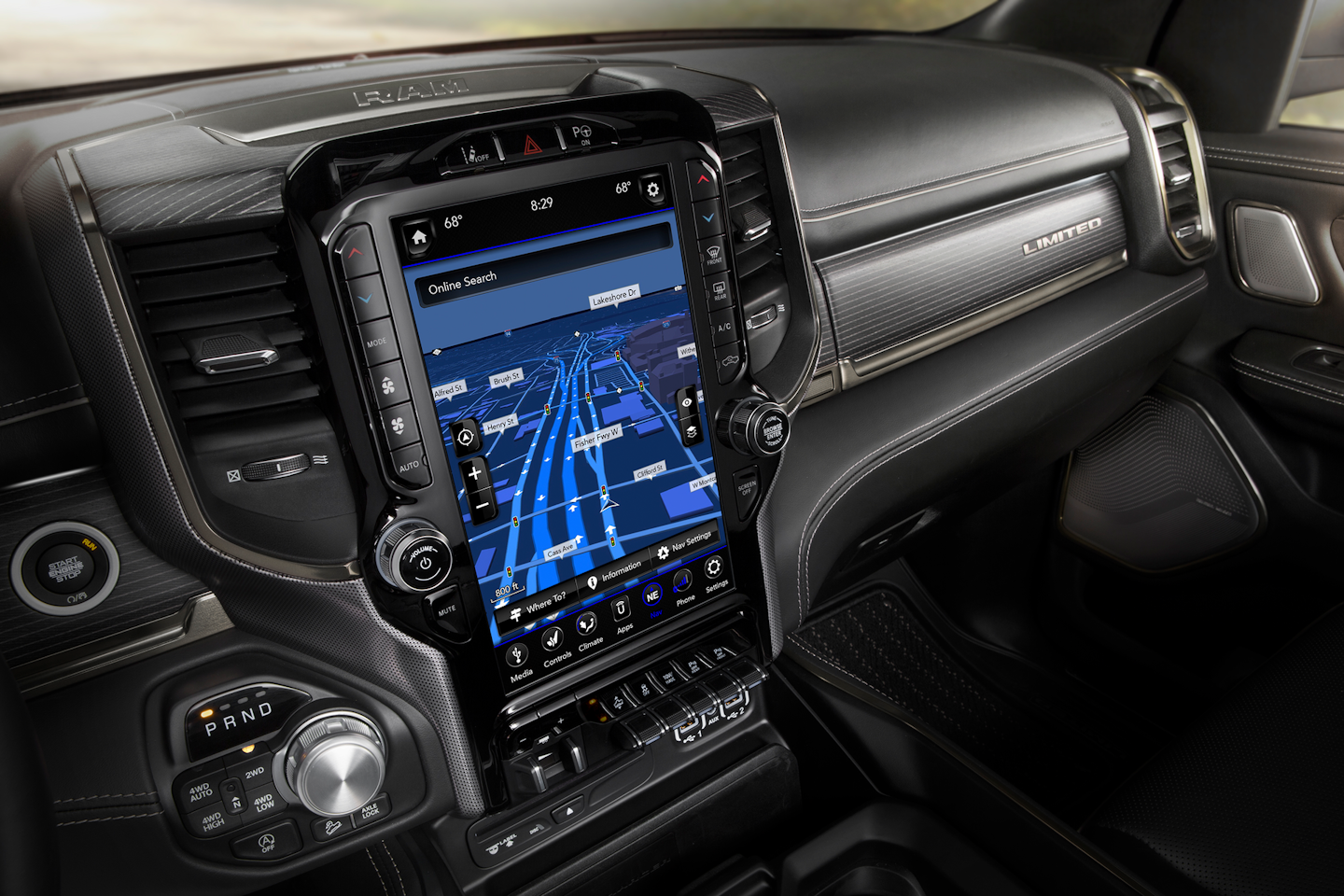 To improve NVH, new electronically controlled side-frame-mounted active tuned-mass modules (ATMM) work in harmony with an interior active noise cancellation (ANC) system on 5.7-liter HEMI V-8 equipped models to reduce ambient sounds down to a low 67.1 db – the quietest Ram 1500 ever. Rear cross members are double sheer welded to the inside and outside of the frame for improved durability and roll stiffness.
Frequency Response Damping (FRD) technology has found its way into the 2019 Ram 1500 shocks on all four corners. When the Ram 1500 experiences a slower input, common during cornering and heavy braking, the bypass valve is closed for more aggressive damping, which provides additional stability and poise. When driving normally or exposed to faster shock inputs – which is common on rough roads or at higher speeds – the valve will open to soften the damping, giving the driver more comfort, confidence and control.
The new aluminum tailgate not only features damping during opening, it also integrates a lift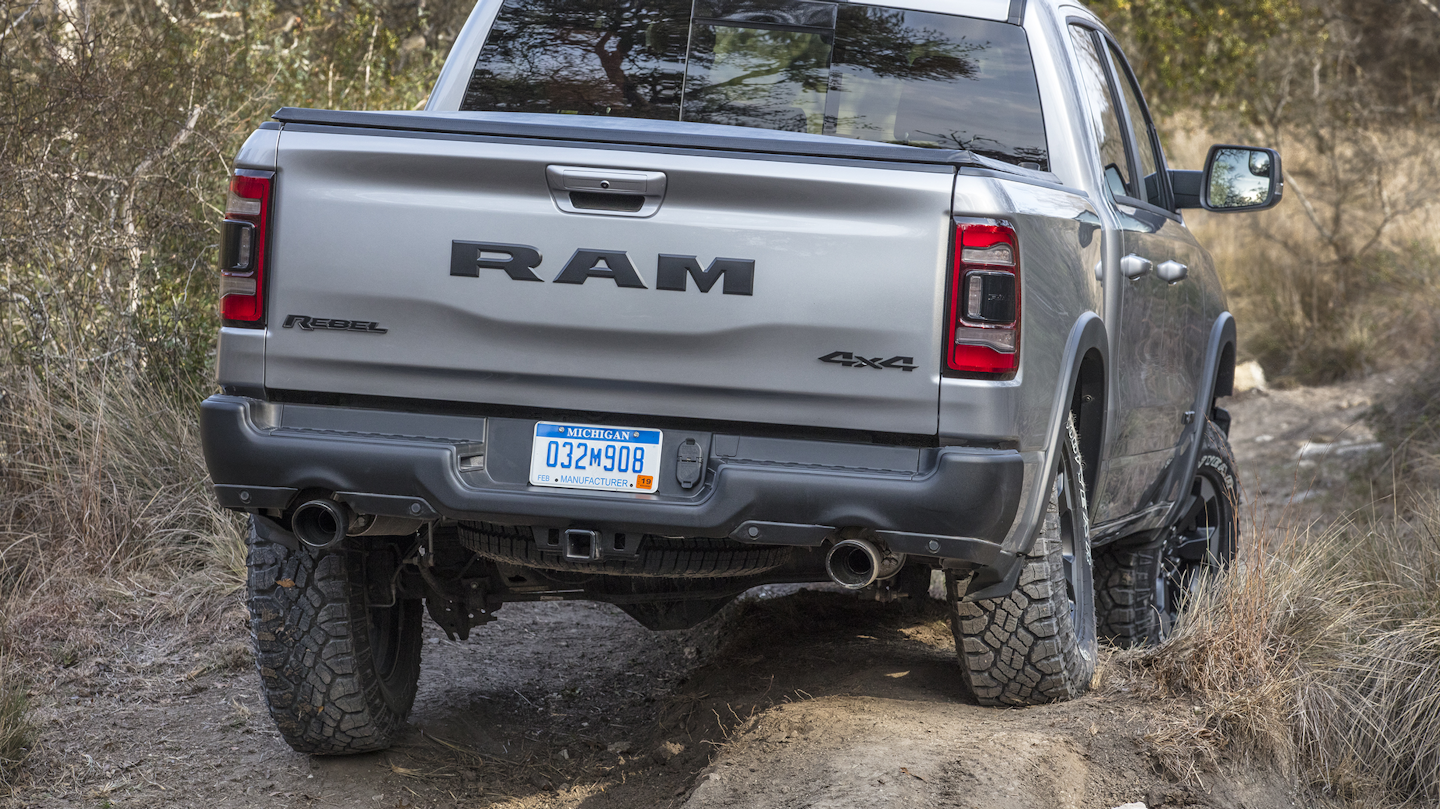 assist measure. Unlike most competitors, Ram uses a nitrogen- and oil-charged strut, which gives consistent assist in even the coldest or warmest climates and consistent assist through the entire tailgate swing. The latch-and-lock mechanism is now electronic, reducing the amount of moving parts and allowing owners to drop the tailgate with the interior switch, remotely with the key fob or unlock/open with passive entry. Customers with arms full will appreciate the ability to easily access the bed on approach.
Technology Cuts Weight
Reducing the weight of components on the new Ram 1500 improves fuel economy and allows for more content while raising payload and towing capability. By using effective high-strength steels, composites and aluminum, the 2019 Ram 1500 has dropped nearly 120 pounds from the chassis (100 pounds from frame alone) and nearly 225 pounds overall when compared to the previous generation. Additional weight reductions balance out added content to provide new comfort and fuel-saving content. The all-new Ram 1500 also takes advantage of lightweight aluminum for selective components, not just where possible but where practical. Although the Ram 1500 hood and select chassis components pioneered aluminum in 2009, the following chassis elements on the Ram 1500 made a notable reduction in weight by moving to aluminum in the all-new model:
Tailgate
Engine mounts
Front axle center section
Front suspension crossmember
Transmission crossmember
Steering system gear
Lightweighting also involves substituting composites for metal – which offer high-tensile strength at very low weight while improving durability. The upper front suspension control arms (integrated with a steel structure), and the air dam structure are made from, or combined with, composite materials. 
 Reducing Drag
Wind-tunnel testing honed the 2019 Ram 1500 exterior shape. Also, the cooperative application of active aerodynamics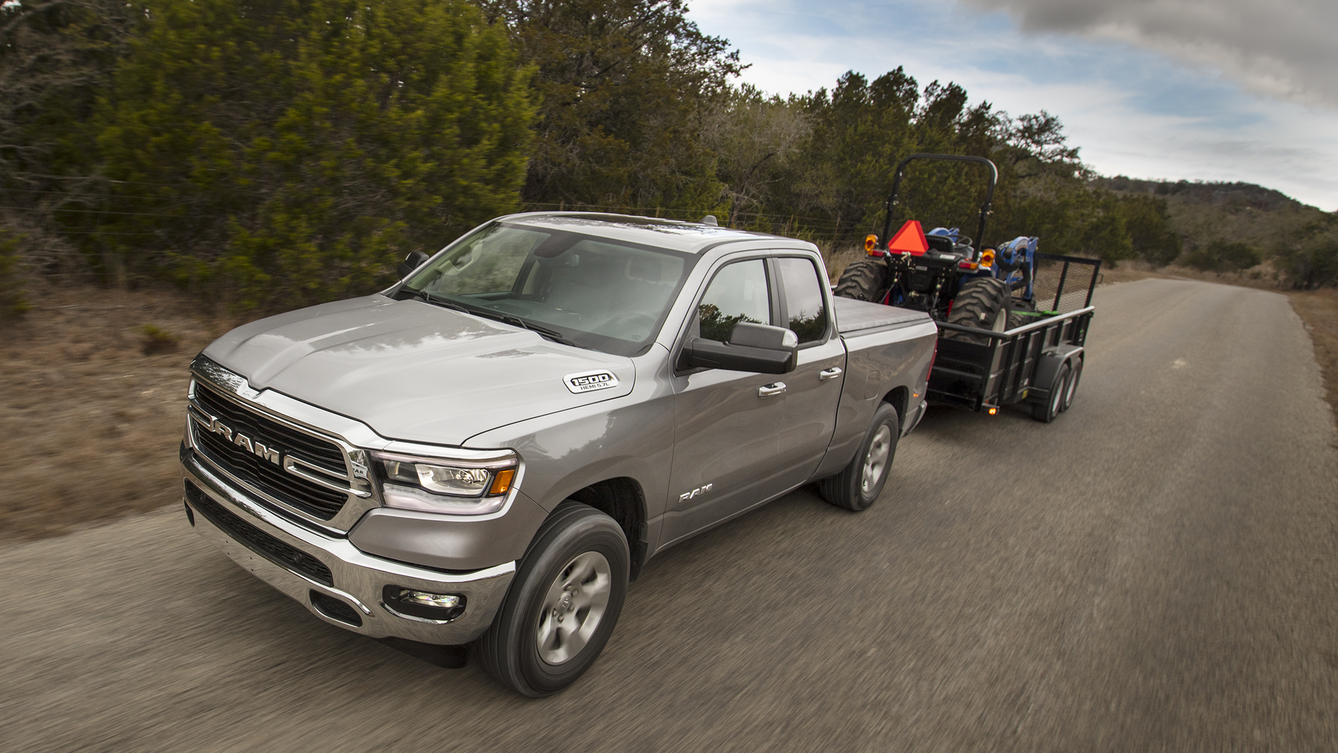 and modern styling led to a nine percent aerodynamic improvement on the new truck. The 2019 Ram 1500 Quad Cab 4x2 coefficient of drag is .357.
As the 2019 Ram 1500 approaches 35 miles per hour (mph), a standard active front air dam automatically extends downward 2.5 in. (non-air suspension and Rebel trucks). The optional air suspension system lowers the truck 0.6 in. improving overall aerodynamics and efficiency. The new Ram 1500 also employs an active grille shutter system, which automatically closes the airflow through the huge grille when cooling is least needed. 
The new Ram 1500's elevated hood better directs air away from the wiper area – improving overall aerodynamics and reducing wind noise. A new venturi roof design directs air back to the rear spoiler. 
Significant time was dedicated to designing the truck bed itself to increase usability and aerodynamics. Bed rails are raised by 1.5 in. to reduce drag as does a new spoiler on the new aluminum tailgate. The bed-to-cab execution is sub-flush to reduce disturbance alongside the body.
A wheel-to-wheel tubular side-step design offers aerodynamic improvements by allowing air to pass around the truck more smoothly. A lockable tri-fold tonneau cover serves a dual purpose by improving fuel economy by 0.8 percent and adding security and weather protection for bed storage. 
Enhanced Off-road Capacility
Ram now adds a robust 4x4 Off-road Package for the Ram 1500 on nearly every trim. The offering includes a one-inch suspension lift, with or without the available four-corner air suspension. An electronic-locking rear differential and 32-in. on/off-road tires on 18- or available 20-in. wheels provide additional grip.
Hill-descent Control, an off-road-biased rear suspension geometry (Rebel and 4x4 Off-road Package) and unique off-road-calibrated shocks bolster trail capability. The package also includes skid plate protection (transfer case, steering, engine and gas tank) and tow hooks. Rear-fender decals denote trucks equipped with the 4x4 Off-road Package. 
Upgraded Braking and Steering
With 18 percent more pad area, the 2019 Ram 1500 features the largest front brake rotors in segment at 14.9-in. A new electric parking brake eliminates 20 lbs. from the previous system and works jointly with the truck to identify automatic engagement events.
The next generation electric steering system reduces weight by six pounds and is tuned for lighter and quicker steering. By using an electric motor to power the truck's rack-and-pinion steering system, the engine is relieved from the task of constantly turning a hydraulic pump, improving fuel efficiency up to 1.8 percent and adding 5 hp.
Powertrains Improve Performance
The addition of the eTorque mild hybrid system is one of several changes made to the
powertrains for the 2019 Ram 1500. The goal: Improve performance, fuel economy, payload, towing capabilities and drivability. Other changes include upgraded TorqueFlite eight-speed automatic transmissions, strategic weight reductions and innovations, such as quickly heating lubricants to reduce viscosity-related efficiency losses. 
The eTorque mild hybrid system replaces the traditional alternator on the engine with a belt-driven motor generator unit that performs several functions. The motor generator unit works with a 48-volt battery pack to enable quick and seamless start/stop function, short-duration torque addition to the engine crankshaft in certain driving situations and brake energy regeneration, which improves responsiveness and efficiency. 
With the engine running, eTorque's motor generator unit feeds 48-volt current to a 300 watt-hour lithium-ion Nickel Manganese Cobalt (NMC)-Graphite battery. The small-suitcase-sized, air-cooled battery pack mounts to the rear wall inside the Ram 1500's cabin. In addition to spinning the engine for restarts, the eTorque unit also recaptures energy during deceleration and braking to feed charge to the battery pack. 
The upgraded eTorque version of the Pentastar V-6 is the standard engine in most trim levels of the 2019 Ram 1500, specifically tuned for truck duty and rated at 305 hp and 269 lb.-ft. of torque. The newest Pentastar V-6's advanced technologies, such as wide-range variable valve timing and two-step variable valve lift, deliver the optimal blend of power and fuel economy, based on the driver's demand. 
The 5.7-liter HEMI V-8 combines the muscle of 395 hp and 410 lb.-ft. of torque – in a smooth, broad power band that avoids the hesitation and peakiness of turbocharged engines – with performance-enhancing and fuel-saving technologies that include variable valve timing and cylinder deactivation.With Fuel Saver Technology (cylinder deactivation), the engine control computer turns off fuel and spark, and closes the intake and exhaust valves on four of the engine's eight cylinders during light load operation, such as highway cruising when full power is not needed.Variable camshaft timing helps maximize fuel economy by reducing the engine's pumping work via a delayed closing of the intake valve, which increases the expansion process of the combustion event.
The HEMI V-8 in the 2019 Ram 1500 benefits from a new 850-watt electric cooling fan using Pulse Width Modulation to tailor the fan's energy draw to the cooling demand. Eliminating the traditional fan blade mounted to the front of the engine helps improve fuel economy by reducing parasitic losses and fan noise.
Every 2019 Ram 1500 is equipped with a fully electronic TorqueFlite eight-speed automatic transmission with a wide spread of gear ratios that keeps engine rpm in the right range for the task. Trucks equipped with the 3.6-liter Pentastar V-6 use an FCA-produced TorqueFlite 850RE transmission. The 5.7-liter HEMI V-8 uses an upgraded TorqueFlite 8HP75 transmission. Both transmissions use a new generation of computer controllers that process data faster and coordinate transmission operation with the eTorque mild hybrid system. There are more than 40 individual shift maps to optimize shift changes and points for fuel economy, performance and drivability.
UnConnect features 12-in. Screen
The 2019 Ram 1500's high-tech features include a new, easy-to-use 12-in. fully configurable touchscreen display; the first-time debut of SiriusXM with 360L; 900-watt Harman Kardon audio system with 19 speakers; personal device integration and in-vehicle connectivity.
The bonded flush 12-in. reconfigurable touchscreen with tailor-made graphics for various Ram models makes personalization easy with the new split-screen, operating two different applications for desired configuration, such as Apple CarPlay and HVAC controls, or one application, such as navigation across the entire 12-in. touchscreen. Available for the first time is a 360-degree Surround View Camera system providing a birds-eye view via four cameras positioned around the vehicle to create a fully stitched image. Customers who prefer not to use the touchscreen for HVAC will find redundant controls located on both sides of the display for convenience.
Lighter 2019 Ram 1500 Pickup Tows 20% More
2019 Ram 1500 Lone Star Launches at Dallas Auto Show
Ram Introduces 2019 1500 Laramie Longhorn Edition
Ram Rolls Out 2019 Ram 1500 Tradesman Model
[VIDEO] Trailering and Crash Avoidance Technologies Add Safety to 2019 Ram 1500
[VIDEO] 2019 Ram 1500 is Lighter with More Space, Hauling Ability and Storage