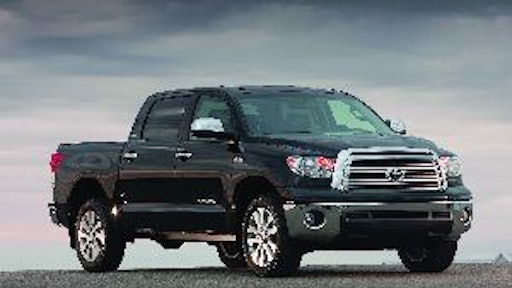 The new 4.6-liter V8 engine of the 2010 Toyota Tundra produces 310 hp and 327 lbs.-ft. of torque, an increase of 34 hp and 14 lbs.-ft. of torque over the previous 4.7-liter V8, says Natae Rayner, Toyota truck marketing manager. The result is an EPA fuel economy ratings jump to 15 mpg city/20 mpg highway from the previous 14/17 estimate for the 2WD models.
"The engine block on the 4.6L is constructed of aluminum alloy; the previous 4.7L was cast iron," Rayner explains. "That saves about 100 lbs. and improves fuel efficiency. The use of Toyota's VVT-i variable valve timing with intelligence has also been expanded. The new engine uses dual independent VVT-i on intake and exhaust camshafts. The previous 4.7L had VVT-i on just the intake camshafts."
Maintenance has also been reduced. The new engine uses chain drive for the camshafts, whereas the previous engine had a belt drive that requires more frequent servicing. The 4.6L also incorporates roller rockers and hydraulic valve lash adjusters, while the 4.7L had a bucket and valve adjusting shim.
Toyota will continue to offer its large 5.7L i-Force V8, which pumps out 381 hp and 401 lbs.-ft. of torque. The engine uses four valves per cylinder for maximum efficiency. All-aluminum construction reduces weight and helps to improve fuel economy.
"It comes with a six-speed automatic transmission that is electronically controlled to reduce 'gear hunting' while on mountain roads or hauling heavy loads," notes Rayner. "Dual overhead camshafts (DOHC) allow the engine to rev faster and run smoother. Dual independent variable valve timing with intelligence (Dual Independent VVT-i) alters the valves to boost low-end torque without giving up top-end horsepower.
"The Acoustic Control Induction System (ACIS) is a dual-length intake manifold that 'tunes' the engine by using butterfly valves to change the length of runners," Rayner adds, "again for more low-end power without hurting top-end performance."
Next Pickup Trucks Technology Article: Ford Trucks Renovates Diesel Offering
Previous Pickup Trucks Technology Article: Dodge Trucks Improve Aerodynamics