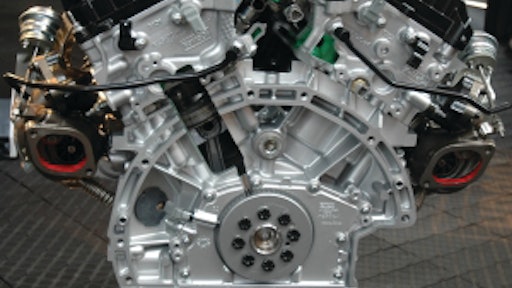 At a media preview of the 2011 Ford F-150 lineup in Texas, brand-new EcoBoost technology stole the show. The twin-turbocharged EcoBoost 3.5-liter V6 is rated to tow as much as the 6.2-liter V8, but at what is expected to be a big fuel-efficiency advantage. Three other new truck engines - a 3.7-liter V6, 5.0-liter V8 and the 6.2-liter - were also introduced. Each promise up to 20% improvement in fuel economy over the 2010 F-150.
The 3.5-liter EcoBoost pumps out an impressive 356 hp at 5,000 rpm and 420 lbs.-ft. of torque at 2,500 rpm on regular fuel. Maximum trailer towing capacity is 11,300 lbs.; same as the 411-hp 6.2-liter currently available in the Super Duty. Unique twin turbochargers, direct fuel injection and twin independent variable camshaft timing deliver the performance.
There is a very small turbocharger dedicated to each bank of three cylinders. Impellers smaller than half dollars accelerate fast and start producing boost around 1,600 rpm, virtually eliminating turbo lag. Up to 90% of the truck's peak torque is available from 1,700 to 5,000 rpm.
The EPA fuel-economy numbers are not yet in, but Ford public relations has said EcoBoost can increase fuel efficiency "up to 20% versus 2010 model year F-150 5.4-liter V8." The 2010 V8 F-150 with four-wheel drive is rated 14 mpg city/18 mpg highway. A 20% improvement would put EcoBoost at 16.8 mpg city/21.6 mpg highway.
During the test drive, the EcoBoost proved responsive under all driving conditions. Acceleration was brisk and the truck easily handled a loaded cargo trailer. There was no hesitation or lugging thanks to the flat torque curve. In steady-state driving, the dash computer reported instantaneous fuel economy in the 25-miles-per-gallon range.
Naturally, a new turbocharged, 3.7-liter V6 truck engine is going to raise questions about durability. Ford durability testing includes more than 1.5 million hours of analytical time, 13,000 hours on the dynamometer - 5,000 hours at full boost and 2,500 hours at or above 5,000 rpm. Ford says the dyno testing projects out to durability in excess of 150,000 miles. More than 100,000 hours of vehicle test time accumulated across a broad range of operating conditions.
A naturally-aspirated version of the 3.7-liter V6 will be offered as the F-150's base engine. It produces 302 hp at 6,500 rpm and 278 lb.-ft. of torque at 4,000 rpm, as well as a 6,100 maximum trailer towing capacity.
The two V8 engine include the 6.2-liter generating 411 hp at 5,500 rpm and 434 lbs.-ft. of torque at 4,500 rpm. The 5.0-liter V8 is totally new; the same power plant used to propel the Mustang.
But the F-150 5.0-liter is optimized for a truck. Intake cams have been tuned to produce more low-end torque and the engine now features cast exhaust manifolds. The high strength aluminum block features cross-bolted main bearing caps and thicker bearing bulkheads that add bottom-end strength. An additional oil cooler improves towing capability. In this configuration, the power plant produces 360 hp at 5,500 rpm and 380 ft.-lbs. of torque at 4,250 rpm. Maximum trailer capacity is 10,000 lbs.
All of the engines are coupled to a revised automatic six-speed transmission with SelectShift progressive range select and manual mode. This offers the convenience of an automatic transmission with the ability to select and lock gears.
With four power train choices, 2011 F-150 customers now have flexibility to select the power train choice that suits their performance needs, and their budgets.