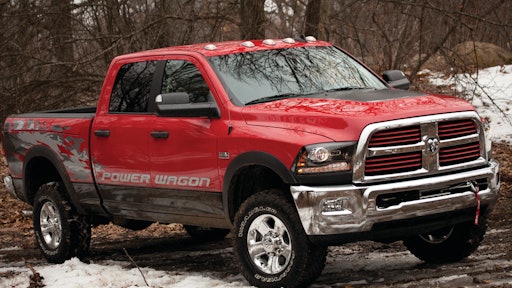 Equipment Today was recently invited to the Chelsea Proving Grounds in Michigan to put the 2014 Ram Power Wagon through its paces. We were able to sample the truck on several paved surfaces including potholes, uneven pavement and other simulated scenarios. Then we took the truck through a tight and twisty off-road course where we were able to traverse a rock garden and climb and descend a couple steep inclines.
This truck was designed to travel into extreme terrain yet remain civil on the road and still provide trailering capability customers expect. The 2014 Ram Power Wagon is based on the Ram 2500 Heavy Duty 4x4 Crew Cab, but it features a number of off-road-specific engineering enhancements including a unique suspension with more than two inches of lift, locking differentials and a 12,000-lb. winch. The front and rear electronic-locking differentials provide true four-wheel drive, maximizing traction.
Power to the ground
The 2014 Power Wagon starts with a new frame and suspension. Power is derived from a standard 6.4-liter HEMI V8 that pumps out 410 hp at 5,600 rpm  and 429 lb.-ft. of torque at 4,000 rpm. The engine calibration is unique to Power Wagon in order to enhance its off-road maneuverability and finesse. When driving in four-wheel drive 'Low,'  the throttle response softens and the idle speed increases by 100 rpm (from 650 to 750 rpm) – providing added control when ascending and descending obstacles off-road.
Power is transmitted through a 66RFE six-speed automatic transmission that is mated to a part-time, manual-engagement Borg Warner BW 44-47 transfer case. American Axle manufacturers the 9.25-in. front and 11.5-in. rear axles, delivering power to the wheels via a 4.10:1 ring-and-pinion ratio. Both axles include electronic locking differentials driven by electro-magnetic actuators.
Off-road specific suspension
Suspension is one of the most critical elements that impacts off-road performance.  The greater the suspension articulation, the better the trucks is able to negotiate extreme obstacles.  The Ramp Travel Index (RTI) is a measure of articulation. The Power Wagon achieves an RTI of 520, or 26 in. of vertical height.
To control the rear while providing a comfortable ride, Ram developed a five-link coil rear suspension that has become the standard rear suspension in Ram heavy duty pickups. The five-link rear end softens the harsh ride typically associated with driving a truck built to carry heavy payloads when it is unloaded. The design provides better articulation over obstacles than a leaf spring system while retaining higher payload capacity.
Power Wagon has a maximum payload of 1,490 lb. and towing capacity of 10,810 lb. Payload is less than half that of a Ram 2500 Laramie 4x4, and you give up 30% of the 2500 Laramie's towing capacity to get Power Wagon's off-road capability -- positioning its hauling ability just above the Ram 1500. 
The five-link coil design provides support at all major points of force. Leaf spring suspensions struggle to combat axle wrap by using staggered shock absorbers (one mounted on the front of the axle tube and one mounted on the rear of the axle tube). The design of the five-link coil system functionally resists unwanted axle rotation. Leaf spring configurations also lack lateral support, forcing the leaf ends and shackles to hold against lateral loads. That is one reason leaf-sprung suspensions shudder on rough surfaces.
The front uses a three-link design to reduce body roll, a desirable result for taller vehicles or those carrying high payloads. But the design can limit wheel articulation. Ram engineers came up with a clever way to extend wheel travel for traversing off-road obstacles. The Ram Articulink system incorporates high movement joints and a sway-bar-disconnecting system, allowing for additional flexibility and axle articulation.
The electronic-disconnecting sway bar allows the front axle to move more independently of the truck's frame. The driver-actuated 'Smart Bar' disengagement is possible in both four-wheel drive High or four-wheel drive Low when the truck is moving slower than 18 mph. As a safety feature, the Smart Bar automatically re-engages at speeds above 18 mph, increasing roll stiffness.
Thirty-three-in. Goodyear Duratrac tires and a suspension lift give Power Wagon 14.5-in. of ground clearance; 2.5 in. more than the Ram 2500 Heavy Duty. The Power Wagon's approach angle is 34 degrees, departure angle is 23.5 degrees, and breakover angle is 25.5 degrees -- enough clearance to navigate severe inclines and declines.
Underbody protection has been designed to minimize underside damage and rock wedging.
Drive Impressions
During the road testing the truck displayed no ill traits. It handled pot holes and uneven pavements without any complaint, leaving the driver in complete comfort. At no time did the truck instill anything but confidence. There was no harshness or bouncing around. The suspension simply ate up the rough pavement.
Similarly, the truck handled the off-road loop with poise. The space between the trees was rather tight, so the power fold mirrors proved useful. While traversing the rock garden the articulation allows the wheels to keep constant contact with the ground.
Then there was the steep hill. It had a steep approach followed by a steep downhill. The high breakover angle allowed the truck to easily pass what could be considered Jeep territory.
Overall, this truck is a sleeper. It looks and acts enough like its Ram 2500 siblings that you could easily underestimate its true off-road capabilities. This isn't just another lifted truck with decals.