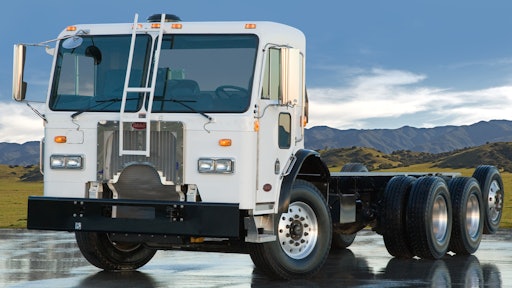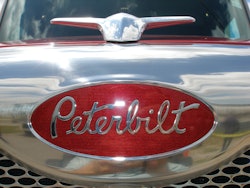 Peterbilt Motors Company has set a company production record for its Model 320 low-cab-forward vehicle. The Model 320 is suited for vocational markets including construction, refuse, tanker and fire service applications, and is designed to facilitate specialized body installations.
"We are very proud to reach this Model 320 production milestone, increasing our production by 33% over the previous record year, which serves as an indication our customers recognize the benefits and value this product offers," said Bill Kozek, Peterbilt General Manager and PACCAR Vice President. "The Model 320 is a unique product that spans a wide range of applications, from inner city streets to landfills, and from jet fuels to concrete pumpers, where the worksites require excellent visibility for operators, reliability to operate day in and day out, and the durability to withstand the rigors of the jobs they perform."
The Model 320 cab is available in left-hand, right-hand and dual drive with right-hand stand-up configurations. A 65° cab tilt enhances maintenance and serviceability. The vehicle offers axle selections in single, tandem or tri-drive configurations, plus a full complement of tag and pusher axle options and a tandem steer front axle configuration rated at 36,000 pounds. For heavier applications, optional frame liners are available.
Quality, reliability and recent additions such as two new steering gear options, a lightweight aluminum fender-mounted battery box, upgrades to the Sears C-2 air suspension seats and tri-plane mirrors have all contributed to the increased production.