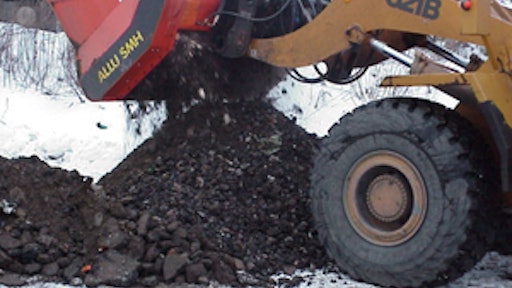 ALLU Screener Crusher
The ALLU Screener Crusher can convert skid steers, excavators and wheel loaders into processing plants.
Can screen, crush, pulverize, aerate, mix, carry and load all in a one-step operation
Can process different kinds of materials, such as top soil, waste soil, contaimated soil, clay, peat, bark, grinded asphalt and more
Available in 48 different size models
Kaeser M57 Mobilair
The 45-hp M57 Mobilair delivers 210 cfm at 100 psig.
Sigma Profile direct-drive airend combined with an oversized fuel tank provide 10 hours of uninterrupted operation
Heavy-duty, four-cylinder diesel engine with cold-start battery
Solid steel floor and panel insulation for reduced noise levels
Fully powdercoated enclosure with gull wing doors
Torsion bar suspension system with oversized tires
BLS Poly Bolt-On Track Pads
Poly Bolt-On Track Pads enable reuse of predrilled steel triple grousers by replacing only the removable polyurethane track pad.
Available for asphalt pavers by Bomag/Gilcrest, Mauldin and LeeBoy (includes Models 8815, 8816 and 8500)
Available for Bitelli, Caterpillar, CMI, Dynapac, Ingersoll Rand, Roadtec and Wirtgen milling machines
Available for Gomaco, Miller Formless and Power Curbers concrete slipform pavers
Citgo Citgard SynDurance 5W-40
Citgard SynDurance 5W-40 heavy-duty engine oil is formulated from synthetic-based oils and additives to deliver greater cold weather startup lubrication, optimal fuel economy and extended drain intervals.
Suited for year-round use
Exceeds performance requirements of low-emission engines, including EGR systems
Supplies high-temperature wear protection and quick-fill lubrication flow during cold weather startup
Bacou-Dalloz Viking Series Earmuffs
The upgraded Bilsom Viking Series noise-blocking earmuffs incorporate the patented Air Flow Control technology.
Delivers optimal attenuation across all frequencies without increasing earcup size or weight
Dual-headband design with inner ventilated band and non-deforming outer headband
Features include an attached elastic headband strap, snap-in ear cushions and dielectric construction with rugged ABS plastic
Multiquip MVC-80 Compactor
The MVC-80 Series vibratory plate compactors reduce vibration by 50 percent when compared to predecessor models due to its anti-vibration handle system (AVS).
Centrifugal force of 2,925 pounds
For compacting granular soils and asphalt
Can compact 72 feet of material per minute at maximum speed
5.7-hp Honda or 5.5-hp Robin gasoline engines
Exciter speeds of 5,580 rpm
American Highway Catch Basin Riser
American Highway's catch basin riser can be used to adjust utilities to the new grade when paving a road.
Will not break from installation forces or uneven manhole frame
Risers start at 1/2-inch rise and go up in 1/4-inch increments
Companies in this article