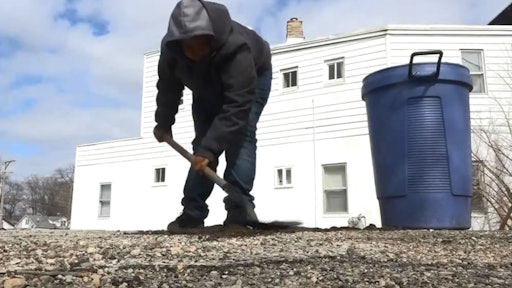 The state of infrastructure in the United States is brutal. In the last three months alone, there have been nearly catastrophic events due to crumbling infrastructure. Chunks of concrete fell from a bridge structure outside Boston on Feb. 7, prompting the closure of lanes on I-90 and creating major traffic headaches. That same day, concrete fell from another major bridge in northern California resulting in more transportation gridlock. Four days later, Lake Shore Drive in downtown Chicago closed without warning due to "structural emergencies," as crews worked to repair a cracked steel beam that supports the roadway. And just yesterday, one of the most heavily trafficked intersections in the country, where 75 and 24 meet in Tennessee, a bridge collapsed.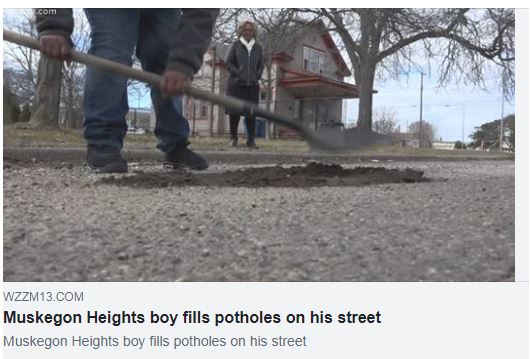 Through all these events, it's truly miraculous that no one was seriously injured. Because there were no injuries, is that why we as a nation aren't demanding our leaders to do something about this crisis? With cars, trucks and school buses crossing compromised structures 178 million times every day, it's only a matter of time before something catastrophic happens. 
Monte Scott, a 12-year old boy from Muskegon Heights, MI, doesn't want something catastrophic to happen to his mom's car, so he's doing his small part to help prevent that.  According to WZZM13 in Muskegon, Monte has already filled 15 potholes on his street and has plans for more.  
"I didn't want people messing up their cars like my mom did," Monte Scott says. "If somebody were to drive down the street and hit a pothole, and then would have to pay like $600-700 to get their car fixed, they would be mad."
Monte fills a garbage can with dirt from his yard, wheels it down his street and shovels the dirt into the potholes to help smooth out the road. This heartwarming story of a sweet boy doing his part to make his street better should be an embarrassment to our lawmakers who can't seem to come to any sort of agreement about how to fix our crumbling infrastructure. 
The Time is Now
Our transportation network remains the backbone of the U.S. economy. but many of our roads, bridges and other transportation systems are in desperate need of improvements. The solution must be a renewed commitment from our nation's leaders to invest financially in America's transportation infrastructure.
Studies show Americans overwhelmingly want their highways, roads, bridges and public transit systems fixed. A Jan. 23-24 Rasmussen Reports survey found that nearly 90 percent of likely voters believe "the Democratic leadership and President Trump should work together during 2019 to pass legislation that would improve … infrastructure."
Still, finding a bipartisan solution to funding surface transportation and other infrastructure needs remains a major challenge in Congress, according to the chair and ranking member of the House of Representatives Subcommittee on Highways and Transit.
Speaking during the "Transforming Transportation" roundtable sponsored by Axios and Uber, Rep. Eleanor Holmes Norton, a Democrat and the at-large-representative for the District of Columbia, as well as the chair of the House Highways and Transit subcommittee, said "money is the long and short of it. I would say that while our committee is the most bipartisan in Congress, the big divide is how we pay for transportation."
Money Talks
The U.S. Chamber of Commerce says that the needs of the nation's failing infrastructure exceed over $2 trillion. Even if President Trump gets the historic $1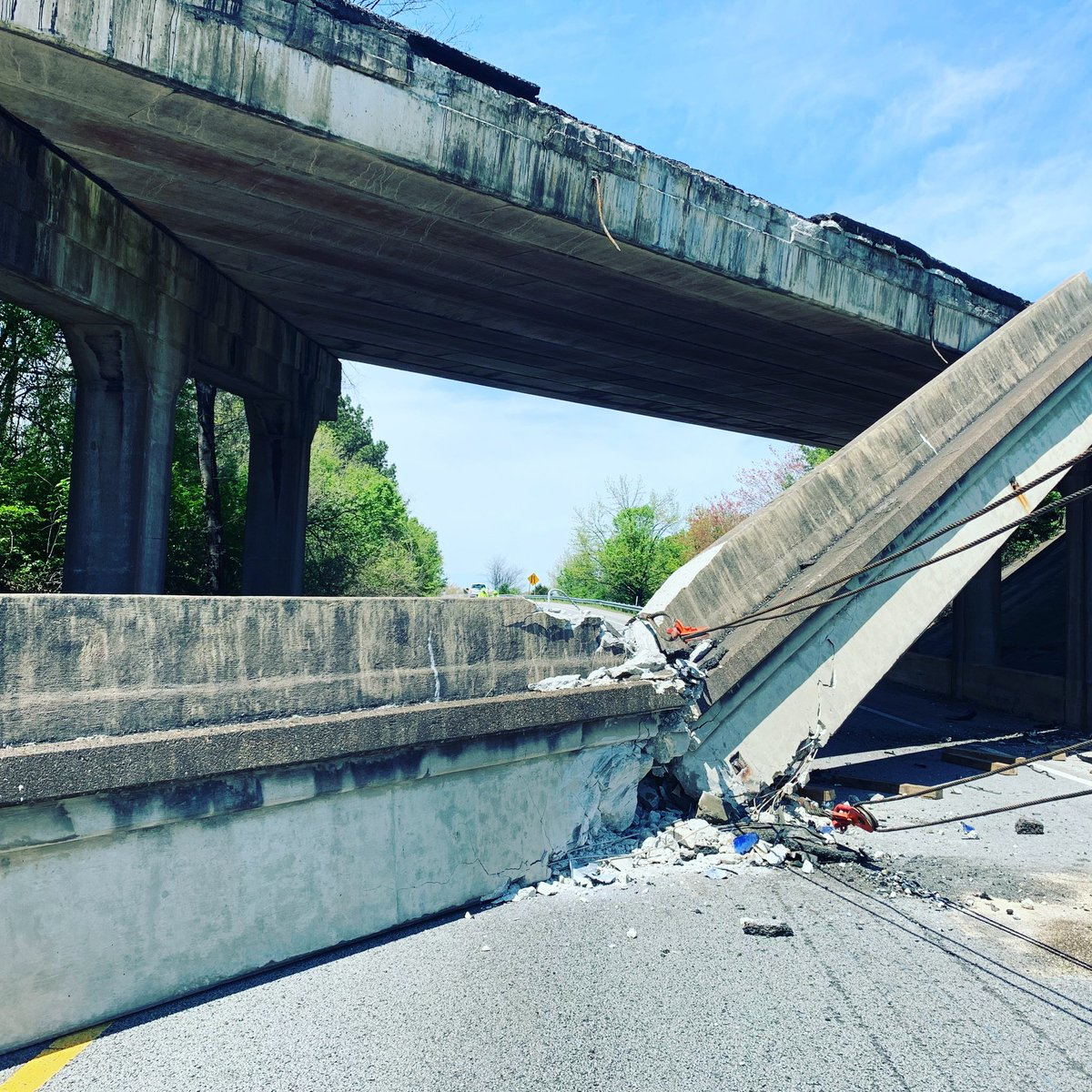 On April 1st 2019, on one of the most heavily trafficked intersections in the country, where 75 and 24 meet in Tennessee, a bridge collapsed.trillion infrastructure package he promised the country in 2016, we are still going to need more money to rebuild our crumbling roads, bridges and transit systems. With the federal government seemingly at a funding standstill, states need to take charge to start making their own money for improvements.
In Monte's home state of Michigan, lawmakers and Governor Gretchen Whitmer are working out funding for statewide road repairs as Whitmer proposed a 45-cent gas tax increase earlier this month to raise billions for road and bridge work annually.
Other states are taking the lead as well, proposing taxes to help bear the weight of our crumbling infrastructure funding needs. Since 1993, 39 states have raised their motor fuel user fees. This includes red and blue states alike, including over the past several years: Indiana, Tennessee, South Carolina, Oregon and New Jersey.
During the 2018 primary races and general election, there were nearly 540 state and local ballot initiatives that dealt with transportation initiatives. According to ARTBA, voters approved 81 percent of those measures, showing their continued support to raise revenues for increasing transportation investment. And in 2019, more states are starting to step up to get the work done. 
See how states are stepping up across the country to raise their own money for infrastructure and don't be afraid to reach out to your local legislatures and tell them to fix our roads as well. We don't need to put 12-year-olds in danger by having them in the middle of our roads doing it themselves.