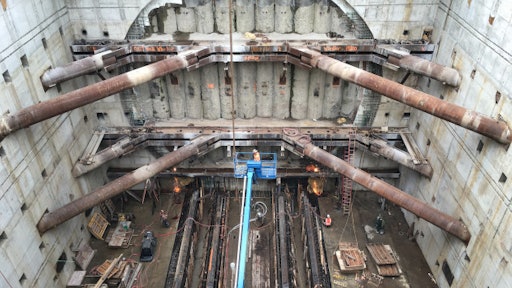 Bertha is done digging.
After four years of moving — and sitting broken for a while — underneath downtown Seattle, the world's largest tunnel-boring machine on Tuesday reached the end with much fanfare.
It's all for a double-decker highway that will go in the tunnel. Southbound lanes will be on top and northbound lanes on the bottom. Both will carry hundreds of thousands of drivers every day when the tunnel opens in early 2019.
Crews will have a lot of plumbing, electrical and mechanical features to work out, not to mention more than 8,000 tests to make sure the tunnel is safe for drivers. As crews get ready for that endeavor, hundreds on Tuesday paused for the historic moment and watched Bertha break through to its final destination.
The next phase entails months of taking apart the largest tunnel-boring machine in the world. Some parts will be recycled and others shipped back to the machine's creator in Japan.
"We have to clean all the debris that you see," Chris Dixon, with the contractor Seattle Tunnel Partners, said.
Then the work begins on finalizing the tunnel that will replace the elevated Alaskan Way Viaduct for good.