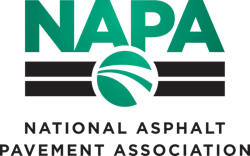 The National Asphalt Pavement Association (NAPA) announced today the 2012 winners of its prestigious Ecological Award competition. The companies were recognized at a special ceremony during the association's Midyear Meeting in Boston.
NAPA's Ecological Award competition, which started in 1971, recognizes asphalt facilities that best demonstrate safe and responsible environmental practices. Facilities are judged on their design, layout, clean operation, maintenance practices, and community activities. Awards are given for new plants (those at a site for five years or less) and existing plants (those at a site for more than five years).
The winners of the 2012 Ecological Award were:
New Plant:
Lakeside Industries of Lacey, Wash., for its 300-ton-per-hour Durgin Road asphalt plant.
Tilcon New York Inc., an Oldcastle Materials Co., of Wharton, N.J., for its 1-year-old Keasbey asphalt plant
Existing plant:
Payne & Dolan Inc. of Vienna, Wis., for its 17-year-old Vienna Control #6 plant.
S.T. Wooten Corp. of Wilson, N.C., for its 7-year-old Wilmington asphalt plant.