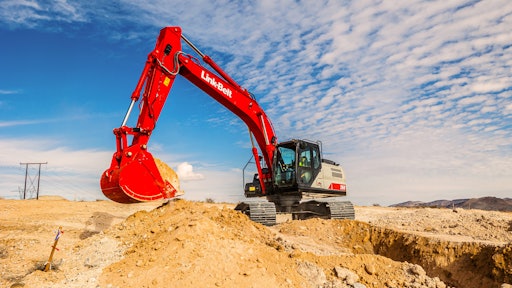 Link-Belt
With bauma returning in 2022 and CONEXPO-CON/AGG (CONEXPO) coming back with a vengeance in March 2023, new and exciting products for the construction industry have been a hot topic during the past year. As a result, several or the top product winners this year were launched or featured during CONEXPO or bauma.
The Contractors' Top New Products Awards showcase new equipment, technology and products that the construction industry and the Equipment Today team have identified as the most intriguing and innovative of the year.
Award recipients are based on nominations and page view data on new products featured in Equipment Today and on ForConstructionPros.com during a one-year period from April 2022 through April 2023.
We are thrilled for all the winners and excited to share them with you!
The new X4S line from Link-Belt focuses on performance and innovative features, offering power and high productivity to provide operators with lower daily operating costs. The line is equipped with forward-thinking technologies, including custom flow balance and four new work modes, which help to improve cycle times by up to 5% and fuel efficiency by up to 19%.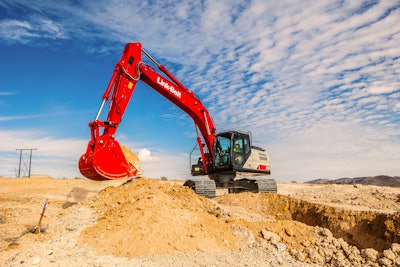 Cab comfort and safety are at the forefront of the line, with a 10-in. portrait monitor and WAVES 270°, giving remarkable site awareness. Dual LED cab lights are standard on all models, and the all-new hydraulic oil sampling port is hassle-free, requiring no tools.
The 355 X4S excavator is the flagship model of the X4S Series, built upon the foundation of the X4 Series with added functionality and new features. It's also the largest minimum swing radius excavator in the Link-Belt product lineup, weighing approximately 78,709 lbs. It delivers a maximum digging depth of 22 ft. 10 in., maximum reach at ground level of 34 ft, 8 in. and a bucket digging force of 39,340 lbf.
The unit is powered by an Isuzu AQ-6HK1X six-cylinder, Tier 4 engine that produces 205 net hp at 1,800 rpm. Four work modes offer varying levels of selectable rpm settings. The new Eco mode maximizes fuel economy and the new Lifting mode ensures power boost is always on during lower rpm crane tasks. A reversible fan is an available option.
The 355 X4S is equipped with a newly designed, full-size cab that offers more operator room and comfort. The additional headroom and legroom pair with the high-back air suspension seat with heat and tilt functions built in to enhance the operator experience. The overall cab layout has been improved by adding on-screen climate controls with better airflow, onboard Bluetooth, dual cup holders and a smartphone storage tray relocating the 12V outlet upfront, a free-swing switch, better spaced and more comfortable footrests, and a straight travel pedal.
The 355 X4S comes standard with two high-resolution cameras, one at the rear and one on the right-hand side of the machine. The optional WAVES camera system adds a third camera and gives the operator a full 270-degree view around the machine. The new 10-in. LCD monitor gives the operator greater visibility of machine functions and safety features, including the ability to display all three camera images at the same time while still monitoring machine information and notifications. Also, through the new monitor, operators can customize joystick button assignments and the monitor buttons to activate frequently used functions and screens instead of relying on the factory defaults alone.
When setting up work tools, individual names can be created and stored in the monitor, making it quicker and more user-friendly to choose the correct settings for the installed tool. Operators can also prioritize and distribute hydraulic flow to arm-in, boom-up, or swing functions, depending on the immediate need of the job, directly through the monitor.
Serviceability remains a strong feature with ground-level access to all regular maintenance items and easy-to-use oil sample valves. A new standard dual-band modem improves RemoteCARE communication and functionality with greater range and real-time data capabilities. RemoteCARE provides 24/7 remote monitoring, machine health and security features.
Stellar Single-Reel Utility & Telecom Trailers
Self-Loading Single-Reel Utility and Telecom Trailers from Stellar Industries are designed to help boost the efficiency and effectiveness of cable removal and cable-laying processes. With just one reel and a lower setup, these trailers have a low center of gravity and are perfect for more basic operations and for improving safety. They also feature a convenient way to keep cables neatly contained and organized on the jobsite to prevent tangles or damages. Plus, these trailers are easy to maintain for years of use.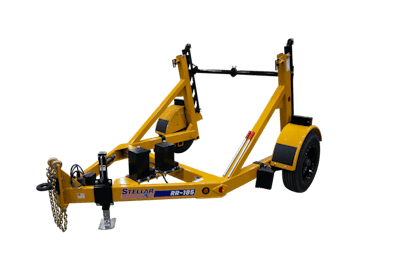 Stellar Trailers are built to withstand challenging industrial conditions and are well known for their strength, simplicity and safety. They feature easy loading and unloading, helping to keep productivity moving. Additionally, Stellar Single-Reel Utility and Telecom Trailers offer load capacities ranging from 3,500 lb to 14,000 lb, along with a wide range of reel capacities.
"This latest line of trailers represents Stellar's relentless commitment to quality, innovation and top-level customer service," said Tyler Havens, product manager at Stellar. "Customers will recognize the same durable, reliable features they loved, along with smart new enhancements that truly make these trailers a trusted Stellar product."
Learn more from this video:
Trimble Siteworks Machine Guidance Module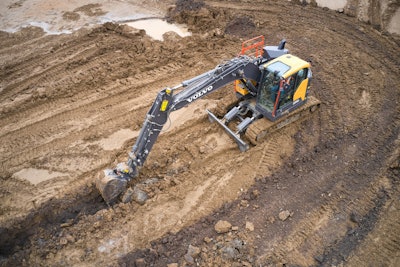 Trimble Siteworks Machine Guidance Module extends the capabilities of Trimble Siteworks Software from surveying and layout to support on-machine excavator guidance and operator assistance. With the addition of the new software module, contractors can use the same rugged Site Positioning Systems hardware and software to perform a variety of tasks on the job site, including surveying, machine guidance, in-field design and reporting. Designed specifically for small site and utility contractors, the Siteworks Machine Guidance module gives users the ability to move the system between multiple excavators and jobsites as an accessible and entry-level combination machine guidance and construction surveying solution.
"The new Siteworks Machine Guidance Module is purpose-built to be versatile, portable and easy to use, giving local contractors an entry-point into construction surveying and machine guidance," said Kevin Garcia, general manager, Trimble Civil Specialty Solutions. "Our goal is to give users all of the benefits of Trimble Siteworks at the tip of the bucket, essentially turning the machine into a surveyor. Contractors can get more done with less training and time, and utilize their personnel for other tasks, while also moving workers out of trenches and away from equipment operating on the jobsite."
The announcement was made at CONEXPO 2023, North America's largest trade show for construction machinery, building material machines, mining machines, construction vehicles and construction equipment.
The Siteworks Machine Guidance system includes the Trimble SPS986 or Trimble R780 GNSS Smart Antenna with tilt compensation and Trimble's ProPoint™ high-precision positioning engine, and any bring-your-own-device or Trimble field tablet that supports Trimble Siteworks software. The versatile new module enables contractors to use Siteworks off the machine to design, measure and lay out projects, and then transfer the GNSS receiver and field tablet from the pole to the machine to provide in-cab, 3D machine guidance and grade checking capabilities without the need for a surveyor. Using the Trimble CenterPoint RTX correction service, contractors can experience true mobility working without the constraints of a local base station or VRS network, with high-level accuracy delivered worldwide via satellite or cellular/IP.
In addition to helping contractors increase efficiency in the field, the new software module enables users to easily share information between the jobsite and the office. Using Trimble WorksManager Software, contractors can easily share designs between locations, access remote support and keep projects moving forward from the road.
Wacker Neuson's ST27 features a 2-speed standard travel drive that offers an impressive 9.1 mph resulting in faster cycle times. Enhancing the driving experience is a standard auto-shifting, two-speed drive system that can be active or disabled based on the application. It automatically senses the operators need to shift. The auto feature engages in and out of the two speeds based on joystick input and eliminates the need for the operator to make manual shifts.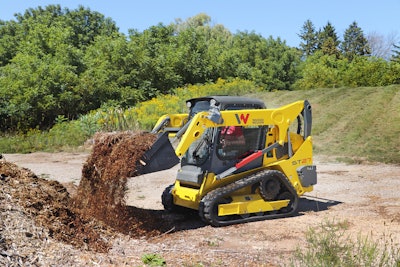 Operator comfort and visibility are at the forefront of all of Wacker Neuson's product designs. The ST27 takes visibility to a new level for compact track loaders. The vertical loader arm linkage is designed to maximize visibility to the rear. The shape of the rear linkage aligns with the cab posts in the operator's line of site to minimize visual obstructions, creating a better view to the rear. Additionally, the dedicated track frame design allows for a lower profile loader arm orientation, vastly improving side visibility.
The spacious cab offers all day comfort that includes a 5.7-inch color display and controls to meet the operator's preferences. The selectable EH joystick controls allow the operator to toggle between ISO and H-Pattern via a switch in the cab, and the large display makes it easy to adjust the joystick sensitivity and machine response settings for a fully customizable operating experience. From switch location and layout to an angled footrest in the floorboard and the ergonomically located handles, joysticks and armrests, the cab is specifically designed to reduce operator fatigue. Even entering and exiting the machine is easier with a wide door and step and well-placed grab handles.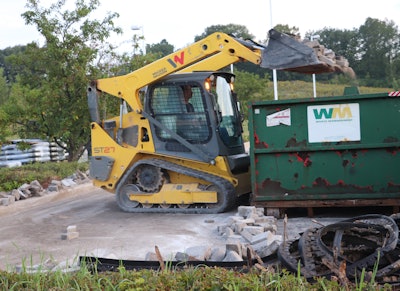 The ST27 comes with Wacker Neuson's service accessibility. The cab fully tips forward with the loader arms down, providing complete access to all maintenance components. The machine is engineered to be user-friendly with a simple, open design and efficient layout that requires less time on daily service checks and more time on the job.
The ST27, and all of Wacker Neuson's skid steer, compact track and utility track loaders were designed for the North American market and are manufactured at Wacker Neuson's Menomonee Falls, Wisconsin facility.
Learn more from this video:
Other Winners
Below are the other winners:
Bobcat S7X All-Electric Skid-Steer Loader
Brandt C550 Heavy Haul Trailer
Briggs & Stratton Vanguard Lithium-Ion 48V 1.5kWh Commercial Battery (Si1.5)
CASE Construction Equipment Minotaur DL550 Compact Dozer Loader
Caterpillar Industrial Power/Perkins Lithium-Ion Batteries
Caterpillar 350 Hydraulic Excavator
Cojali USA Inc. Jaltest Off-Highway Diagnostics
Earthwave FleetWatcher Escalating Idle Alert Feature
GOMACO GP460 Placer/Spreader Slipform Paver
Hitachi Construction Machinery ZX50U-5N Compact Excavator
Hyundai Construction Equipment HS 120V Skid Steer
Ignite Attachments Grapple Family
Ironcraft 4-N-1 Power Rake Attachment
JLG Industries E18MCL Vertical Mast Lift
Kubota Tractor Corporation SVL75-3 Compact Track Loader
Liebherr Mid-Size Wheel Loaders
Lincoln Electric POWER MIG 215 MPi Multi-Process Welder
Loftness Specialized Equipment, Inc., Battle AX -S Series
Mack Trucks Granite with Improved Visibility
Manitou North America 2750VT Compact Loader
Milwaukee Tool MX FUEL Concrete Vibrator
Minnich Manufacturing A-1CL Single Gang Minni Dowel Pin Drill
Morooka MST80C Crawler Carrier
Takeuchi TB350R Short Tail Swing Compact Excavator
Tenna TennaCAM 2.0 Dash Camera with AI Technology
Thunder Creek Multi-Tank Oil Trailer
Topcon Positioning Systems 2D-MC
Volvo Construction Equipment L350H Wheel Loader
Wirtgen SP 20(i) Offset Slipform Paver
Companies in this article