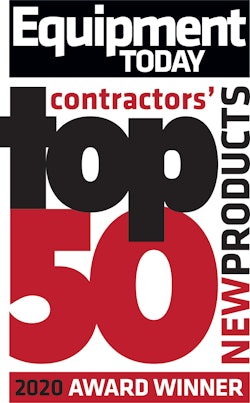 Each year, the Contractors' Top 50 New Products — hosted by Equipment Today and ForConstructionPros.com — showcases the new equipment and products that construction equipment owners and end users identify as the most interesting and intriguing. Recipients of the awards are determined based on page views and inquiries on the ForConstructionPros.com web portal on the new units featured in the magazine over a 12-month period. Each manufacturer is able to receive only one award, so the winning products represent the single highest ranking product for each company over the specified time frame. The winners are grouped into categories based on product type or application. 
The editorial team at Equipment Today and ForConstructionPros.com sifts through data on the hundreds of new products featured in the publication and online to see which of those captured your attention and interest most. The process is always insightful in that it can provide a glimpse into not only the mindset of fleet owners, managers and operators but into market trends. Historical and current data help to corroborate current industry developments, and patterns can begin to emerge about potential new trends. While the end goal is to identify the top new products, the process itself can help provide direction for what we will be monitoring for months to come, particularly during these turbulent times.
Obviously, as we sort through the data, there are certain product types or concepts that inevitably find their way onto the list of award recipients just by their nature and/or application. Yet, there are always a few that surprise us. Check out the list to see for yourself, then click on the links to find enhanced coverage (including more images, videos, brochures, etc.) of each of the products.
Congratulations to this year's winners:
Atlas Copco XAS 950 Air Compressor
Bobcat R-Series S76 and T76 Compact Loaders
CalAmp iOn Suite of Telematics Services
Caldwell Multi-Grapple Lifting System
Case B Series Skid Steers and Compact Track Loaders
Caterpillar 326 Next Generation Excavator
Doosan DX35-5, DX42-5 and DX50-5 Compact Excavators
EDCO DS-20 Downcut Walk-behind Saw
Fecon Standard Flow Mulcher Head
Felling FT-16 IT-I Drop-deck Industrial Tilt Trailer
Freightliner 114SD with Cummins X12
Genie S-40 XC and S-45 XC Telescopic Booms
Hy-Brid Lifts PS-1930 Scissor Lift
JLG R2632 and R3246 Scissor Lifts
John Deere 333G Compact Track Loader with Integrated SmartGrade
Kato 17VXB Battery-powered Electric Excavator
Kobelco SK550DLC-10 Demolition Excavator
Kubota SCL 1000 Stand-On Track Loader
LBX Link-Belt 80 X3 Spin Ace Excavator
Leading Edge Multi-DigNRip V-Raptor Bucket
Liebherr PR 736 Generation 8 Dozer
Magni RTH Rotating Telescopic Handlers
Masterhaul PowerLoader Fully Automated Cargo System
Milwaukee Tool MX FUEL Equipment System
Minnich 50cc Gas-powered Back Pack Concrete Vibrator
Ram 2500 and 3500 Heavy-Duty Pickup Trucks
Roadtec RP-250 10-ft. Asphalt Paver
SkyMul SkyTy Rebar-tying Drones
Snorkel 2100SJ Telescopic Boom Lift
Summit Supply Over the Tire Tracks
Thunder Creek Expanded Multi-Tank Diesel Hauling Platform
Topcon X-53x Automated 3D Excavator Grade Control
Trimble Earthworks Grade Control Platform Version 2.0
Vanair Start-All Lithium-Ion Jump Starters by Goodall Mfg.
VMAC Stacked G30 Air Compressor
Volvo EC200E Crawler Excavator
Wacker Neuson WL95 Wheel Loader
Wirtgen W 380 CRi Cold Recycler