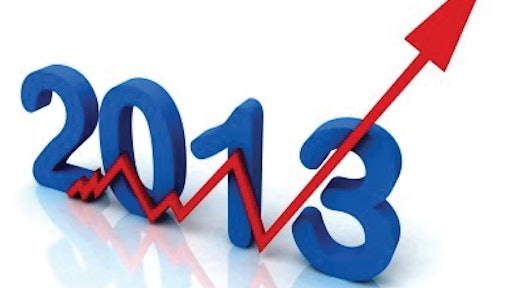 This blog post was written exclusively for ForConstructionPros by nationwide equipment financing company Balboa Capital.
Now that 2013 is upon us, every business owner wants to start the new year with a positive outlook. For those in the construction industry, the new year has shown positive signs for business due to a higher demand for housing across the nation. With growing job markets, many people will be starting new jobs, and they'll want to move to cities where those jobs are located. Recently, a leading construction information resource reported that the amount of single family housing units will increase by 21 percent, and that fewer foreclosures will stabilize housing prices.
PCA Report Predicts All 50 States Will Experience Housing Recovery in 2013
All of this bodes well for the construction industry. Here are some strategies for business success in 2013 for construction companies and contractors alike:
Do your research
To prepare for a successful year, there are several steps you should take. The first is to stay up-to-date with current housing market demands. While it's difficult to accurately predict trends, doing research will keep you up-to-date on the latest developments in your field and prepare you for possible market changes. As the economy continues to improve, you will most likely be bidding on more construction jobs. When you acquire new business, grow your company accordingly. Reports reveal that three jobs are created for each new home that is built. This is very encouraging news for independent construction workers, especially with the housing statistics over the last few years.
Manage your finances
Managing finances is something that every construction company owner should make a top priority. For starters, you should determine exactly where your business is earning and spending cash. Doing so helps to ensure that your financial records are kept in order and allows you to make more intelligent business decisions. Always spend smart, and take the time to determine what your business really needs – or doesn't need. For example, instead of purchasing a new excavator, consider using less of your available capital to repair your current one. Following some of these strategies can help you maximize your bottom line and significantly lower your company's expenses.
How Much Money Should I Be Making?
Fine-Tuning Your Financial Operations
Grow your business online
An important strategy that construction businesses owners should take advantage of, if you are not already, is online marketing. Having an online presence is crucial to succeeding and moving forward in today's online business world.
Podcast: Social Media for Construction
Utilizing social media websites such as Facebook, Google+, Twitter, LinkedIn and YouTube can enormously expand your reach and attract new business. Business owners know the importance of networking, and with social media you can easily connect with your employees, customers, prospects and other business associates in real-time.
How to Use Social Media To Build Your Construction Company's Brand
You will want to engage your connections by driving them back to your website and providing information that they will want to learn about. Have a blog with news about the construction industry, as well photographs of your work, and make sure your posts stay current and are regularly updated.
Engage Customers with Social Media Marketing
Taking the initiative to prepare for your construction business can go a long way and can have an even bigger impact at the start of the new year. Keep in mind that while many construction professionals provide reports on national figures and demands, it's a great idea to stay on top of local trends in the construction industry as well. Hopefully you find this blog post informative and your construction business will achieve a new level of success in 2013.