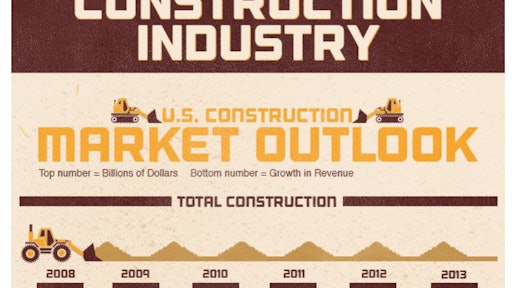 We've heard and read that the construction industry is slowly beginning to come out of its economic slump. Maxwell Systems recently crunched the numbers and created a new infographic reflecting the current state of the construction industry to help illustrate just how the numbers have been changine in the industry since 2008.
State of the Construction Industry infographic
Here are some of the highlights of the infographic's numbers:
Projections for total construction for 2013 is $487.7 billion; an increase of 6% growth in revenue
Expected growth for commercial construction from 2012 to 2017 is 6.8%; expected growth for industrial during that same time period is 3.5%
Construction could see a 33% rise in employment by 2020 with 1.8 million jobs added
There are currently 99,000 job openings in construction
Texas has the highest employment of construction workers at 107,020
Utah has the lowest employment of construction workers at 12,700
Maxwell Systems used data from the Bureau of Labor Statistics, U.S. Census Bureau and U.S. Department of Commerce to create its infographic. What do you think? Do you agree with the numbers? Are you seeing more positive or more negative signs in your area of the industry? Share your thoughts and comments with us in the Comments section below.