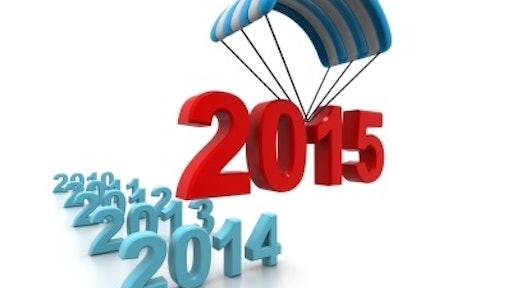 The start of a new year usually brings about New Years' resolutions. As a construction business owner or construction worker, now is a great time to consider what resolutions you can make — and keep — for 2015. William Smyth, chairman of the Associated Builders and Contractors San Diego Apprenticeship Training Trust board of trustees, recently wrote an article of five resolutions for the construction industry for 2015.
His top resolution is to make safety a priority. As Smyth points out, there is so much talk about safety that it might almost be too much, causing many people to hear it and forget it. But in an industry as dangerous as construction, it's important for everyone to make safety a priority. That includes staying in-the-know of current safety regulations and making sure your employees or coworkers are informed of current safety practices and any changes made to safety regulations.
But it's not just knowing the safety regulations. As part of this resolution make sure you're following safety procedures, wearing the appropriate personal protection equipment and actively refreshing everyone's knowledge on jobsite safety. Holding regular safety meetings both in the office and on the jobsite is a great way of proactively making safety a priority.
Smyth's second resolution is to pursue advanced education. Education is a lifelong process, even in the construction industry. Smyth encourages contractors to continue ongoing training in new technology, techniques, materials and codes — especially with technology changing so rapidly. Pursuing advanced education not only keeps you up to date on what's new in the industry and industry practices, but it also can help contractors and skilled laborers advance their careers.
In conjunction with pursuing advanced education, Smyth's third resolution for the industry is to develop the next generation of skilled craft professionals. We've all seen the headlines (or experienced hands on) about the shortage of skilled laborers now that the industry is starting to rebound. And with many more skilled laborers getting ready to retire over the next decade the need for the next generation to fill these positions will be even more vital. Find opportunities in your local areas to help promote the and educate about working in the trades such as construction. Maybe you can even offer an apprenticeship program or find a way to work with local schools to get students interested in jobs in the construction industry.
Another resolution construction contractors can consider for 2015 is to stay on top of trends. Smyth says this is crucial to being an effective business leader. "When you see the big picture, you can anticipate what may be around the corner and gain time to react and adapt," Smyth says in his article.
Smyth's final resolution suggestion is to commit to professionalism. Make an effort to be responsible, accountable and strive for excellence. Hone your communication skills and use them effectively. Be professional in all interactions with employees, coworkers and customers.
In addition to Smyth's five suggest resolutions for 2015 I would add one more: follow through. Most people make resolutions in January that they've already given up by February. Whether you make one or all five of these resolutions or some of your own, make sure you follow through all year. You might find that these soon become second nature and less of a resolution and more of everyday habits. All of these resolutions can have a positive impact on your company and the industry. So go for it; do something good for your company and for yourself this year.
What resolutions have you made for your construction company this year? Are there any resolutions you would add to Smyth's list? Share your thoughts in the comments section below. Here's to a happy, successful 2015!