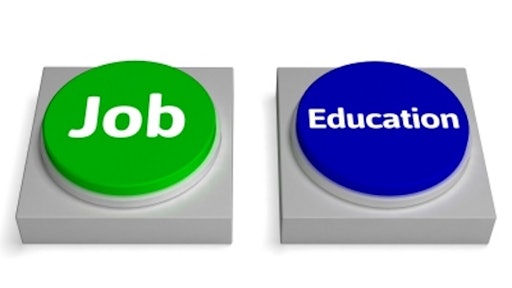 We've heard that the construction industry is struggling to find skilled laborers to help fill the worker shortage an uptick in jobs is demanding. Most of the blame has been placed on the economic downturn, which caused so many workers to leave the industry and not return. In addition, much of the current workforce will be reaching retirement age soon.
However, the Associated General Contractors of America stresses that the lack of training for the incoming workforce may be just as much to blame. The dismantling of the public vocational and technical education programs and declining participation in union apprenticeship training have helped to cripple the once robust construction education pipeline, the association says.
According to the U.S. Census Bureau's 2012 Current Population Survey, roughly 1.1 million construction workers are likely to retire within 10 years. With that in mind it seems even more crucial the industry start to rebuild the education and training programs that help produce a skilled workforce.
An increasing focus on college preparatory programs at the high school level has assisted in the declining interest and focus on vocational and tech education programs. Plus, federal funding has shifted to promoting these college-prep programs. According to AGC, "During the past eight years alone, federal funding for career and technical education has declined from $1.3 billion a year to a 2014 level of just $1.12 billion. That is a 29 percent decline after taking inflation into account."
A push for college preparatory programs doesn't always mean a more successful path for students. According to the U.S. Department of Education's Office of Vocational & Adult Education, vocational and technical education programs have higher graduation rates compared to college-prep programs (90 percent versus 75 percent respectively).
What all these stats add up to is the need to revive vocational and tech ed programs and start refilling the pipeline of skilled laborers.
AGC has outlined a plan of steps federal, state and local officials should take to reinvigorate the construction skills education pipeline. These steps include both legislative and regulatory reforms designed to make it easier for private construction firms and not-for-profits to finance and operate training programs.
AGC's plan encourages officials to:
Reform and reinvigorate the Perkins act. The association says the Carl D. Perkins Career & Technical Education Act, which is the primary federal funding vehicle for career and technical education programs, should "be amended to give states increased flexibility to select and fund high-quality training programs in response to labor market needs. In addition, the legislation should give states increased autonomy to establish sector partnerships focused on promoting collaboration among secondary and post-secondary training programs." AGC also wants Congress to boost funding for the Perkins Act from the current level of $1.12 billion to its 2007 level of $1.3 billion.


Encourage private funding for craft training programs. AGC calls on Congress and the administration to "enact legislation that would expand antitrust exemption to open-shop contractors, allowing them to enter into similar agreements among themselves to provide funding for craft training programs."


Improve the Workforce Investment Act. AGC wants legislation that allows registered apprenticeship programs to be listed as "Eligible Training Providers," which would make it easier to use Individual Training Accounts to pay for tools and supplies for apprenticeship programs. The association would also like Congress to amend the legislation to require pre-apprenticeship programs receiving federal grants to connect with a registered apprenticeship program.


Encourage partnerships between registered apprenticeship programs and community colleges. Apprenticeship programs often pair with local community colleges to offer associate's degrees to apprentices who successfully complete their training. AGC wants officials to require recipients of the U.S. Department of Labor Trade Adjustment Community College and Career Training grants to partner with at least one registered apprenticeship program.


Offer community college career and technical programs to high school students for free. Whether or not students in the United States should pay for higher education is a whole separate debate, but AGC's plan calls for states to follow the lead of states like Kansas which has enacted legislation allowing high school students to enroll tuition free in public community college career and technical programs. These courses then count toward the student's high school diploma. This training allows high school graduates to be prepared to go to work immediately after graduation.


Make it easier to establish public schools focused on career and technical education. Charter schools are becoming more prevalent in the United States. Some AGC chapters have been able to partner with education providers to establish construction-focused charter schools.
These are just some of the measure's AGC's plan calls for in order to help rebuild not only career and technical education but the robust, knowledgeable skilled workforce the construction industry will demand as the economy and the industry continue to improve.
What are your thoughts? Are you seeing lack of proper training to the younger workforce as a barrier to finding skilled laborers?
In the coming week's ForConstructionPros.com will be taking a closer look at what individual states are doing to recruit, educate and train the next generation of skilled workers. We'll also be taking a closer look at some initiatives that are catching fire nationwide. Is your company, city or state doing anything to help train and recruit the next generation of construction workers? Please let us know in the comments section below or email me at khegeman@acbusinessmedia.com and let me know what is being done to fill the construction worker pipeline.