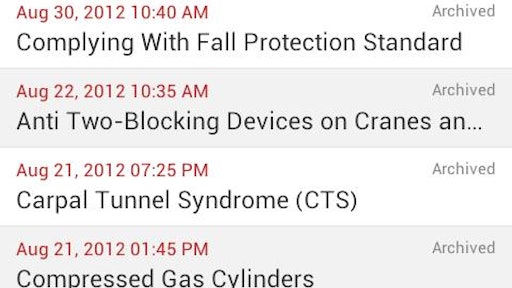 Mobile app: Safety Meeting App
Developer: Safety Meeting App, LLC
Cost: $89 yearly subscription
Available on: Apple and Android devices
Record and track OSHA required safety meetings, accidents, incidents, near-misses, employee attendance and more with the Safety Meeting App. The app provides instantaneous documentation of safety meetings and then stores the records in the cloud.
In addition to keeping records of safety meetings, the app also provides hundreds of safety topics at your fingertips for your meetings. Safety Meeting App includes more than 950 pre-written safety toolbox topics that cover 34 trade types. The app also provides English and Spanish topics.
Launched in 2013, Safety Meeting App has thousands of users already, according to Dave Carl of Safety Meeting App. In fact, he says the app's adoption is growing rapidly with nearly 10 to 15 new users every day.
The Safety Meeting App is purchased as a yearly subscription for each company, which creates one account for your entire company – no matter how many users. Users can also work with the Safety Meeting App developers to customize the app for their companies.
All users receive a 30-day free trail to test out the app.
The Safety Meeting App staff also works hard to make sure all users are comfortable using the app. When a new user purchases a subscription the Safety Meeting App staff will call the new user to answer any questions and help accommodate them with the app, Carl says.
App feature:
Meets OSHA's required meeting laws
Print PDF meeting, incident and near miss reports
Date stamps each safety meeting
Document disciplinary action with signatures
Store active/inactive employee data
Free updates for life