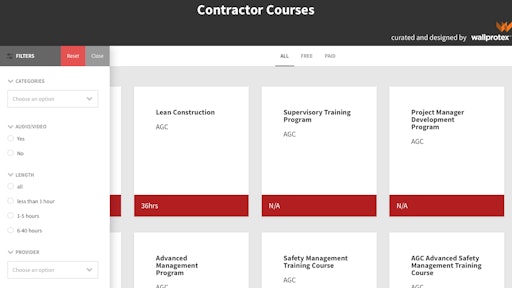 There are a multitude of in-person and online courses and classes available for construction contractors and their employees. And now, there is a new, free resource with the goal of compiling all those courses into one, searchable database to help you and your employees find just the course you're looking for.
Contractor Courses, created by Wallprotex, is a tool designed to search available contractor courses and filter according to provider, audio/video or text, certification and certification type, length, categories, materials, chemical, and free or paid.
According to John Higgins of Wallprotex, the goal was to create a helpful resource for all types of construction contractors.
The website features a simple, easy-to-use design that allows you to either scroll through all the courses listed on the site or filter by one or many of the above mentioned filter options.
[VIDEO] Contractor Courses Tutorial

When you find a course you are interested in, you just click on the course and are redirected to that course's original webpage where you can find out more information or sign up for the course.
The Contractor Courses tool compiles its list of course from providers such as the Associated General Contractors of America, Engineering News-Record, Facilitiesnet, Hanleywood University, the Building, Design + Construction Network and more.
What are your thoughts about this new one-stop shop for finding construction related courses? 
Do you think a resource like this is useful? Can a Web page like this help your business or your employees?
Share your thoughts in the comments section below.